Keir Starmer says he has 'huge disagreements' with Angela Rayner
'Of course we have huge agreements and disagreements', says Labour leader
Adam Forrest
Tuesday 28 September 2021 21:29 Comments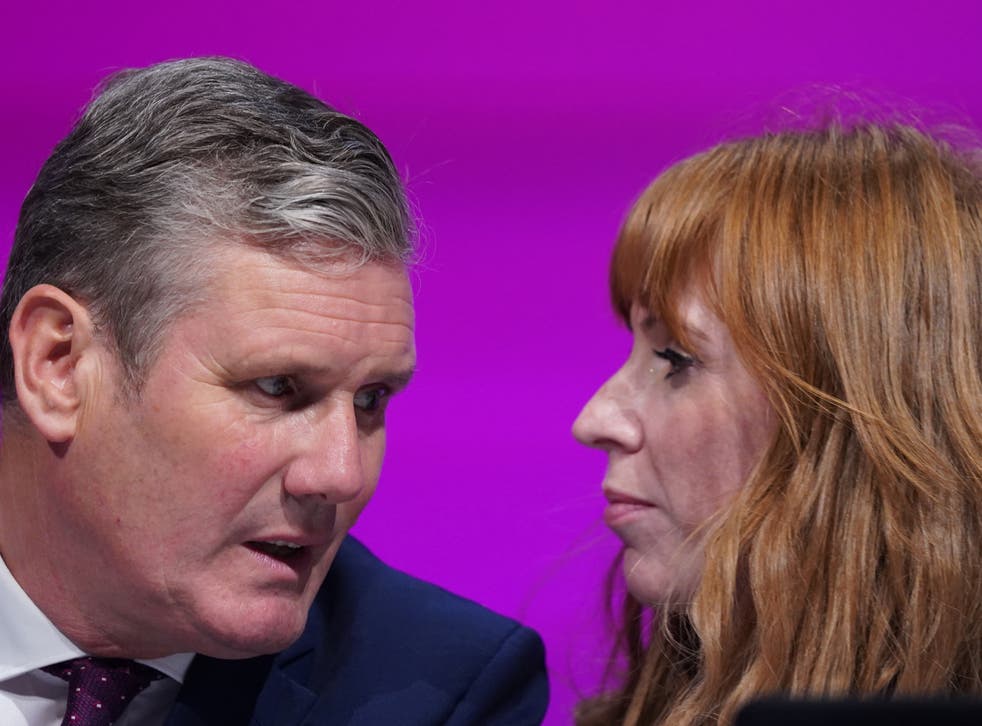 Labour leader Sir Keir Starmer has admitted he and his deputy Angela Rayner have "huge disagreements" and said they had spoken about her comments describing senior Conservatives as "scum".
Starmer acknowledged he and Rayner have "different approaches and different styles" of leadership, as he further distanced himself from her controversial remarks.
"It's not language I would have used," he told Sky News at the Brighton conference. "Angela and I talk every day. Of course we have huge agreements and disagreements."
Starmer said the term "scum" was "not language I have ever used in relation to either Conservative ministers or anybody else."
Asked by Channel 5 News if he had spoken to Rayner about the "scum" insult, Starmer said: "I talked to Angela, yes. I'm not going to disclose to you our private conversation."
Rayner sparked the row after she called senior Tories "homophobic, racist, misogynistic … scum" at a fringe conference event in Brighton – before defending her use of everyday "street language" from the north of England.
The party's deputy leader also challenged Boris Johnson to sit down with her and apologise for his own "racist, homophobic and sexist" comments before she says sorry for her verbal attack on the Conservatives.
She tweeted that people "seem to be far more concerned with my choice of language" than the prime minister's own "racist, homophobic and sexist" comments.
"I'm very happy to sit down with Boris. If he withdraws his comments and apologises, I'll be very happy to apologise to him," the MP added.
Attempting to diffuse the row, Starmer told Sky News: "Look, Angela and I are working together with one central aim and that is to get the Labour Party in a position to win an election and then to win an election."
Ahead of his big conference speech on Wednesday, the Labour leader did not deny he wanted to move the party to the centre, saying: "I want to move the party so we can focus on issues that matter."
Asked by the BBC's Laura Kuenssberg whether party unity or winning election was more important to him, Starmer replied: "Winning. Winning a general election. I didn't come into politics to vote over and over again in parliament and lose and then tweet about it."
Starmer insisted that Labour remained a "broad church" despite left-winger Andy McDonald's resignation from the shadow cabinet, saying he had been asked by the leader's office to argue against introducing a £15 minimum wage.
The Labour leader said McDonald was "wrong" to allege the divide has widened within the party since he took over from Jeremy Corbyn in the wake of the general election defeat in 2019.
Starmer defended the "tough decisions to change our party" – which included changing the rules to mean any future leadership contender would need greater support from Labour MPs, in a move seen as an attempt to shut out radical challengers.
The Labour leader said he accepted "there will be some people who don't agree with those changes" but urged critics to get behind them.
Register for free to continue reading
Registration is a free and easy way to support our truly independent journalism
By registering, you will also enjoy limited access to Premium articles, exclusive newsletters, commenting, and virtual events with our leading journalists
Already have an account? sign in
Join our new commenting forum
Join thought-provoking conversations, follow other Independent readers and see their replies