Brexit: Theresa May will be 'found out in the end' for exploiting immigration fears, says Labour's Keir Starmer
But the party's Brexit spokesman also risked deepening divisions on free movement in his own party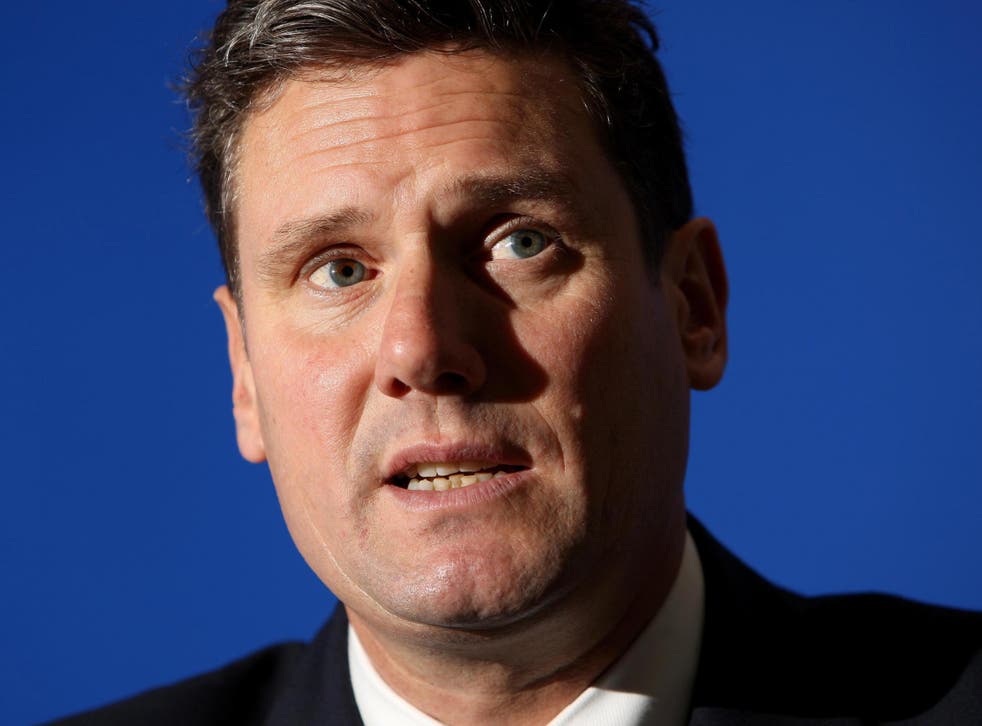 Labour's Keir Starmer has attacked Theresa May by claiming that she will be "found out in the end" on immigration policy.
In a speech on Brexit he accused the Prime Minister of exploiting the issue for political gain by sticking to her discredited "tens of thousands" target.
But he also set himself up for a fresh split with cabinet colleagues by saying his party still had to back new immigration controls.
Taking aim at the Prime Minister, who has doggedly stuck to her ambition of reducing net migration to the tens of thousands, he said: "Pursuing Brexit in the partisan interest might make Tory party management easier in the short run.
"But as David Cameron could tell Theresa May, stray too far from the national interest, and you will be found out in the end.
"The Prime Minister's approach is also alienating the 48 per cent of voters who voted to remain in the EU. They feel increasingly despondent and despairing."
However, in his speech Sir Keir also said no comprehensive approach to Brexit can ignore the issue of freedom of movement, going on to promise that Labour would have a "bold and ambitious" response.
Diane Abbott calls Tory single market claims 'misleading'
In words that appeared to fly in the face of comments made by his shadow cabinet colleague Diane Abbott, he then said: "Our new relationship with the EU has to go beyond an economic argument and protecting our ability to trade in goods and services – vital though they are."
Just days ago shadow home secretary Ms Abbott, who speaks for Labour on immigration, said the UK could not "dump" free movement and stay in the single market.
She said: "Access to the single market and freedom of movement are inextricably linked, and it would be wrong – and the Labour Party has said this over and over again – it would be wrong to put the economy anything other than first."
Brexit Concerns

Show all 26
Setting out Labour's approach to Brexit more broadly, Sir Keir said the party will push for a Brexit model which maintains and protects the UK's "ability to trade goods and deliver services with and to the EU".
He added: "That means a model that ensures continued tariff-free trade for UK businesses with the EU, a model that ensures that any new regulatory frameworks do not add bureaucratic burdens or risk harmful divergence from the EU market.
"A model that protects the competitiveness of our services and manufacturing sectors and a model that ensures that existing protections at work provided by the EU are maintained."
He delivered his speech from Bloomberg, where David Cameron first announced there would be an EU referendum, he slammed the ex-Tory Prime Minister for undertaking one of "the greatest derelictions of duty" of any British Government for failing to plan for Brexit.
Tory MP Maria Caulfield, a member of the Brexit Select Committee, said: "Despite what Sir Keir Starmer has said today, Labour can't agree whether it wants any controls on migration, talks down Britain's prospects, and spends its time trying to find new excuses to thwart and delay the decision made by the British people on June 23. They are totally out of touch with the concerns of ordinary voters."
Register for free to continue reading
Registration is a free and easy way to support our truly independent journalism
By registering, you will also enjoy limited access to Premium articles, exclusive newsletters, commenting, and virtual events with our leading journalists
Already have an account? sign in
Register for free to continue reading
Registration is a free and easy way to support our truly independent journalism
By registering, you will also enjoy limited access to Premium articles, exclusive newsletters, commenting, and virtual events with our leading journalists
Already have an account? sign in
Join our new commenting forum
Join thought-provoking conversations, follow other Independent readers and see their replies