Ken Livingstone interview: 'I still tend to say what I believe to be the truth – It's my big weakness'
The former Mayor of London faces expulsion from the Labour Party this week, but he remains a staunch defender of his old left-wing comrade Jeremy Corbyn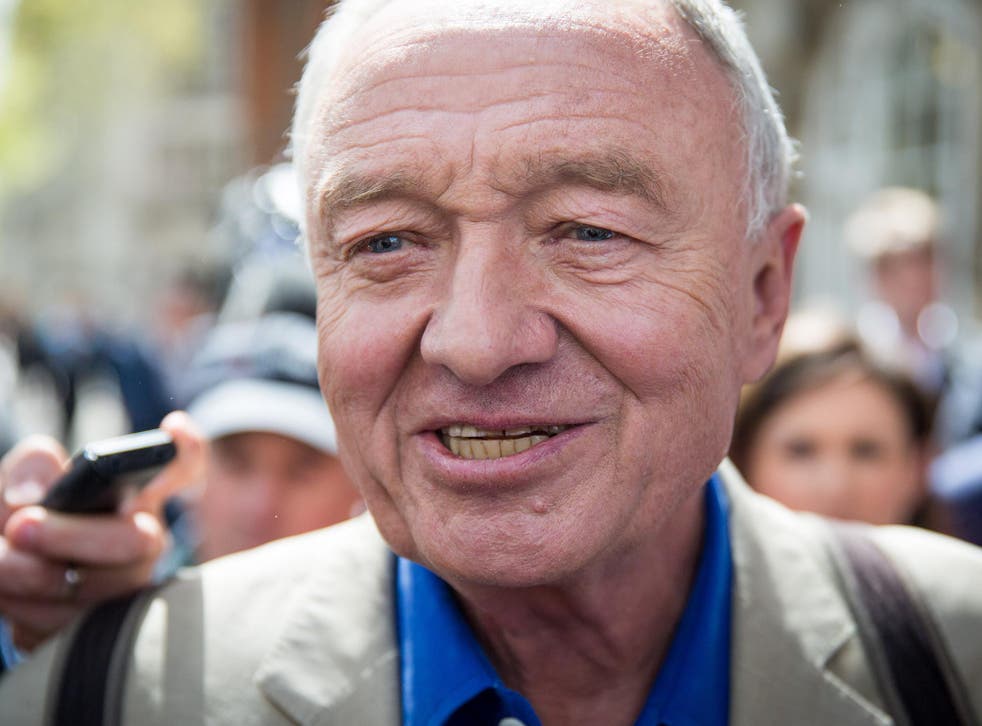 Before Ken Livingstone mentions Adolf Hitler – and his Labrador, Coco, stops barking at the presence of an intruder – he asks politely: "Yorkshire or Redbush tea?"
Placing a One Direction mug (he has two teenagers with his partner) down on the kitchen table of his home in Cricklewood, north London, it's clear something is weighing heavy on Red Ken's mind. In front of him are two binders of reports, sent by Labour's national constitutional committee (NCC) regarding his suspension hearing later this week. He's expecting to be expelled, he admits.
Livingstone's Labour membership was suspended last summer for "bringing the party into disrepute" after he was accused of anti-Semitism and making offensive comments about Hitler supporting Zionism. He was labelled a "disgusting Nazi apologist" by Labour MP John Mann during an extraordinary confrontation outside the BBC studios and later locked himself into the disabled toilets on the ground floor of the building in an unsuccessful effort to evade inquisitive reporters.
But the 71-year-old maintains that he did not claim the Nazi dictator was a Zionist – despite dozens of reports. "Being accused of anti-Semitism is an absolutely serious accusation – equivalent of being accused of corruption, something like that," he says.
He describes the NCC as similar to a dictatorship like "North Korea" with its secretive practices – the hearing will be in private and its 11 members' identities are not publicised to avoid any outside influence. "It's absolutely outrageous that such a serious smear is made and then the hearing is going to be in private," he says. "I mean, it's more like North Korea. It's literally the sort of hearing you'd expect in some dictatorship – not in a modern democracy."
And it's clear the former Mayor of London is not bowing out without a fight. Asked what he will do if he's ejected from the party at his hearing on Thursday, he replied: "I assume that it is set up to do that because that's the composition of the report. I do expect that to happen.
"But then you go for judicial review," he adds, defiantly. "The advice I've had legally is that they haven't got a cat in hell's chance of winning. They loathe and detest Jeremy [Corbyn]. They didn't suspend me because I'm anti-Semitic; it was because I was defending Jeremy, which they consider a worse crime."
Later in the interview, he amplifies: "When I left school I spent eight years as a cancer research technician. You were taught to find the truth. I couldn't shift my mental framework when I became a politician. It's my big weakness: I still tend to say what I believe to be the truth." It's certainly an understatement for the veteran politician, who often courts controversy. His biography, published in 2011, is also called You Can't Say That.
Livingstone remains a staunch defender of his old left-wing comrade Corbyn – despite having had little contact with him in recent months. He used to correspond with the Labour leader's team via his close ally and friend Simon Fletcher, who recently stood down as chief of staff to Corbyn and served in Livingstone's mayoral team.
He last rubbed shoulders with the Labour leader at a mutual friend's Christmas party, he adds: "We had a brief chat – I don't blame Jeremy because he doesn't control the party machine."
Despite the party trailing in the opinion polls and the seeming inability of Corbyn's movement to click with the electorate, Livingstone believes his comrade can win an election.
"Once you hit a general election you have those televised debates and the Mail, the Telegraph and The Sun will be as mad as ever. But the bulk of people will see and hear… having a serious debate between Jeremy and John McDonnell, up against the Chancellor and the Prime Minister, I think will be absolutely crucial."
So, what happens to the left in British politics if Corbyn loses the 2020 general election? "It depends what happens to the economy with Brexit," Livingstone replies. "I don't spend any time thinking about what we should be doing if we lose the next election. All I focus on is winning the bloody thing."
Besides, Livingstone adds that he has bigger worries, specifically about the environment. "At my age, you don't worry about what's going to happen after you're 75," he says. "All over the world we're seeing more violent weather than people anticipated. I'm beginning to think there's a real prospect of human civilisation being wiped out by the end of the century – and the election of someone like Trump is no progress in America. Even governments that say the right things are pathetic in actually making the changes that we need."
Pressed further on his doomsday prophecy, Livingstone continues: "By that I mean you end up with a few hundred thousand people surviving probably somewhere at the moment that is fairly cold. Worst scenario would be 90-95 per cent of the large species would be wiped out – we've had this before.
"We have a supervolcano eruption every 70,000 years and that's devastating. And actually it's 69,000 years since the last one." He pauses for a second, before asking: "Do you ever find any politician talking about supervolcanoes? This is what is so appalling about politicians who just focus on the next bloody election, when they've got bigger things to worry about."
But back in the minutiae of British politics, Red Ken, who has now provided himself with the new title of "house-husband", is adamant Corbyn will remain leader as long as he sticks firm to his line of anti-austerity and a major programme of public sector investment. He derides some of media coverage – notably kneeling to the Queen as he was sworn into the Privy Council and the type of poppy he wears.
"You just never see them reporting any of his speeches about economics," he adds.
Livingstone also appears sceptical of a transfer of power should Corbyn decide to go. "Apart from John McDonnell, who? There isn't any other is there. Or do you skip a generation and go to the 2015 intake. I haven't been in the House of Commons since 2001, I know a lot of the oldies who have been there forever but the intakes from 2010 and 2015 I have no contact with at all, so I can't choose for you my preferred candidate."
Despite a widely publicised falling out in the Eighties when McDonnell worked under Livingstone, who was then leader of the now-abolished Greater London Council, it appears any rift between the pair has healed. He would make a "very good Chancellor" and even a "very good Prime Minister", says Livingstone, praising his former chair of finance for producing a balanced budget with no borrowing.
But does Livingstone believe there is any chance of McDonnell entering Downing Street as Prime Minister? He replies: "I think there's a chance of whoever is leader of the Labour party in 2020 becoming Prime Minister. I wouldn't have voted for Jeremy if I didn't think he could win.
"Anything can happen in politics. Two years before I became leader of the GLC no one would have believed it was possible.
"He does want to see Jeremy as Prime Minister and he wants to be Chancellor – the second most important job in British politics. It's not like it's disappointing or something."
He later adds: "I don't think Jeremy will stand down and I wouldn't advise him to. If he did, what would we have? We'd have another wave of lies and smears about the new leader, whoever it is. At least by now we've got over that – most people have formed an opinion on that."
Before the interview finishes, however, Livingstone excuses himself for five minutes to attend to the needs of ITV London, who are on his doorstep. They are here to film a short clip on his opinions of George Osborne's "unbelievable" appointment as Editor of the London Evening Standard – the free daily newspaper that is handed out to hundreds of thousands of people in the capital each week. But Livingstone reappears looking slightly disheveled. He says he tripped on the way back into the house. Luckily the camera crew had stopped recording, he laughs. "You look at the state of our roads," he adds. "Bloody potholes.
"There's a story I remember reading that the only perfect roads were in David Cameron's constituency," he chortles.
While Livingstone is supportive of Corbyn's leadership, he doesn't believe his old left-wing comrade is following the right path when it comes to Brexit. "I think it will gradually unravel," he says of the Government's position. "The damning thing about Cameron is that he talked about the referendum without having done any work to see what the outcome would be. It was just a gimmick to get Ukip off his back. Even now we haven't got the civil servants you need to negotiate it.
"The EU is not going to allow us to stay in the single market unless we accept free movement. If I was an MP I would have voted against anything that doesn't say we stay in the single market".
Does that mean he would have defied Corbyn and voted against the three-line whip? "Yep," he replies. "With Jeremy, he's clearly focused on the fact the British people voted to leave and he respects that. I do think we need to keep emphasising what they were promised because that's not what they're getting now. I got along well with David Davis [the Brexit Secretary] and I like him, but watching his performance at the parliamentary committee – you just think he hasn't got a bloody clue.
He believes the public should have another say, in a second referendum, once the terms of the deal become clear. "Unless Theresa May comes back with a deal that allows us to stay in the single market, we should have a vote on accepting a deal or not."
UK news in pictures

Show all 50
It's a similar proposal floated by his nemesis the former Labour Prime Minister Tony Blair. "I know, I noticed that," he adds. "He's not wrong about everything, just most things."
After a short pause, Livingstone says: "I hope this doesn't mean I'm back on his Christmas card list."
Register for free to continue reading
Registration is a free and easy way to support our truly independent journalism
By registering, you will also enjoy limited access to Premium articles, exclusive newsletters, commenting, and virtual events with our leading journalists
Already have an account? sign in
Register for free to continue reading
Registration is a free and easy way to support our truly independent journalism
By registering, you will also enjoy limited access to Premium articles, exclusive newsletters, commenting, and virtual events with our leading journalists
Already have an account? sign in
Join our new commenting forum
Join thought-provoking conversations, follow other Independent readers and see their replies