Kenneth Clarke warns of a 'highly wealthy, detached elite drifting away from the general population'
'The public are critical, angry and disturbed'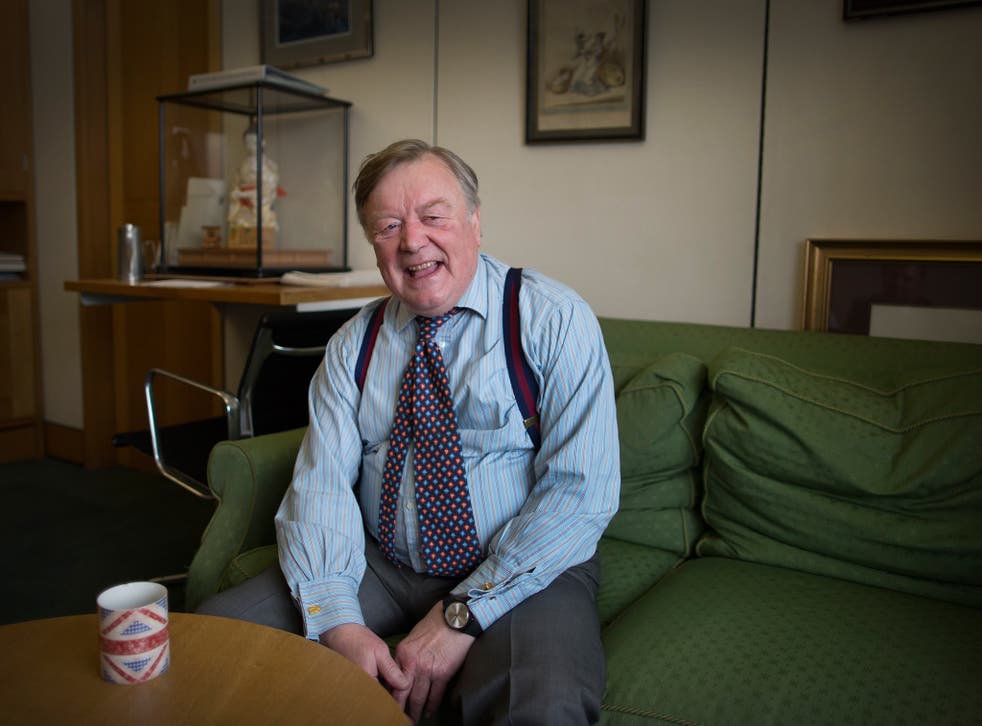 After 45 years as an MP, Kenneth Clarke, the last of Britain's political Big Beasts, is finally able to comprehend a life beyond the House of Commons. "This is going to be my last parliament," he says in a matter-of-fact way, in his office overlooking the Thames. "One last parliament as a cavalier, maverick backbencher."
Despite almost a lifetime on the front bench, serving in every senior domestic Cabinet position except Prime Minister, it's a position he is rather good at: perched a couple of rows behind David Cameron, regularly prodding the Government in that distinctive, languid drawl.
And he's enjoying it. "There is so much going on. I don't have the sense of 'been here, done that'. I find it absolutely fascinating."
Speaking to The Independent on Sunday, the 75-year-old is on fine, outspoken form, lambasting the dominance of Britain's "wealthy elite", praising Jeremy Corbyn and warning Boris Johnson that he needs to get serious to become prime minister. He even wades into the debate on the Camerons' choice of school for their son Elwen, telling them to ignore "media rubbish" and go private if they want to.
But the usually jovial Mr Clarke is downbeat about the state of the world, seeing reason for concern everywhere, from Donald Trump to Britain's "madder and madder" political scene.
"The combination of problems facing the Government is enormous and dangerous. It's as full an agenda as I've ever seen." He cites the migration stemming from the "collapse of order" in north Africa, Vladimir Putin and the "global economic malaise".
"These are giant problems across the globe," he says. "But we are lacking the giant figures and clear leadership to deal with them." Obama is a "disappointment" and Putin "a rather dodgy adventurer". Angela Merkel is a "giant of German politics" but "nearing the end". Mr Cameron, on the other hand, doesn't even get a mention.
People news in pictures

Show all 18
Mr Clarke has a surprising culprit for the political turmoil gripping the West: inequality. Sounding like a young Corbynista, he says: "One reason for the present public mood is a growing sense of a highly wealthy, detached elite drifting away from the general population. We haven't got things quite right on the distribution of wealth."
Mr Clarke says public anger at the perceived injustice has caused the surge in popularity of politicians such as Donald Trump and Mr Corbyn, who hark back to a time gone by. "It's the same in every Western democracy: the angry disillusion with the political class and the desperate desire of an alienated section of the population to find some figure who will denounce and punish politicians they blame for their demise. Trump was just, for a brief time, the most strikingly successful example. It's the consequence of the crash and the growing divide between the rich and the poor.
"There is a lot of anti-establishment anger that has broken out. In America it takes a right-wing, reactionary form. In Britain it tends to take the form of either right-wing nationalism or highly reactionary, conservative-with-a-small-c left-wing socialism. Jeremy Corbyn is a deep small-c conservative."
But Mr Clarke says Mr Corbyn's "populist, 1960s socialism" could be "an attractive message" if there is another recession, and warns Tory MPs not to "imitate the tabloid press by treating this man with ridicule". "Do not believe you have a God-given right to office and you can expect to be re-elected whatever you do," he says. "The public are very critical and angry and disturbed; they will rapidly turn against a government if they think things are going wrong."
On the Tory record in power, he damns with faint praise. Mr Cameron has led a "reasonably successful" government. In contrast, the coalition was "very successful". He reserves special praise for George Osborne and Michael Gove, but says the record of the rest of the Government has been "more patchy".
Mr Cameron's legacy is "fine" because he oversaw economic recovery but he remains scathing about elements of the EU renegotiation. "Our whole relationship with Europe rests on a Romanian nurse having to get less in take-home pay," he says.
But does Mr Clarke see any "giants" in the race to succeed Mr Cameron? "No," he says. "But nobody ever does. You only know what a leader is going to be like when they become a leader." Boris Johnson, he believes, is "undoubtedly the biggest personality on the block" but has a following "based entirely on his personality".
"He is a highly intelligent man. I like him, I get on well with him," he says. "The public loves Boris but he has to answer the question, 'What would you do if you were Prime Minister?'"
Despite Mr Clarke's warning about public fury with the elite, he has no qualms about the Tory party electing another Old Etonian or even the current Prime Minister sending his son there. "Make your mind up like any other parents how best your children are educated. Most of the public think it's nothing to do with them. Compared with political problems and the problems of governing the country it's completely trivial."
One thing that can be said of Mr Clarke is that he is not "trivial". A semi-retirement in the House of Lords now beckons. "The truth is, if anyone ever offered me a peerage, I'd be tempted," he says – even if it is just "political life after death".
On Lord Brittan: A friend for life
The former Home Secretary was typically robust in speaking about police handling of recent allegations of child abuse. He told the IoS "an absurd frenzy has broken out", and said it was "about time" the Metropolitan Police apologised to Lord Brittan's family for the torment the peer suffered before his death. "I was a great friend of Leon Brittan since we were teenagers. When you've had life-long good friends like that, you know things like what their sexual proclivities are and what they are like privately.
"Leon Brittan was not homosexual and he was not a paedophile. There were rumours about him 20 years ago. They were investigated and he was clear. They were found to be complete fantasy. All this was revived by heaven-knows-who, right at the end of his life when he was dying and unable to defend himself.
"When someone is dead, demented or dying they can't hire a lawyer so they can print any old rubbish. Leon was a victim of that."
Mr Clarke also expressed sympathy for disc jockey Paul Gambaccini, who called for the head of the Metropolitan Police, Sir Bernard Hogan-Howe (above) to be sacked. "I know Paul Gambaccini. He was treated appallingly. With today's social media you can always find some crackpot who will oblige by coming forward and making allegations."
Mr Clarke stops short of calling for Hogan-Howe to go. "The newspapers who encouraged several police forces to behave in this ridiculous way are now demanding the head of Hogan-Howe, who did what they wanted. I don't think that is the way the appointment of the head of the Metropolitan Police should be decided. I would ignore all the public hoo-ha and decide on the quality of leadership he is providing.
"I would not make a decision ... on the current state of hoo-ha about celebrity sex in the newspapers. The newspapers having changed sides are looking for the next victim."
Register for free to continue reading
Registration is a free and easy way to support our truly independent journalism
By registering, you will also enjoy limited access to Premium articles, exclusive newsletters, commenting, and virtual events with our leading journalists
Already have an account? sign in
Register for free to continue reading
Registration is a free and easy way to support our truly independent journalism
By registering, you will also enjoy limited access to Premium articles, exclusive newsletters, commenting, and virtual events with our leading journalists
Already have an account? sign in
Join our new commenting forum
Join thought-provoking conversations, follow other Independent readers and see their replies