SNP MP Kenny MacAskill defects to Alex Salmond's new Alba party
'His departure is somewhat of a relief,' SNP Westmister leader says
Zoe Tidman
Sunday 28 March 2021 12:12 Comments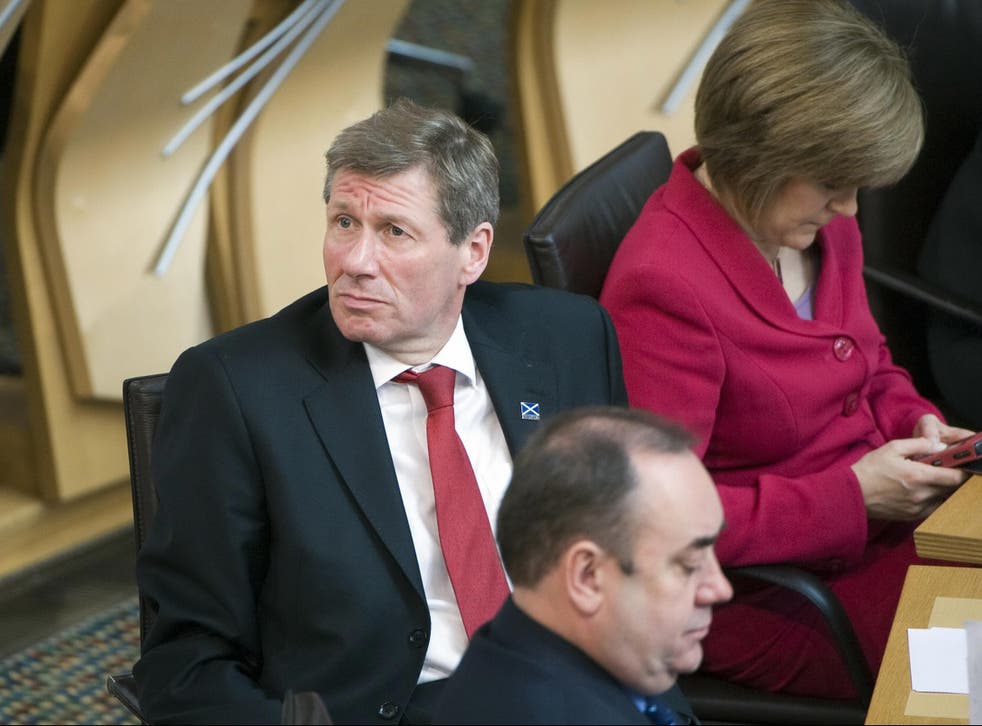 Kenny MacAskill, a former Scottish justice secretary, has quit the Scottish National Party (SNP) to join Alex Salmond's new political party.
The MP announced his move to the pro-independence Alba Party unveiled on Friday, becoming the first big SNP name to defect to the new party.
Mr Salmond, Scotland's former first minister, made a dramatic return to politics this week as the leader of the new party that he said will help "reinforce the momentum behind the independence cause".
Mr MacAskill, once a minister in Mr Salmond's cabinet, reportedly said he will continue serving as an MP after switching over to Alba Party, which is aiming to win seats on Holyrood's regional lists to create a "supermajority" in favour of Scotland quitting the UK.
In response to Mr MacAskill's move, Ian Blackford, SNP's Westminster leader, said: "He has been an increasing embarrassment to many in the SNP and his departure is somewhat of a relief."
Read more:
He added: "He should now resign his seat in the House of Commons to let a by-election take place immediately so the people of East Lothian can elect a new MP who will focus on their interests, rather than self-interest."
According to The National, Mr MacAskill wrote to his staff: "I will be joining the newly-formed Alba Party to deliver [a] supermajority for independence through the list vote and which I believe's essential to achieving our nation's independence."
Lib Dem MP Alistair Carmichael said: "Kenny Macaskill wants to go from being the SNP MP for East Lothian, to the Alba party MSP for Lothians. I will be interested to see how he pursues this role from his home in Banffshire."
Chris McEleny, who was voted in as an SNP councillor in Inverclyde, has also resigned from Nicola Sturgeon's party for the Alba Party since its launch.
Meanwhile, it appears former SNP MP Corri Wilson has also defected to the Alba Party.
She retweeted a post on Saturday that quoted her as saying: "I am delighted to be joining Alba Party whose goal is to secure independence for Scotland, the cause that so many in Scotland have given so much to support."
Ms Sturgeon, when asked whether she was worried about more defections after a couple of SNP politicians had switched over, said: "People will make up their own minds. I'm not overly concerned about that."
She told Radio Clyde News on Saturday: "If people want to do that, that's up to them."
The first minister also said there were "some significant questions about the appropriateness" of the return of Mr Salmond to public office.
The launch of the Alba Party comes after a turbulent period for the SNP and the Scottish government.
Mr Salmond has accused senior figures within the SNP of mounting a conspiracy against him, after he successfully challenged the way the government handled harassment claims made against him by two women.
A Holyrood inquiry into the government's botched handling of those complaints was critical of both Ms Sturgeon and her administration, as it concluded the two complainers were "badly let down".
Ms Sturgeon, his successor, said claims of a plot against the former first minister were "absurd" and insisted her government had nothing to hide.
Mr Salmond was last year cleared after a criminal trial of a series of allegations, including a charge of attempted rape.
After the launch of Alba Party by its former leader, the SNP said: "At this time of crisis, the interests of the country must come first and should not be obscured by the self-interest of someone who shows no sign whatsoever of reflecting on serious concerns about his own conduct - concerns which, to put it mildly, raise real questions about the appropriateness of a return to public office."
Mr Salmond has told potential supporters to vote for his old party in constituency seats or "an independence" party. The Alba Party is "standing only in the list", he said.
Additional reporting by Press Association
Register for free to continue reading
Registration is a free and easy way to support our truly independent journalism
By registering, you will also enjoy limited access to Premium articles, exclusive newsletters, commenting, and virtual events with our leading journalists
Already have an account? sign in
Join our new commenting forum
Join thought-provoking conversations, follow other Independent readers and see their replies