Key player: Rupert Harrison is the most important person in Government who you've never heard of
The Chancellor's chief of staff possesses faith in policy even in the darkest times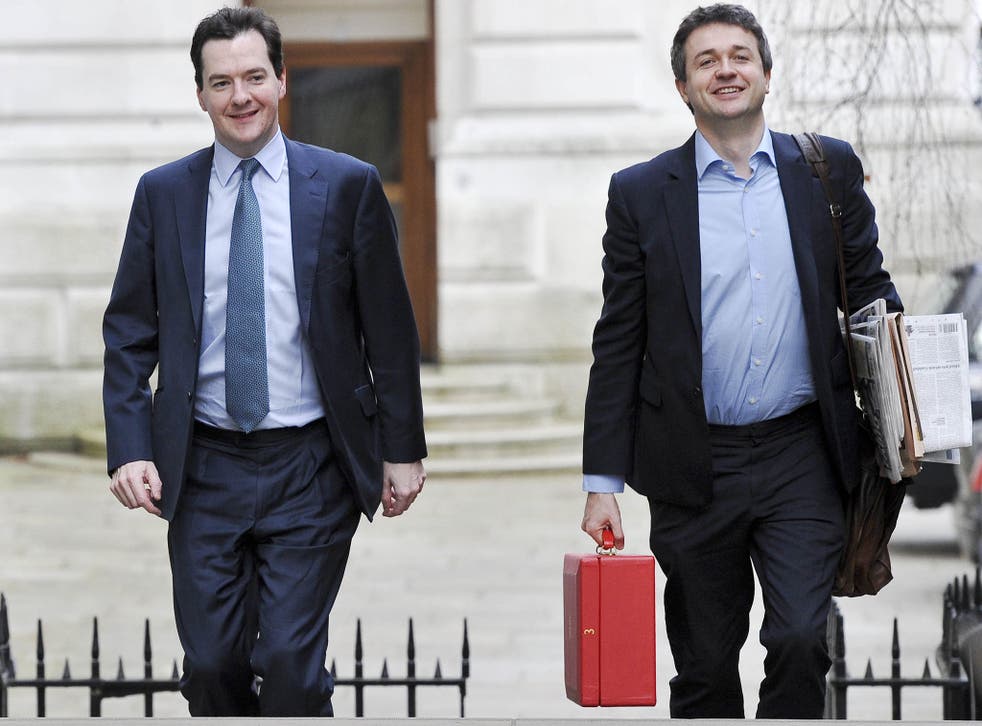 In early February 2013 David Cameron and George Osborne convened a meeting of the Government's most senior strategists in Downing Street with just one item on the agenda: The perilous state of Britain's economy.
Austerity appeared to be failing. Figures had just shown Britain suffering from two successive quarters of negative growth – one more and the country would be in the territory of an unprecedented triple-dip recession.
Despite cuts to public sector spending Government borrowing was up year on year and unemployment was also rising. Even the International Monetary Fund had turned on Mr Osborne, calling for the Chancellor to make "adjustments" to his cherished 'Plan A'.
The mood of the meeting was gloomy but there was an exception: a clean-cut young economist called Rupert Harrison. Just 33 at the time, he had worked for Mr Osborne since 2006 first in opposition (after being hired from the Institute for Fiscal Studies) and then as his principle economic advisor in the Treasury.
He argued that the Government should "tough out" the bad news because by the summer the economy would be "going gangbusters" as he put it. It seemed like such an unlikely predication that Cameron's chief of staff Ed Llewellyn wrote it down and jokingly asked Harrison to sign it.
But he was proved right. By that autumn growth had returned, unemployment started falling and in October the IMF had performed a humiliating u-turn accepting that austerity was working. The note is now pinned up in Harrison's Treasury office overlooking St James Park.
On Wednesday when Mr Osborne stands up to make his last autumn statement before the election, it would be true to say that it will be as much Harrison's work as the Chancellor's.
"To say that Rupert is central to the process underestimates his role," said one senior civil servant. "Every important policy crosses his desk before it gets to Osborne and every idea from officials will have been run past Rupert first."
He is, in short, the most important person in Government that most people have never heard of. Commentators have likened Harrison's role to that of Ed Balls when he worked for Gordon Brown.
But the difference, civil servants say, is that Harrison has a functional relationship with Downing Street and unlike the abrasive Shadow Chancellor it is hard to find anyone in Whitehall with a bad word to say about him.
He attends the twice daily meeting where Cameron, Osborne and the Cabinet Secretary Jeremy Heywood discuss the key events of the day. At bigger meetings he often stands behind the Chancellor and Prime Minister.
"You can tell a lot by the body language in those meetings. He's not someone proving himself – he's the one people try and impress."
Much is made in profiles of Harrison's Eton education (where he was head boy) but unlike other Tory ex-Etonians, he was a scholarship boy and the youngest son of a bank manager and a French teacher.
He went to Oxford initially to read physics but switched to Politics, Philosophy and Economics where he was taught by Stewart Wood – now an advisor to Ed Miliband.
People who knew him before he entered politics say while he was clearly very bright "he wore it lightly".
"He also had a social conscience. His PhD was in development economics and he spent quite a lot of time travelling to Brazil and southern India."
One, possibly apocryphal story, is that some years ago when canvassers turned up at his home, they were told Harrison and his wife Joanna Orpin were both voting Green.
Colleagues say his success has been his ability to devise eye-catching policies to match electoral objectives such as Osborne's pledge in 2007 to raise the inheritance tax threshold that is credited with giving Gordon Brown cold feet over calling an election.
He has also become adept at 'spinning' Mr Osborne's budgets to journalists – combining a grasp of detail with a more Machiavellian ability to put newspapers off stories that, although true, the Treasury does not want published.
It may not be too long before he moves from the backroom. Harrison should not be ruled out as a future Chancellor in his own right.
Join our new commenting forum
Join thought-provoking conversations, follow other Independent readers and see their replies