Kezia Dugdale says she 'won't rip up her manifesto' following Labour's 'terrible' Scottish election defeat
Labour has become the third largest party in Scottish politics for the first time in 100 years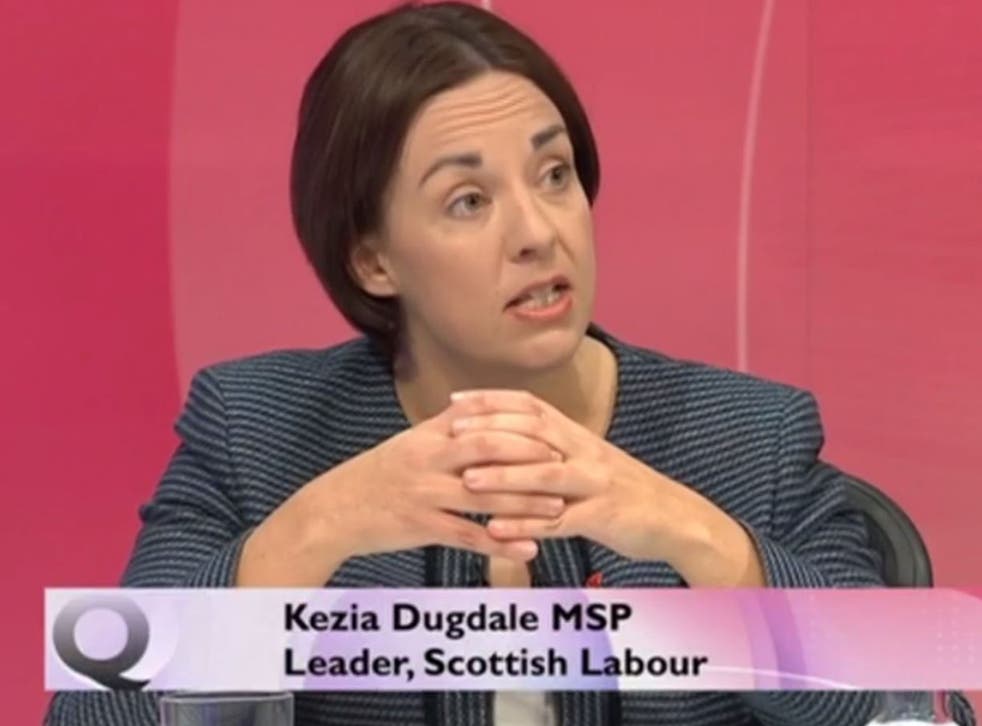 Scottish Labour leader Kezia Dugdale has said she will not "rip up her manifesto" following the party's defeat in the Scottish elections last week.
The party was pushed into third place in Scotland for the first time in 100 years at the election, which saw the Scottish Conservatives replacing them as the official opposition to the SNP.
Despite this, Ms Dugdale said on BBC's Question Time that she did not believe Scotland had rejected her manifesto - which focused on raising taxes for the rich.
She said instead of people rejecting her party's policies, Labour were squeezed out by the debate on a second referendum.
Ms Dugdale claimed: "What happened last week was we were defeated. The people of Scotland spoke and they sent us a big strong message. They wanted to make clear that they oppose the second referendum, those issues came to the fore again.
"I fought that campaign on trying to move on from those referendum arguments of the past. I believe that Scotland wanted to move forward whether we were a 'Yes' or a 'No'.
"What happened last week was Labour were squeezed between the SNP's desire for independence and the Tories deserve to talk about this threat of a second referendum."
Ms Dugdale, who replaced former Labour MP Jim Murphy after his defeat in the general election last year, said she knew it was a "terrible night" for her party, but that there were positives to take from it.
She said: "I lost a third of my colleagues. I have not come on this programme to say it wasn't a bad night for my party.
"[But] I think the people of Scotland also sent a message to Nicola Sturgeon that they wanted her to be First Minister, they wanted her to carry on, but she wasn't going to have it her own way".
She then turned on SNP MSP Humza Yousaf, who was also on the panel, after he said the election showed the country were overwhelmingly in favour of SNP policies and that Labour were fuelled by a "blind hatred" of his party.
She said: "First of all I would like to take exception to Humza saying my party is fuelled by a blind hatred of yours. I don't hate your party, I just disagree with it.
"I disagreed with it during the election campaign when you refused to ask the richest people to pay a bit more tax so we are able to protect our public services.
"Humza, a little bit of humility on your part would go a long way".
UK news in pictures

Show all 50
Ms Dugdale said during the campaign if you looked "on the front page" you could see Labour was in trouble "but if you looked on page two you can see that there was overwhelming support for Labour's policies."
Labour lost 13 seats in the Scottish parliament elections last week.
Along with the poor result in Scotland, the party struggled in the English council elections in comparison with how opposition parties usually perform at this part of the election cycle, though they performed well in London.
Join our new commenting forum
Join thought-provoking conversations, follow other Independent readers and see their replies