Rise in knife and gun crime largely down to 'improvements in police recording', Home Office claims
Amber Rudd will court controversy by insisting better collection of statistics – not harsh police cuts – explains the increase
Rob Merrick
Deputy Political Editor
Monday 09 April 2018 00:48 Comments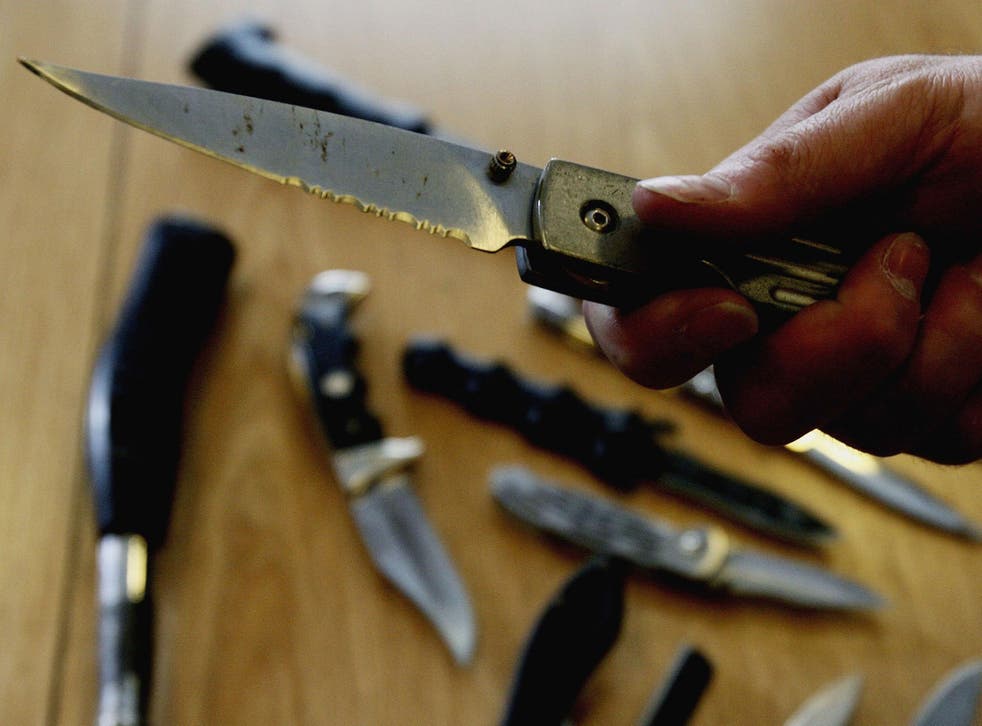 The alarming rise in knife and gun crime is largely down to "improvements in police recording", a controversial new Home Office strategy claims today.
Amber Rudd, the home secretary, will risk a backlash when she points to better collection of statistics as the explanation for "about half" of the recent increase in violent crime.
Some police chiefs, as well as opposition politicians, have warned the shrinking of police forces – 21,000 officers have been lost since 2010 – is starving the police of intelligence gathered from patrols.
But the £40m "serious violence strategy" will state: "About half the rise in robbery, knife and gun crime is due to improvements in police recording.
"For the remainder, drug-related cases seem to be an important driver. Between 2014-15 and 2016-17, homicides where either the victim or suspect were known to be involved in using or dealing illicit drugs increased from 50 per cent to 57 per cent."
It will warn that "crack cocaine use is rising in England and Wales" – which has "strong links to serious violence".
Ministers took to the airwaves on Sunday to dismiss any link between the surge in stabbings and shootings – there have been more than 50 killings this year in London alone – and falling police numbers.
The charge has been led by Ian Blair, the former Scotland Yard commissioner, who said London was paying the price for the undermining of intelligence-led neighbourhood policing – with not enough officers "visible on the street".
But Ms Rudd, writing in The Sunday Telegraph, condemned "political quarrels", dismissing the idea that "there are not enough officers on the streets".
UK news in pictures

Show all 50
"The evidence, however, does not support this," she wrote. "In 2008, when knife crime was far greater than the lows we saw in 2013-14, police numbers were close to the highest we'd seen in decades."
Ms Rudd also highlighted rising police budgets and cash reserves held by most forces – including the Metropolitan Police, which had £240m to spend if needed.
The stance was condemned by Angela Rayner, the shadow education secretary, who accused Ms Rudd of having her "head in the sand" over the impact of police and youth service cuts.
Speaking on the BBC's Andrew Marr Show, she described the rash of killings as "devastating", saying: "We have seen knife crime increasing in the 39 of 43 police forces across the UK.
"It's not just about austerity, but when the Home Secretary sticks her head in the sand and says that losing 21,000 police off our streets doesn't have an effect, then I think that's a very naive position."
Ms Rudd will pledge that the new strategy "strikes a balance between prevention and robust law enforcement", announcing an £11m "early intervention youth fund" to steer young people away from violence.
Accepting the need to "respond to these personal tragedies", Ms Rudd said: "A crucial part of our approach will be focusing on and investing more in prevention and early intervention.
"Because what better way to stop knife crime than by stopping young people from picking up knives in the first place?"
However, the strategy will also introduce bans on the online sales of knives, on possessing zombie knives and knuckledusters and on the sale of acid to under-18s.
Register for free to continue reading
Registration is a free and easy way to support our truly independent journalism
By registering, you will also enjoy limited access to Premium articles, exclusive newsletters, commenting, and virtual events with our leading journalists
Already have an account? sign in
Join our new commenting forum
Join thought-provoking conversations, follow other Independent readers and see their replies