Petrol crisis part of Brexit 'transition' away from low-wage economy, says minister
Government must resist pressure from employers to reopen doors to cheap migrant labour, says Kwarteng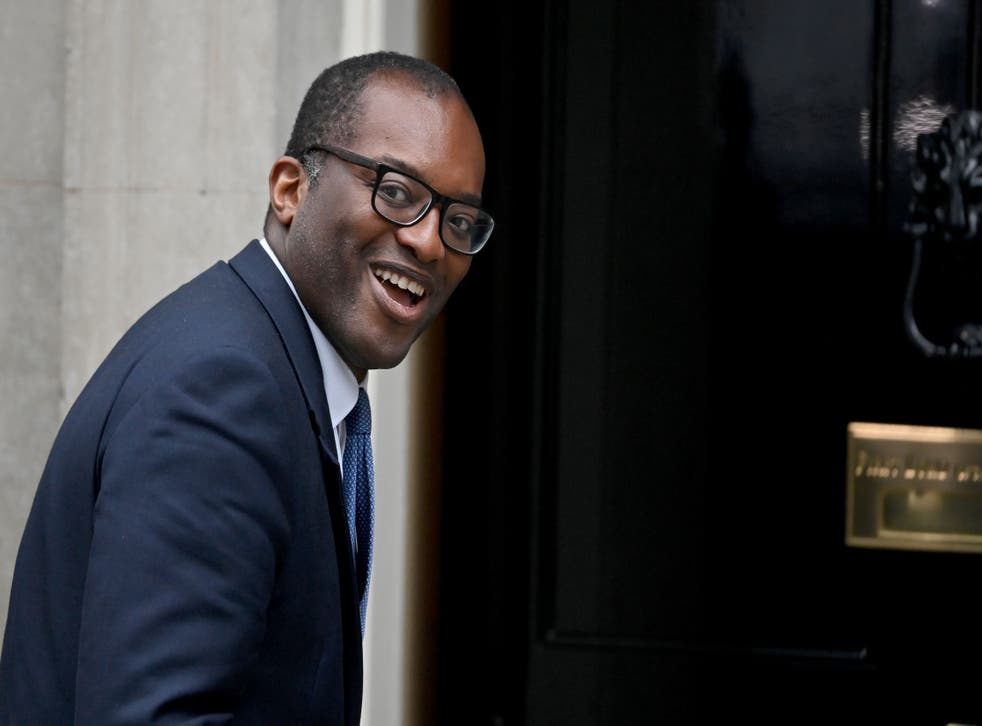 The current petrol supply crisis is a consequence of the post-Brexit transition away from a low-income high-immigration economy in which employers were able to fill vacancies by hiring cheap labour from abroad, a senior cabinet minister has said.
Business secretary Kwasi Kwarteng's comments represent the most explicit link yet made by a member of Boris Johnson's government between Brexit and the labour shortage which has left the UK with 100,000 fewer HGV drivers than it needs.
Mr Kwarteng said that employers opposed to higher wages were trying to use public pressure over essentials like petrol to force the government to issue large numbers of visas for foreign workers. And he agreed that the government must "tough it out" rather than submit to demands to change course.
Speaking to the ConservativeHome website, Mr Kwarteng said it was "absolutely right" to say that businesses were highlighting shortages in trades like road haulage, fruit picking and meat processing in the hope of pressuring the government into opening the doors to labour from abroad.
For many Leave voters, he said, Brexit was about the stagnation in wage levels seen following the introduction of free movement for EU workers in 2004.
Mr Kwarteng was asked whether "this difficulty with the petrol" was part of a debate about the sort of economy the UK should have after Brexit, in which some employers "basically want to go back to the old ways... they want government to issue hundreds of thousands of visas, and they're trying to use public pressure to get you to change course".
"That's absolutely right," he replied. "Having rejected the low-wage, high-immigration model, we were always going to try to transition to something else. What we're seeing now is part of that transition.
"You're quite right to say people are resisting that, particularly employers that were benefiting from an influx of labour that could keep wages low."
An aide later insisted that Mr Kwarteng was agreeing that it was right to say that some employers were resisting higher wages, not that it was right to say that the petrol supply problem was caused by the Brexit transition rather than a sudden spike in demand.
Mr Kwarteng insisted that the current crisis with petrol supplies was "stabilising", but said that it could take a year before higher wages resolved the problem of staff shortages in areas previously reliant on a cheap European workforce.
"I think this is a transition period," he said. "As economists would describe, between Equilibrium A and Equilibrium B there's always going to be a transition period.
"I think it could be quite short…
"This particular issue of immigration from the EU was something that started in 2004, and completely transformed the way we did our economy. In fact, the Romanian extension was in 2013 … and that was only eight years ago, and then three years after that we voted for Brexit.
UK news in pictures

Show all 50
"In terms of the global economy, I think you can see very rapid shifts. I think in a year we could be in a totally different place to where we are today."
Mr Kwarteng said that he was receiving positive data on investment into the UK and prospects for British steel companies, which led him to believe that issues around supply chains and trade following Brexit would recede in the future.
"In terms of the economy, I think things can turn round very very quickly, and in five years' time I don't think we'll be talking about this," he said. "We'll be talking about other things."
The business secretary came under fire from Liberal Democrat leader Ed Davey, who accused him of trying to "pass the buck" by blaming business for a problem caused by the government itself.
"People are suffering because of this government's incompetence and inaction, and it's clear Tory ministers just don't care," said Sir Ed.
"The business secretary's words show yet again how out of touch this Conservative government is. They're blaming the British public, British businesses - anyone but themselves. It's time for ministers to take a good hard look in the mirror. This is a crisis and we need real leadership, not another round of 'pass the buck'."
Join our new commenting forum
Join thought-provoking conversations, follow other Independent readers and see their replies