Labour vows tougher rules to strip 'rogue suppliers' of outsourced contracts after Carillion's collapse
A Corbyn government would act swiftly to stop public contracts 'being hoarded by companies engaged in risky behaviour'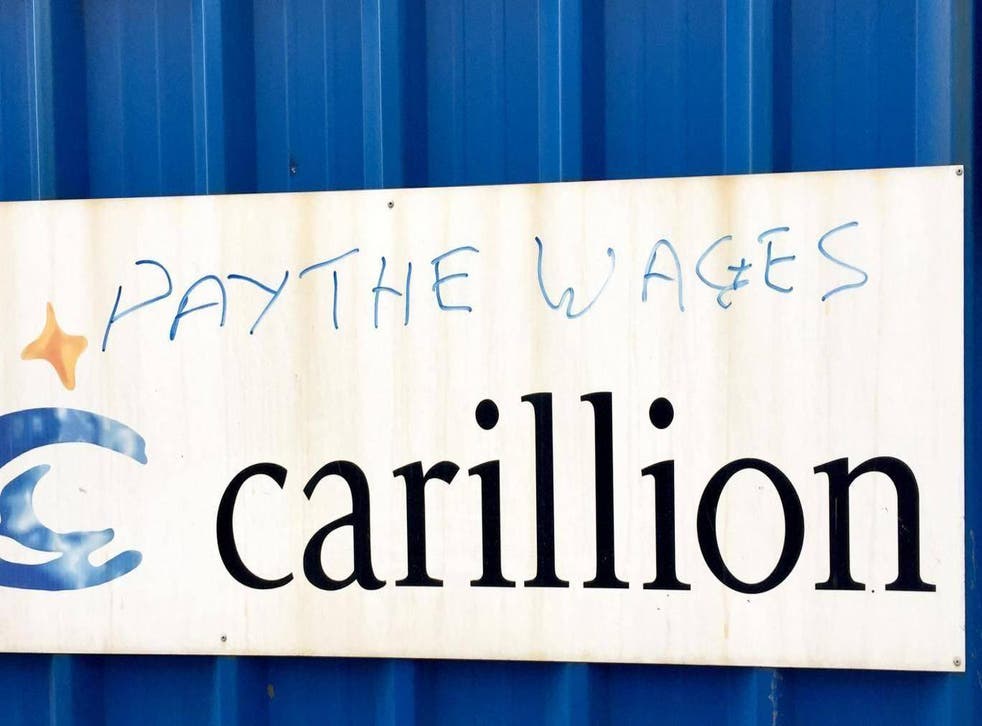 Labour has unveiled tougher rules to strip outsourced contracts from "rogue suppliers" following the Carillion scandal, if Jeremy Corbyn wins power.
Private firms with state contracts would be designated "high risk" if they fail to deliver on a range of behaviour from timely payment of suppliers and environmental standards, to pay ratios and tax compliance.
The contracts of those companies falling short would either be brought back "in house", or they would be retendered to another firm, the party said.
The proposed crackdown follows last week's collapse of Carillion, the construction and services giant, putting public services and tens of thousands of jobs in jeopardy.
A report by the UK's spending watchdog then revealed that the taxpayer faces a bill as high as £200bn for the legacy of the Private Finance Initiative (PFI), under successive governments.
Meanwhile, The Independent revealed that outsourcing continues, with a £300m contract to pay private companies to arrest people for not settling court fines up for grabs.
Now Jon Trickett, Labour's Shadow Cabinet Office minister, has insisted a Corbyn government would act swiftly to stop contracts "being hoarded by companies engaged in risky behaviour"
"The Government is overseeing a race to the bottom in these firms' standards, turning a blind eye to blacklisting, tax avoidance and a whole host of other questionable behaviours," he said.
"Theresa May has said she is a customer of these huge companies, but she's actually the Prime Minister and should act accordingly.
"Labour would act decisively, in contrast with the weakness of the current Government, and, if outsourcing firms cannot guarantee their business standards, we will take back control of contracts as soon as possible."
A firm would also be deemed "high risk" if it failed on providing proper equal opportunities, staff training or trade union recognition, Mr Trickett added.
The current criteria for action – including a falling credit rating, a profit warning, an authority's investigation, or a breach of obligations to lenders – was too limited.
However, the policy appears to fall short of Mr Corbyn's vow – at Prime Minister's Questions last week – that private firms running public services must be "shown the door".
On that occasion, he told Mrs May: "These corporations need to be shown the door. We need our public services provided by public employees with a public service ethos and a strong public oversight."
In that sense, it has echoes of last year's row when John McDonnell, the Shadow Chancellor, vowed to scrap PFI and nationalise existing contracts.
A Labour briefing note quickly made clear that the party, in fact, planned a review – and would only take over outstanding contracts "if necessary".
A string of inquiries has already been launched into the liquidation of Carillon with huge debts and liabilities, despite the firm being handed new public contracts even after issuing multiple profit warnings.
The National Audit Office that found 716 deals are currently operational under PFI and its successor PF2, with annual charges amounting to £10.3bn in 2016-17 - and due to stretch into the 2040s.
Join our new commenting forum
Join thought-provoking conversations, follow other Independent readers and see their replies