Labour Conference 2017: John McDonnell warns shareholders may lose out when key industries are nationalised
Shadow Chancellor sets out nationalisation timetable - and says 'the perceived behaviour affects the price'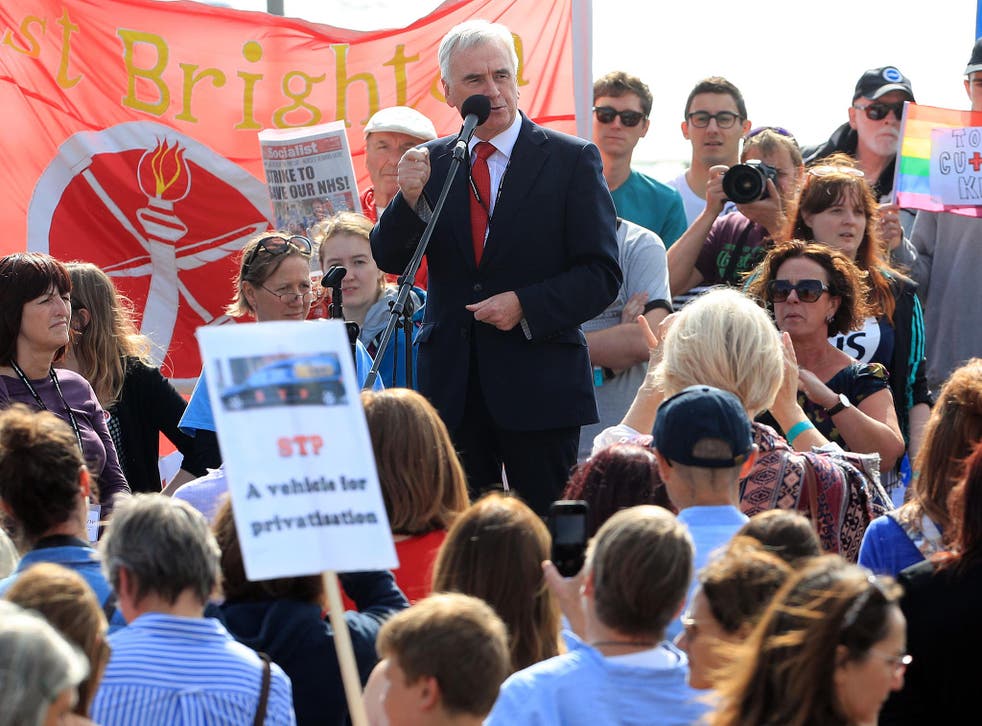 Labour will deny shareholders full compensation when it nationalises key industries if those private firms have behaved badly, the party has suggested.
John McDonnell said politicians would decide if full market value would be awarded when water and energy companies, and the Royal Mail, are taken back into public ownership.
And he warned: "The perceived behaviour affects the price. That will be determined by parliament."
Ahead of speaking to Labour's conference, the Shadow Chancellor vowed to press ahead with the ambitious nationalisation programme set out in this year's election manifesto.
Labour was already preparing to do that by drawing up draft legislation and by training shadow ministers – expecting an election long before the 2022 due date.
On the timetable, Mr McDonnell said: "My own priorities are rail, water, energy, construction in that way, and Royal Mail, that would follow.
"But it depends. This is the whole point of our conference this year, we are listening to our members and saying what are your priorities."
And, on the compensation paid, he added: "The value of any industry that is brought into public ownership is determined by parliament itself, and that will be a detailed assessment.
"When parliament determines that, what those shareholders will get is a secure bond which is much more secure than what they've got at the moment."
No compensation will be due in the rail industry, Labour believes, because the operating franchises would be nationalised as they expire.
Nevertheless, paying full compensation for Labour's nationalisation programme could cost hundreds of billions of pounds, based on the market value of the companies currently running them.
The leadership believes such a radical policy would not be allowed under EU single market rules – but this is rejected by pro-EU Labour MPs, who point to many examples of nationalisations on the continent.
On the party's preparations, Mr McDonnell said: "We are looking at what legislation is needed. We will have draft legislation on the shelf ready to go."
The Shadow Chancellor also rejected warnings that Labour should not spend £10bn on getting rid of tuition fees, because that would disproportionately benefit middle class families.
"We believe in universal benefits. As soon as you start undermining the universal principle like that, what happens is that you have a system that is no longer sustainable."
Mr McDonnell was speaking after announcing plans for a cap on the total interest anyone can pay to a credit card company, potentially helping some three million Britons trapped in a debt spiral.
Debt reached staggering record of more than £1.8tn last year, he warned, arguing his policy would help credit card holders who owe some £14bn between them.
Under the plans, the Financial Conduct Authority would introduce a total cost cap to ensure nobody pays back in fees or interest payments more than the total amount of their original borrowing.
Similar rules already apply to payday loans, with Mr McDonnell set to call on the Government to "act now to apply the same rules on payday loans to credit card debt".
Register for free to continue reading
Registration is a free and easy way to support our truly independent journalism
By registering, you will also enjoy limited access to Premium articles, exclusive newsletters, commenting, and virtual events with our leading journalists
Already have an account? sign in
Register for free to continue reading
Registration is a free and easy way to support our truly independent journalism
By registering, you will also enjoy limited access to Premium articles, exclusive newsletters, commenting, and virtual events with our leading journalists
Already have an account? sign in
Join our new commenting forum
Join thought-provoking conversations, follow other Independent readers and see their replies