End Labour focus on internal party battles, Burnham tells Starmer
Swipe comes as Labour leader wins conference support for rulebook reforms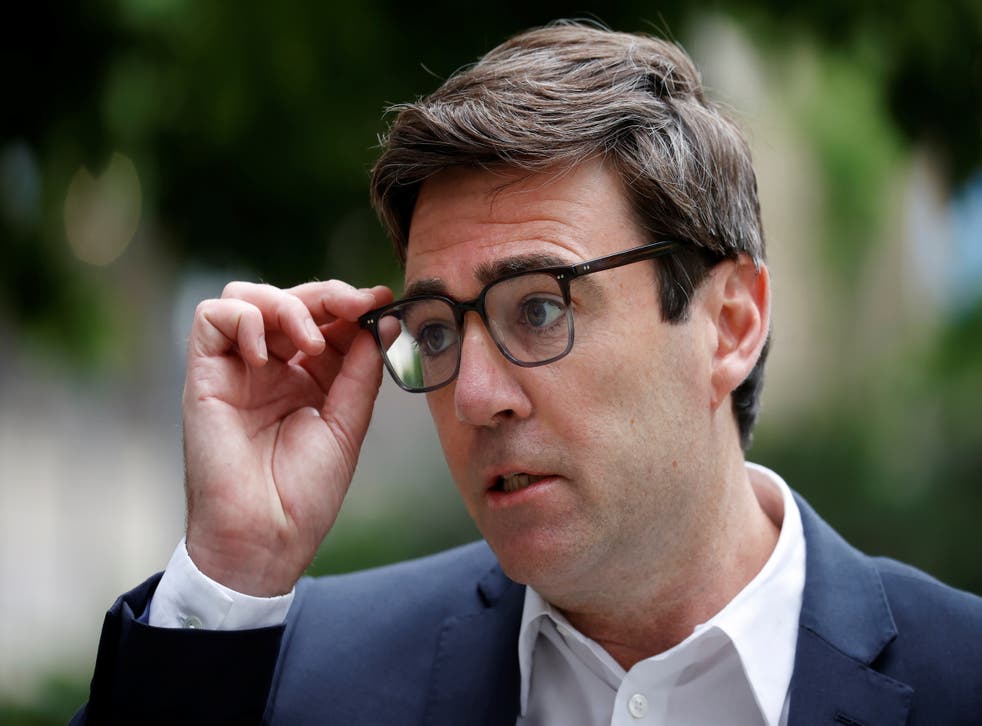 Andy Burnham has taken a swipe at Keir Starmer for focusing on internal battles over Labour's party rulebook rather than taking the fight to the Conservatives at this week's annual conference in Brighton.
The Greater Manchester mayor said he was "impatient" to hear a "convincing vision" from Labour about how it would improve the lives of people in the north, warning that voters will stop listening if the party fails to put forward clear plans soon.
Sir Keir avoided defeat in a series of votes at the Brighton gathering, where a substantial majority of delegates backed plans to make it harder for fringe candidates to get onto the ballot paper in a leadership election and to implement in full the recommendations of a report into the handling of antisemitism under his predecessor Jeremy Corbyn.
But broader proposals to end one member, one vote selection of the Labour leader, in favour of a return to an old-style electoral college giving more weight to MPs, were never put to conference after failing to win support at the party's ruling National Executive Committee.
Mr Burnham's comments come after Labour voters named him over Mr Starmer as their preferred choice for party leader, in a poll for The Independent.
Speaking to the BBC, he insisted that he supports Sir Keir and is "not in the fray" for leadership speculation because he is not currently an MP.
But he warned that the party leader risked missing "a very big opportunity" to capture voters' attention if he fails to set out a clear set of policies this week.
Mr Burnham said that now was not the right time for Labour to be focusing on changes to the way its own internal procedures work.
"I think out of a pandemic, people are not interested in the minutiae of rule changes within political parties," said Burnham, whose former seat of Leigh in Greater Manchester was one of the red wall constituencies to fall to Tories in the 2019 election.
"I don't think they ever have been, but they're particularly not interested in that now. This conference should be all about turning outwards and putting on the table a big alternative."
He added: "It would be a mistake to leave this week still fighting the internal battles, with all of the focus there, and not setting something out that can lift people."
Mr Burnham said that voters, particularly in the north, were becoming "less and less convinced by the government" and by Boris Johnson's promises to "level up" disadvantaged areas.
UK news in pictures

Show all 50
But he warned: "There's an opportunity there in front of Labour, but it really, really needs to take it. It needs to set out on in specific terms on important issues, what it would do. Obviously, the leader and the shadow cabinet need to connect with the public in this through their speeches. And we can't afford to leave Brighton not having done that.
"All eyes are on Labour this week. And it's not a week to say 'We'll set our plans at the election', it is a week to say 'Here's what we're going to do to give you a better alternative to this Conservative government'."
If Mr Starmer fails to do this, he warned, "I don't think the voters give you repeated chances to capture their attention … If we don't get into that space this week, we will have lost a very big opportunity."
Sir Keir welcomed Sunday night's votes in Brighton, which will increase the nomination threshold for future candidates for the leadership from 10 to 20 per cent of MPs, making it far more difficult for a left-winger like Mr Corbyn to get onto the ballot paper.
The threshold for triggering a reselection battle for Labour MPs will also be raised to 50 per cent of local membership, making it harder for them to be removed by activists as election candidates.
The moves were backed by a margin of 54-46 per cent of delegates, while the implementation of the Equality and Human Rights Commission recommendations was backed by 74-26 per cent.
Starmer said: "I'm delighted that these vital reforms have passed. They represent a major step forward in our efforts to face the public and win the next general election.
"This is a decisive and important day in the history of the Labour Party.  I promised to tackle antisemitism in our party. We've now closed the door on a shameful chapter in our history. I want to acknowledge the courage of all the people who spoke up against it.
"As I promised when elected as leader, the Labour Party is now relentlessly focused on the concerns of the British people and offering them a credible, ambitious alternative to this government.
"This is a crucial step forward for party I lead and am determined to see in government. And in the coming days you'll hear us set out ideas on how we win the next election."
Join our new commenting forum
Join thought-provoking conversations, follow other Independent readers and see their replies