Labour's deputy leader hints party may back second referendum on Brexit
Rob Merrick
Deputy Political Editor
Wednesday 27 September 2017 12:47 Comments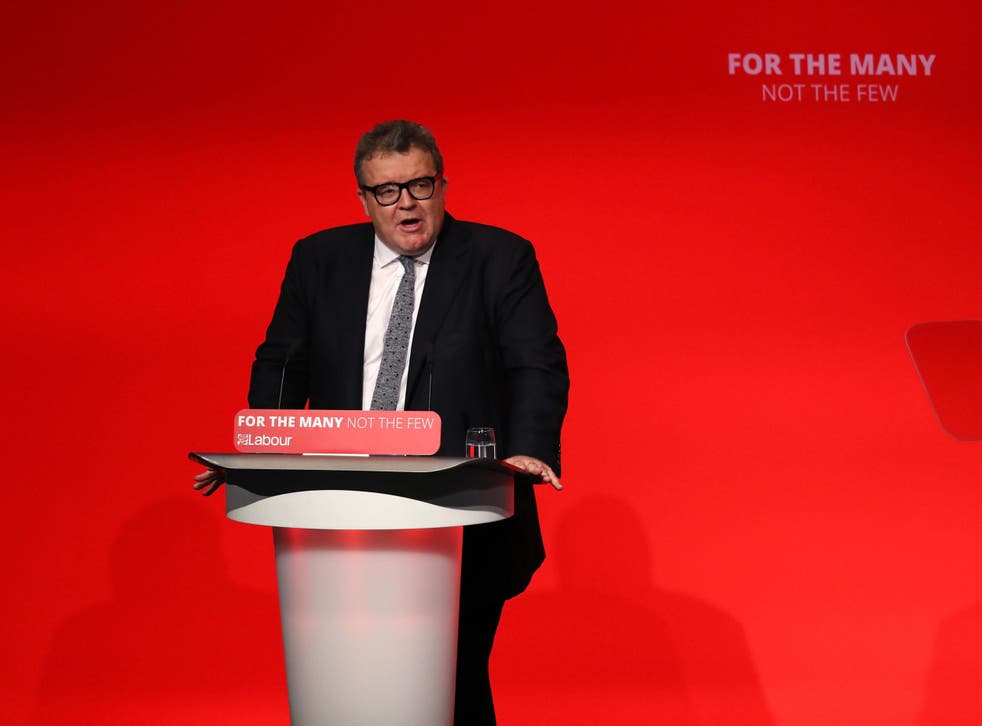 Labour's deputy leader has become the latest senior figure to hint the party may back a further Brexit referendum, saying: "We're not ruling it out."
Tom Watson insisted Labour's policy was to secure an "exit from the EU" – to abide by last year's referendum result – but left the door open for a change of mind.
"You have to see how the negotiations go, at the end of it. So we're not ruling it out," he told the Birmingham Mail, before adding: "But it's highly unlikely."
Sadiq Khan hints Labour may back second EU referendum
The comments come after London Mayor Sadiq Khan boosted the hopes of pro-EU campaigners by suggesting he might press for a commitment to a further national vote.
Labour's next manifesto, should there be a snap election, could allow voters to accept any Brexit deal reached – or opt to stay in the EU, Mr Khan said.
Mr Watson gave the interview just hours before Jeremy Corbyn's conference speech, in which the Labour leader is expected to set out his party's current Brexit position.
Before the June election, he appeared to flirt with offering a referendum on the final Brexit deal, before eventually stepping back.
To try to end criticism of confusion, Labour negotiated a united policy to stay in the single market for between two and four years – but with no mention of a second referendum.
On Monday, a survey revealed a narrow majority of Labour voters now supports a further referendum on the details of Brexit, with an option for Britain stay in the EU.
In the interview, Mr Watson was asked if he agreed with Mr Khan about a possible reaction. He replied: "We want exit from the EU. That's the decision of the referendum. That's why we whipped Article 50."
However, he then added that a referendum could not be ruled out, because of the enormous uncertainties surrounding the negotiations.
Pressure for Labour to join the Liberal Democrats and the Greens in supporting a further vote is growing, as the bogged-down Brussels talks fail to achieve a breakthrough.
Kezia Dugdale, Labour's former leader in Scotland, said the public has the right to have its say in a second referendum.
Meanwhile, Andrew Gwynne, Labour's election chief, and an ally of Jeremy Corbyn, refused to rule out a further vote, saying: "Who knows where we will be at the end of this process?"
However, Keir Starmer, the Shadow Brexit Secretary, has warned it may be impossible to give voters an informed choice until after departure in March 2019, if a transitional deal is struck.
And Caroline Flint has led a backlash from Northern Labour MPs who fear that appearing to go back on the referendum result will turn voters away.
Register for free to continue reading
Registration is a free and easy way to support our truly independent journalism
By registering, you will also enjoy limited access to Premium articles, exclusive newsletters, commenting, and virtual events with our leading journalists
Already have an account? sign in
Join our new commenting forum
Join thought-provoking conversations, follow other Independent readers and see their replies