Labour's economic plans are a 's**t or bust strategy', says Angela Rayner
Shadow Education Secretary also argues that focus on ethnic minorities and girls has had a 'negative impact' on white working class boys
Lizzy Buchan
Political Correspondent
Thursday 04 January 2018 10:21 Comments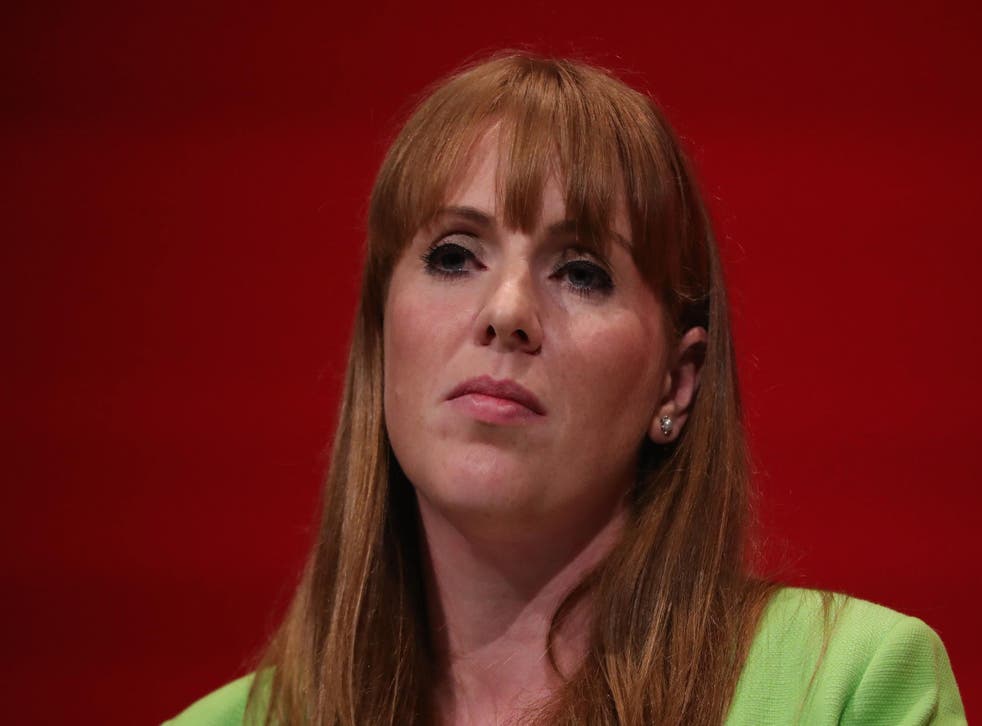 A leading member of Jeremy Corbyn's shadow cabinet has described Labour's economic plans for major increases in state spending as a high-risk "shit-or-bust strategy".
Angela Rayner - who has been tipped as a future party leader – said Britain was in need of "real investment" for its future and argued that great advances were only achieved when politicians had the courage to take risks.
The Shadow Education Secretary also argued that white working class pupils were being left behind in schools, as the focus on ethnic minorities and women's rights has had a particular "negative impact" on boys.
In an interview with The Spectator magazine, Ms Rayner delivered a frank assessment of Labour's plans to raise taxes and increase state spending.
She said: "We are in different times, radical times where we need to have a real investment in Britain's future. Genuinely. I don't mean that as a slogan, I mean it as an economic strategy.
"It is a bit of a shit-or-bust strategy, I get that. It's a high-risk strategy. But all of Britain's great advancements in the past have been because we've had the gumption to take a risk."
However the comments drew fire from Tories, who accused Labour of planning a "high-risk gamble" that would see the country go bust.
Liz Truss, Chief Secretary to the Treasury, said: "Labour's reckless plans would put people's jobs, livelihoods and funding for our public services all at risk.
"Once again, it's working people who would pay the price of Labour with more debt, higher taxes and fewer jobs."
In a broad interview, Ms Rayner said there was a "lag" in achievement by white working-class pupils and that more support was needed to help them make a success of their lives.
Pointing to her experience of growing up in poverty and becoming a mother at 16, Ms Rayner said: "I think it's because as we've tried to deal with some of the issues around race and women's agendas, around tackling some of the discrimination that's there, it has actually had a negative impact on the food chain for white, working [class] boys. They have not been able to adapt.
"Culturally, we are not telling them that they need to learn and they need to aspire. They are under the impression that they don't need to push themselves, in the way that disadvantaged groups had to before.
"I think that is why there is a bit of a lag there. I think we need to do much more about the culture of white working class in this country."
She praised the support she was given by the welfare state in the 1990s while raising her son, and compared it to her mother's experience of leaving school at 12 and becoming "almost feral" as she travelled across the country following funfairs.
UK news in pictures

Show all 50
Ms Rayner - who has been nicknamed 'Grangela' after she recently became a grandmother - said she got onto a "slippery slope" at a teenager, as she began visiting nightclubs from the age of 13 and pursuing "the wrong type of affection" from older men.
About six of her friends died through drug overdoses or joy-riding crashes before she was 18, she said.
The Ashton-under-Lyne MP said: "I would have been seen as a scrounger, a scally unlikely to make anything of my life.
"But without those interventions... I wouldn't now be a taxpayer who pays their way in life, no longer on any benefits.
"Sometimes you have to invest in people to get the best out of them. To me, that is socialism. That is why I'm a Labour member rather than a Conservative."
Ms Rayner has been outspoken in her criticism of factionalism in Labour ranks, recently claiming that attempts to oust Labour councillors ahead of next year's local elections are "not a way forward".
A Labour Party spokesperson said: "Angela was saying that we have a once in a generation opportunity, with historically low interest rates, to invest in our infrastructure, new technologies and our people, underpinned by our Fiscal Credibility Rule - and that we must take it.
"She was also making the point that Labour has been more transparent about our economic plans than any opposition in history. We published a fully costed manifesto, unlike the Tory manifesto where the only figures were the page numbers."
Register for free to continue reading
Registration is a free and easy way to support our truly independent journalism
By registering, you will also enjoy limited access to Premium articles, exclusive newsletters, commenting, and virtual events with our leading journalists
Already have an account? sign in
Join our new commenting forum
Join thought-provoking conversations, follow other Independent readers and see their replies