Labour recruiting staff on insecure contracts while making mass redundancies
Exclusive: Party denies using 'fire and rehire' tactics previously criticised by Keir Starmer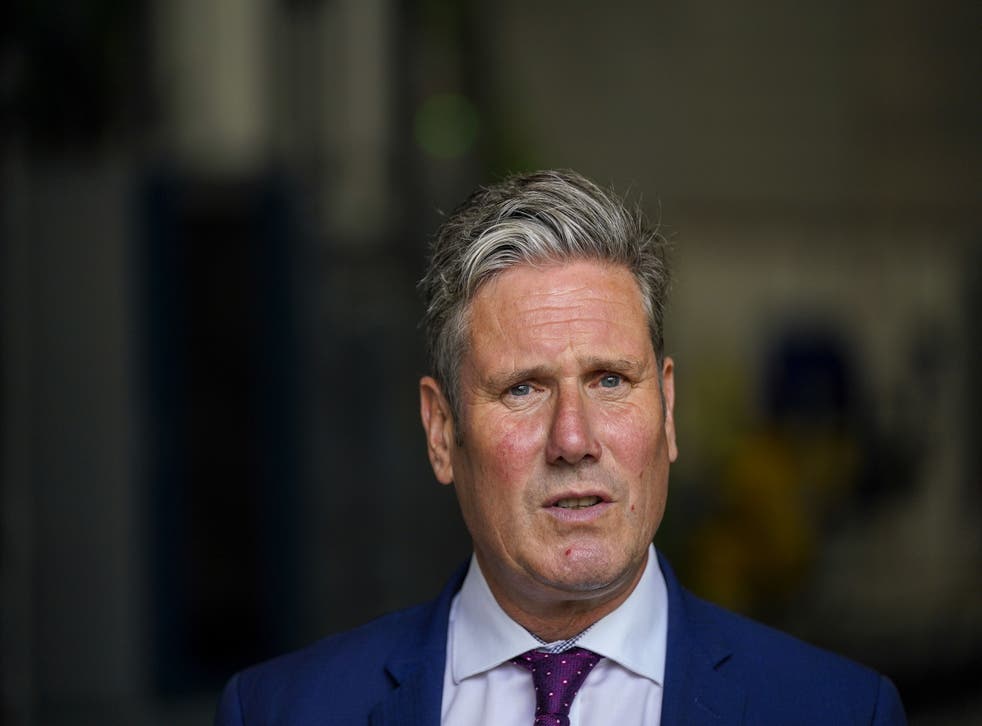 Labour is quietly recruiting staff on insecure temporary contracts with worse employment conditions while it moves to make a third of its existing permanent employees redundant, The Independent can reveal.
The party is being accused of using underhand "fire and rehire" practices condemned by Keir Starmer himself in a speech just a few months ago.
Staff were told of the mass redundancies this week, which the party said was "not an easy decision" but was required to get "fighting fit for upcoming campaigns and the next general election".
Labour is believed to have seen an exodus of members under Keir Starmer's leadership, which has hit the party's finances hard – as has settling with former staffers who sued the party over its handling of antisemitism.
But despite the scale of the lay-offs the party is actually recruiting temporary staff on significantly less secure conditions than those being asked to take redundancy.
An advert posted on a recruitment website offers potential workers a six-month contract and says work is to be done from home.
All applicants need their own laptop, a "secure Wi-Fi connection" at home, and must bring their own "satisfactory firewall and virus protection".
The advert does not mention that the job is working with Labour, and falsely claims it is in the "public sector". But The Independent has confirmed with the party that recruits will be put to work in its governance and the legal unit, which investigates complaints against members.
Successful applicants, who will be paid £19 an hour, are asked to have a "knowledge of data protection and equalities legislation" and the "ability to work effectively in a fast-paced and highly pressurised environment", among other traits.
Party sources say the recruitment push is a "necessary and temporary measure" to clear a surfeit of complaints.
But one senior Labour MP told The Independent the party was acting like "the worst of the very worst employers" and said Keir Starmer should "get a grip" on his officials.
"To learn that our party are now using what can only be described as 'fire and rehire tactics' appals me. It's everything we as a party should be aggressively opposing," they said.
"Sacking individuals and hiring others with worse wages, terms and conditions are the actions of the worst of the very worst employers."
The Independent understands that the issue was discussed at a recent meeting of the party's National Executive Committee (NEC). General secretary David Evans, a former political consultant recruited by Keir Starmer last year, is said to have rejected the characterisation as "fire and rehire" and said the new employees were not agency workers.
Party leader Sir Keir told the Trades Union Congress in September that fire and rehire should be "illegal" and was "not just wrong but against British values".
UK news in pictures

Show all 50
"After a decade of pay restraint that's the last thing working people need, and in the middle of a deep recession it's the last thing our economy needs," he said at the time.
Speaking on the record about the job advert, a Labour spokesperson said: "We don't comment on staffing."
A Labour source said: "This is unrelated to the announcement about the voluntary severance scheme. It was agreed by the NEC several weeks ago as a necessary and temporary measure to help us clear the backlog of complaints as quickly as possible."
Referring to the redundancy scheme, a Labour source said this week: "This is not an easy decision and we recognise it will be a very difficult time for staff. We will fully engage and consult with them and the trade unions throughout.
"We are reshaping our party's operation with a view towards being fighting fit for upcoming campaigns and the next general election."
Join our new commenting forum
Join thought-provoking conversations, follow other Independent readers and see their replies