Labour general secretary Iain McNicol hits back at John McDonnell 'purge' complaints
Mr McDonnell said Labour officials were trying to purge the party of Corbyn supporters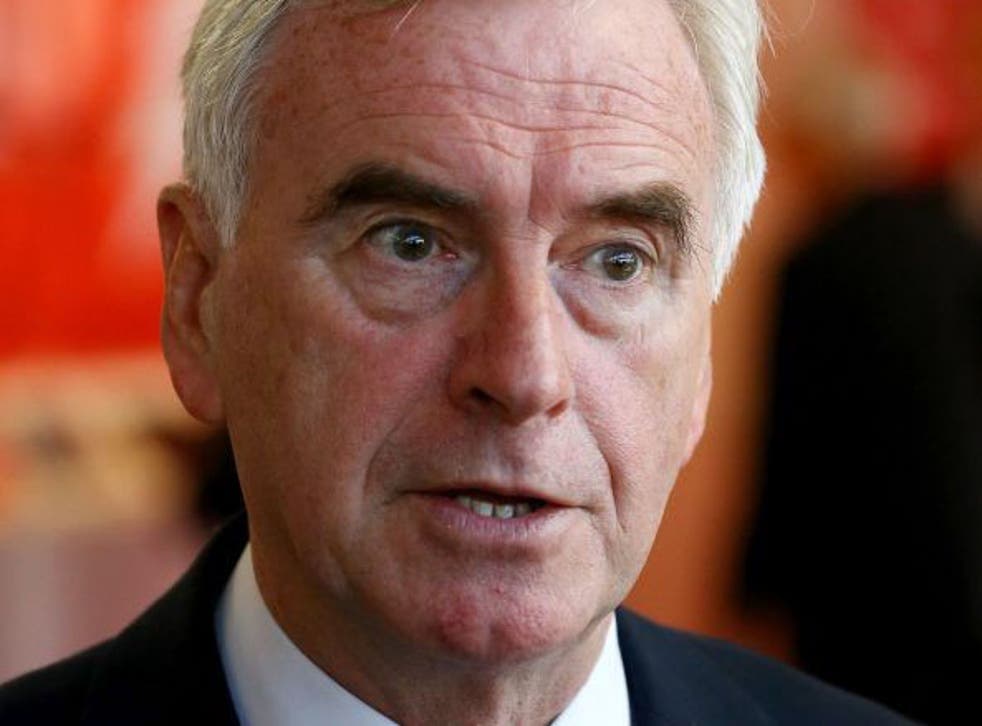 Labour's general secretary has publicly hit out at John McDonnell in a row over the expulsion of party members.
The shadow chancellor had claimed that Labour "officials" were trying to undermine Jeremy Corbyn's chances in the ongoing leadership election by targeting his supporters for expulsion.
But Iain McNicol has now publicly hit out at Mr McDonnell, arguing that the ultimate decision lay with the party's elected ruling national executive committee.
"John, just to clarify you say 'party officials'. Decisions are made by elected NEC members, and not party staff," he said in a tweet directed at Mr McDonnell.
Mr McDonnell on Thursday said he would write to Mr McNicol after it emerged that Ronnie Draper, general secretary of the Bakers, Food and Allied Workers Union, had been suspended from the party.
Mr Draper, who has been a party member for more than 40 years, was suspended over unspecified tweets he had made.
The expulsion is one of thousands and comes after Mr McNicol declared zero tolerance on "abuse" during the leadership election.
"The decision by Labour Party officials to suspend the Bakers' Union leader, Ronnie Draper, from the party and deny him a vote in Labour's leadership election over unidentified social media posts is shocking and appears to be part of a clear pattern of double standards," Mr McDonnell had said.
"While Ronnie, a supporter of Jeremy Corbyn, has been denied his say in Labour's election, no action is being taken over the Labour peer, Lord Sainsbury, who has given more than £2m to support the Liberal Democrats.
Labour leadership contest: Jeremy Corbyn vs Owen Smith

Show all 8
"Labour Party members will not accept what appears to be a rigged purge of Jeremy Corbyn supporters. The conduct of this election must be fair and even-handed.
"I am writing to Labour's general secretary, Iain McNicol, to demand that members and supporters who are suspended or lose their voting rights are given clear information about why action has been taken and a timely opportunity to challenge the decision."
The row comes after the suspension from the party of a former adviser to Labour MP Stella Creasy. Jonny Chambers was accused of making tweets in support of the Conservatives – he says he was only expressing an opinion about the candidates in the Tory leadership contest.
Register for free to continue reading
Registration is a free and easy way to support our truly independent journalism
By registering, you will also enjoy limited access to Premium articles, exclusive newsletters, commenting, and virtual events with our leading journalists
Already have an account? sign in
Register for free to continue reading
Registration is a free and easy way to support our truly independent journalism
By registering, you will also enjoy limited access to Premium articles, exclusive newsletters, commenting, and virtual events with our leading journalists
Already have an account? sign in
Join our new commenting forum
Join thought-provoking conversations, follow other Independent readers and see their replies