Labour: Jeremy Hunt should be stripped of responsibility for negotiations with junior doctors
Labour believes mediators ought to be brought in urgently to avert a strike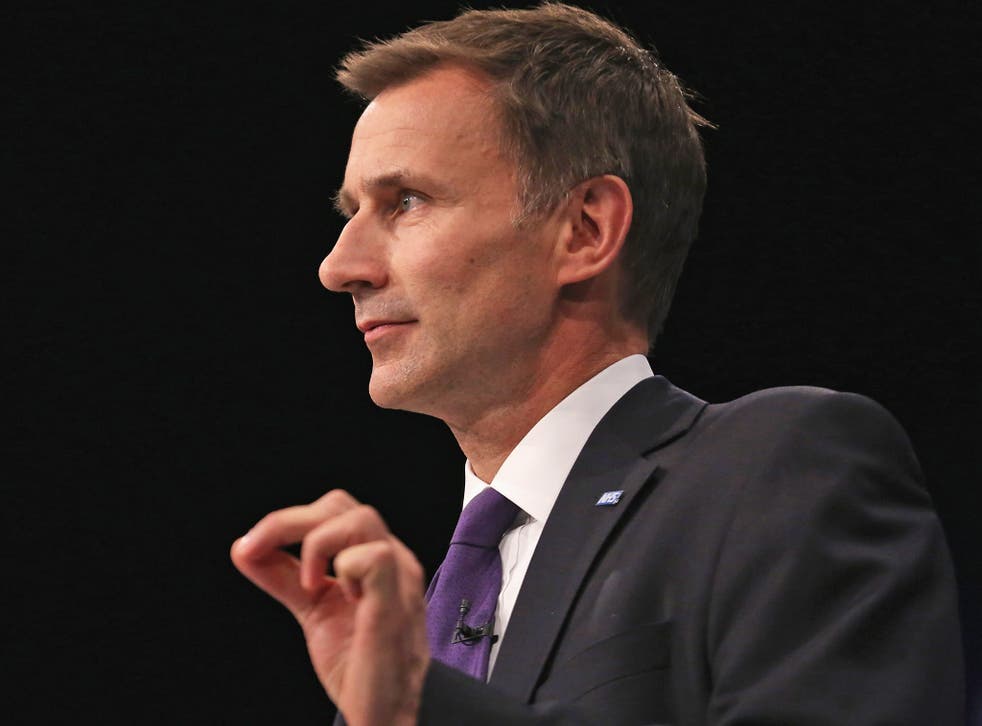 Jeremy Hunt should be stripped of responsibility for negotiations with junior doctors, and mediators brought in urgently to avert a strike, Labour has said.
Results of the strike ballot are due on 19 November, with junior doctors widely expected to give strong support for industrial action over the Government's plan to impose a new contract.
If doctors back a strike, union the British Medical Association (BMA) is planning three days of action in December, including two full walkouts by junior doctors.
Amid growing concern over the impact of a strike, Heidi Alexander, Labour's Shadow Health Secretary has written to the Prime Minister urging him to bring dispute resolution service ACAS to lead on talks.
She said junior doctors had "lost confidence that the Health Secretary is conducting negotiations in good faith".
"As a result I am deeply sceptical that a timely resolution can be found whilst the Health Secretary retains responsibility for concluding these negotiations," the letter, seen by The Independent, states.
UK news in pictures

Show all 50
"With the NHS facing its most difficult winter in living memory, and the prospect of industrial action now looming, it is imperative that urgent steps are taken to resolve this dispute."
The Government has said its doors are open for further negotiations, insisting there are no preconditions, but the BMA refuses to return to talks until Mr Hunt drops a threat to impose a new contract on junior doctors next year, regardless of the outcome.
Mr Cameron told MPs on 18 November that doctors should "look very carefully at what the Government are offering" saying the contract was "good for the NHS, good for doctors, and good for patients."
"Even at this late hour, I hope that the British Medical Association will call off its damaging strike," he said.
Talks around the junior contract had been on-going for nearly two years when the BMA walked out earlier this year, amid concerns around hours, safety, and pay. Since then the Government has guaranteed that pay would be protected until 2019, and insisted that the contract will reduce hours for many and make care safer.
However, the new contract is not backed up by any extra funding for salaries. It is aimed at ensuring more junior doctors can work weekends and evenings. Pay for a working Saturdays and evenings will therefore be cut, in exchange for an 11 per cent increase in basic pay.
While it includes safeguards around working hours, the BMA says these have not worked in the past, and that the new contract would remove the only effective measure – financial penalties for hospitals that overwork doctors – that has protected medics from working excessive, unsafe hours.
Ms Alexander's call for ACAS to be brought in follows criticism from the respected patient safety expert Sir Robert Francis, who said last week both the Government and the BMA had mishandled negotiations, and recommended mediators should assist the talks.
Register for free to continue reading
Registration is a free and easy way to support our truly independent journalism
By registering, you will also enjoy limited access to Premium articles, exclusive newsletters, commenting, and virtual events with our leading journalists
Already have an account? sign in
Register for free to continue reading
Registration is a free and easy way to support our truly independent journalism
By registering, you will also enjoy limited access to Premium articles, exclusive newsletters, commenting, and virtual events with our leading journalists
Already have an account? sign in
Join our new commenting forum
Join thought-provoking conversations, follow other Independent readers and see their replies