Jewish Labour election candidate accuses Tory rivals of inciting racial hatred against him
Police investigating social media abuse after candidate's picture emblazoned on billboard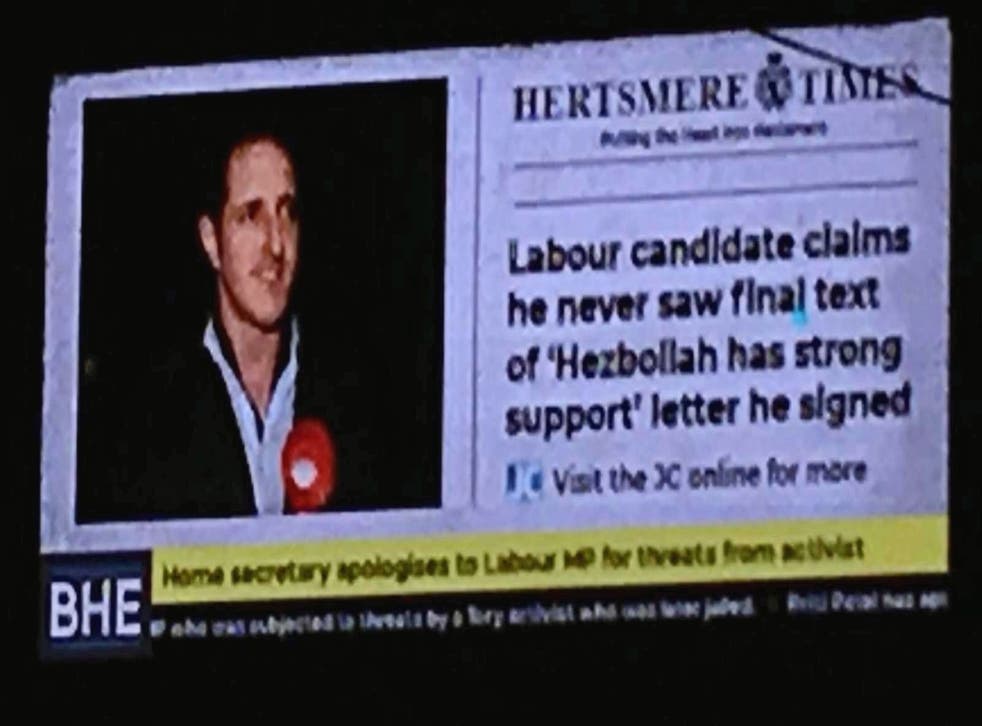 Police have launched an investigation into "vile" social media abuse after a Jewish Labour election candidate accused Conservative rivals of inciting racial hatred against him in a bitterly-contested battle for a council seat.
Dan Ozarow claims online trolling was sparked in part by an electronic billboard mounted outside a busy station in the heart of affluent commuter town Borehamwood in Hertfordshire days before the election this month, bearing his picture alongside a mocked-up newspaper headline about support for Hezbollah.
But Tory councillor Paul Morris, who owns the billboard, said he was legitimately drawing attention to a letter defending Jeremy Corbyn's past meetings with the militant group which Ozarow had signed.
Dr Ozarow said that social media posts branded him a "Jew-hating Jew", an "antisemite appeasing liar" and a "Kapo" – a reference to Jews who were forced to assist their Nazi captors in concentration camps – while another commented: "Being born into a Jewish family doesn't mean you have a Jewish soul." He said he was told to "go and die in the gas chambers" during the by-election campaign for a vacant seat on Hertsmere Council.
"It caused me enormous trauma," he told The Independent. "When you see your face on a screen at the local railway station next to the word Hezbollah, as a Jewish person that cuts you in half. And to get all this vile abuse, when my wife was about to give birth, just tore me apart.
UK news in pictures

Show all 51
"They painted me as a terrorist sympathiser. I thought I was finished in the Jewish community."
The billboard drew attention to an article in the Jewish Chronicle about the joint letter which university lecturer Dr Ozarow signed during the Labour leadership contest won by Mr Corbyn in 2015, which defended the veteran MP from charges of antisemitism and said he had "nothing to apologise for" in his meetings with representatives of Hamas and Hezbollah.
Also signed by activists including anti-Zionist campaigner Tony Greenstein – later expelled from Labour for abusive behaviour – the letter stated: "Hamas was democratically elected in Palestinian elections generally accepted as fair, and Hezbollah also has strong electoral support in Lebanon."
Dr Ozarow told the Jewish Chronicle he had not been aware of the identity of all his co-signatories and had not seen the final text of the letter sent to the press. He told the paper he believed he was "signing a plea for fair coverage during the leadership contest".
"As far as I recall I was never shown the final text," he said. "I was appalled to see some of the people on the list of co-signatories whose politics I do not share and whose views I abhor. On both counts I should have been more careful."
The Chronicle's headline "Labour candidate claims he never saw final text of 'Hezbollah has strong support' letter he signed" was used on the electronic billboard ad underneath the masthead for a fictitious Hertsmere Times newspaper.
Details of the story was also included in official Conservative leaflets distributed in the ward – which has a large Jewish population – in the days before the ballot.
"I was a bit naive to sign something without reading it closely enough five years ago, but to be smeared and castigated and told I have no Jewish soul is very hard to take," said Dr Ozarow. "Hezbollah is a disgusting terrorist organisation and they have carried out barbaric acts which I completely condemn.
"There is antisemitism within the Labour Party and it's totally unacceptable and the party has been far too slow to respond to it and it needs to buck its ideas up. But there is a real dehumanisation of a lot of people in the Labour Party at the moment, people think they can just call us antisemites. I have worked in the Jewish community most of my life, I spent several years working for Jewish Relief, I was married in a synagogue, I am not a Jew-hating Jew."
He said he had reported Hertsmere Conservatives to the police for inciting hatred, and had also registered a complaint with the Advertising Standards Authority alleging that the billboard ad was misleading as it suggested the headline was drawn from a local newspaper.
After going public with his complaints, Dr Ozarow received support from Marie van der Zyl, the president of the Board of Deputies of British Jews, who sent him a message on Twitter along with the hashtag "#solidarity": "Any kind of antisemitic abuse is disgusting. We absolutely condemn it and we hope the perpetrators are identified and punished."
Cllr Morris confirmed that he had posted the billboard advert, saying that Hertsmere Times was a title which he owns and uses to promote issues locally.
"All I did was to cut and paste the headline from the original Jewish Chronicle online article, including the JC logo and adding a note to say for more information people should go to their web page," he said. "It wasn't a Conservative billboard, it was the Hertsmere Times, which I own.
"The Chronicle article related to something which he was involved in and which he acknowledges. I don't know where they got their story from, we just saw it and told people that there was a story there, in exactly the same way that he would use whatever information he has in the way he thinks best.
"I was just republishing a story which had already been published. I've had no communication about it from anyone except the returning officer from the council, who said there was no case to answer."
A Hertfordshire Police spokesman said: "Police are investigating social media comments made towards a candidate in the run-up to the recent by-election in Borehamwood. Enquiries are ongoing at this time and it would therefore be inappropriate to comment further."
Register for free to continue reading
Registration is a free and easy way to support our truly independent journalism
By registering, you will also enjoy limited access to Premium articles, exclusive newsletters, commenting, and virtual events with our leading journalists
Already have an account? sign in
Register for free to continue reading
Registration is a free and easy way to support our truly independent journalism
By registering, you will also enjoy limited access to Premium articles, exclusive newsletters, commenting, and virtual events with our leading journalists
Already have an account? sign in
Join our new commenting forum
Join thought-provoking conversations, follow other Independent readers and see their replies