Keir Starmer would 'welcome a bit of distance' from Len McCluskey as union cuts funding, says Labour MP
Unite general secretary warns party against moving too far from the left
Ashley Cowburn
Political Correspondent
,
Jon Stone
Wednesday 07 October 2020 19:35 Comments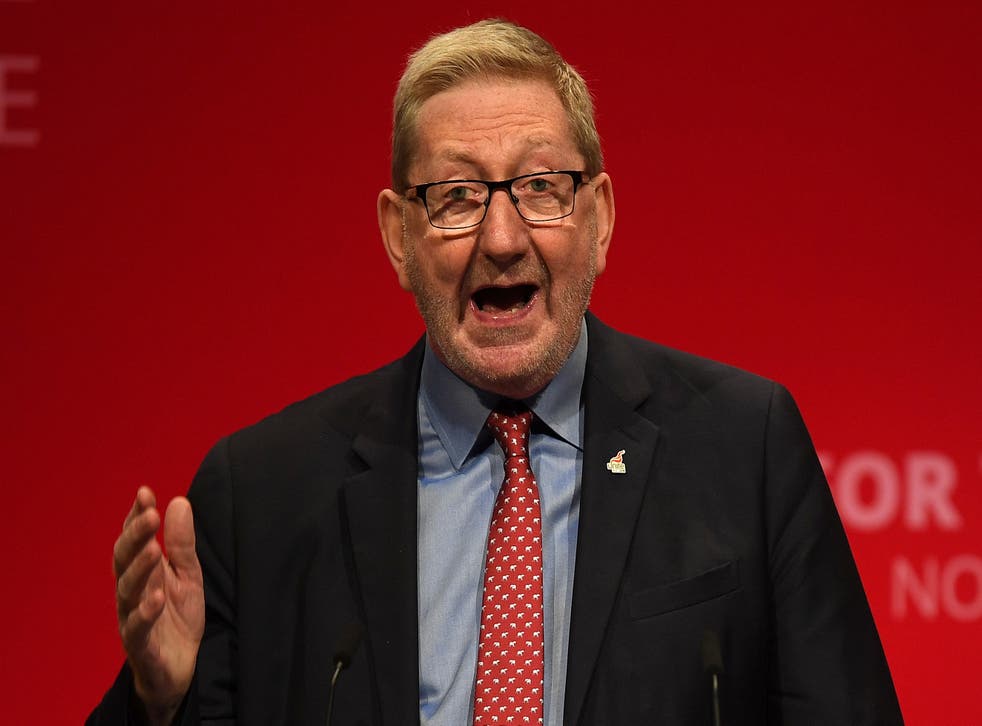 Sir Keir Starmer would "welcome a bit of distance" from Len McCluskey, a Labour MP has claimed, after the Unite union decided to cut funding amid frustration at the direction of the party.
The remarks came as it emerged Unite – one of Britain's biggest unions and Labour's largest financial donor – is to reduce its affiliation by 50,000 members (10 per cent), depriving the party of tens of thousands each year.
After the verdict was reached by the union's executive on Tuesday, Mr McCluskey, a close ally of the former leader Jeremy Corbyn, insisted he wanted to direct political funding to "support and nurture the newer voices in our movement".
In an interview conducted last week but aired on BBC Newsnight yesterday, the union boss said: "I have no doubt if things start to move in different directions and ordinary working people start saying, 'well, I'm not sure what Labour stand for', then my activists will ask me, 'why are we giving so much money'?"
He added: "But I don't see at the moment any dramatic move to disaffiliate from the Labour Party. The Labour Party is our party."
Pressed on funding to the party, the Unite general secretary replied: "I think funding arrangements is undoubtedly an issue that may come up. I've got an executive [meeting] next week and there's already some anger at the fact that the Labour Party paid out significant sums of money to individuals involved in that Panorama programme."
In response to Mr McCluskey's comments, Ben Bradshaw, the Labour MP for Exeter who served in Gordon Brown's cabinet, claimed: "What Unite members and ordinary people want is a Labour government and few people have done more to keep the Tories in power for the last 10 years than Len McCluskey.
"I don't think this will bother Keir Starmer one bit, in fact I think he'll probably welcome a bit of distance from the man who has done our movement so much damage. The decision is one for Unite and Keir's priorities are one for the country and he's not going be too troubled by this."
Referring to the cut in funding, he told the BBC: "It's not a huge amount, 10 per cent of Unite. It's up to Len where he spends his money.
"Keir's doing very well, he's ahead in the polls, his leadership credentials are much better than Boris Johnson's, I don't think he'll be too troubled by this. I hope at the same time what Keir will achieve is a broader spread of funding for the party rather than an unhealthy reliance on a single individual like Len McCluskey."
In response to the move, a spokesperson for the Labour leader said on Wednesday: "Unite has taken their decision; we've seen Len's remarks. We acknowledge that. Labour will continue to take decisions that are in the best interests of the country. That means tackling the coronavirus, sticking up for people's jobs across the country, and restoring public trust in Labour so we can win in 2024."
They added: "Keir's focus and the entire Labour movement's focus is restoring trust in the Labour Party and winning in 2024. Len has taken this decision, Unite has taken this decision, it's for others to speculate and analyse that decision but our focus and the entire Labour Party's focus is to do what's in the best interests of the country and building a roadmap to winning in 2024."
Register for free to continue reading
Registration is a free and easy way to support our truly independent journalism
By registering, you will also enjoy limited access to Premium articles, exclusive newsletters, commenting, and virtual events with our leading journalists
Already have an account? sign in
Register for free to continue reading
Registration is a free and easy way to support our truly independent journalism
By registering, you will also enjoy limited access to Premium articles, exclusive newsletters, commenting, and virtual events with our leading journalists
Already have an account? sign in
Join our new commenting forum
Join thought-provoking conversations, follow other Independent readers and see their replies