What does Andy Burnham really believe in? Here are 8 times he's contradicted himself
Andy Burnham started out as the front-runner but is now expected to finish second at best in a battle that has seen him change tune on a number of issues
Wednesday 02 September 2015 12:11 Comments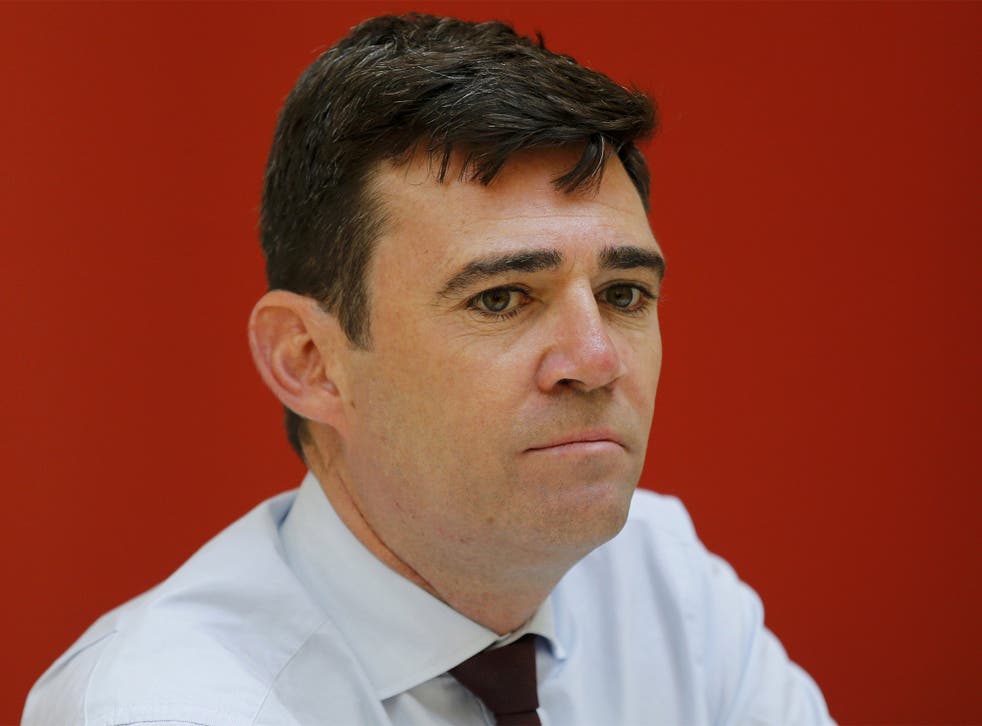 The moment the Labour leadership swung decisively in Jeremy Corbyn's favour was Andy Burnham's disastrous flip-flop over his response to the Government's welfare reforms.
"We cannot simply abstain," he told his party – just minutes after abstaining in a vote on those very measures in the Welfare Reform and Work Bill.
Unfortunately for Burnham it was not the first or the last time he has made embarrassing U-turns. Here are eight of his worst flip-flops, starting with that infamous sudden change of tune on welfare.
1. On Welfare reforms
20 July, in a letter to Labour MPs: "Collective responsibility is important and it is what I would expect as leader of our party. It is why I will be….abstaining on the [Welfare] Bill."
20 July, in a Facebook post after abstaining in vote on Welfare Bill: "I have been clear all along – we cannot simply abstain on a [Welfare] Bill that will penalise working families and increase child poverty."
2. On a Jeremy Corbyn victory
July 26: "Labour is at a fork in the road. I am now worried that, if we take the wrong turn, there's a real risk that the party could split.
"Becoming a party of protest is of no use whatsoever. If that is what happens, they (people) will conclude Labour has become irrelevant and they would be right."
14 August: "I would say the attacks we've seen on Jeremy misread the mood of the party because what people are saying is they're crying out for something different, they are fed up with the way politics has been. They want a bigger vision that can inspire and excite them.
15 August: "Jeremy's plans lack credibility. It's not possible to promise free university education, renationalising the utilities without that coming at a great cost and if you can't explain how that is going to be paid for, then I don't think we'll win back the trust of voters."
16 August: "There is a good deal of common ground between Jeremy and I on some of the big ideas he has brought to this race."
The "big ideas" he referred to include housing, rail and education reform, whereas the "big differences" between him and Corbyn are on the EU, the economy and public service reform.
June 9: "I say it was the best manifesto I have stood on in the four general elections I have stood for Labour."
26 August: He told a hustings event in Edinburgh that the Labour's last manifesto didn't "give you that belief that there's something worth campaigning for".
4. On giving Jeremy Corbyn a job
20 July: "Although he wants unity after the election he can't envisage any circumstances where Corbyn would be on his front bench." Source: a spokesman from Burnham's camp.
17 August: "Jeremy has brought energy to this race. I want to capture that and would involve Jeremy in my team from the outset.
5. On big business
February 2015: "Starbucks, Google, Amazon and the rest…are damaging our town centres and the fabric of our life but they are not contributing to repair that damage. It's a moral question."
"There was a period when people said the market has the answer to everything and I honestly don't think it has. I've used opposition for its proper purpose. I've really reflected."
"I think we let the market in too far."
May 2015: "I think part of the way Labour got it wrong on business in the last Parliament was that we simply didn't say enough that we value what you do – creating jobs and wealth. We didn't celebrate the spirit of enterprise."
Labour leadership: The Contenders

Show all 4
6. On the private sector involvement in the NHS
January 2007: "The NHS has always made use of the independent sector. Our intention to work with other providers of care, including the private sector, was set out in the NHS Plan.
"We are using the independent sector where there are clear benefits for patients either through faster access, increased choice, improved services or better value for money for the taxpayer." (Source: letter to an MP.)
July 2014: "Commissioners have been ordered to put all services out to the market, NHS spending on private and other providers has gone through the £10bn barrier for the first time.
"When did the British public ever give their consent for this?
"It is indefensible for the character of the country's most valued institution to be changed in this way without the public being given a say."
7. On giving interviews to The Sun
12 July: "I don't do special favours for newspapers that attack me and attack my party."
13 July: "I will speak to all newspapers. Of course you've got to do that as leader of the Labour Party."
8. On Tony Blair's repeated warnings of a Corbyn victory
13 August: "Everybody is entitled to express their views on this contest, particularly former prime ministers.
"But I don't think it helps necessarily to second guess the outcome and to make these dire predictions on the back of it. I will be keeping it positive."
30 August: "Tony Blair won three general elections for Labour. If we have got to a point now where the Labour Party says it doesn't want to listen to him then I think we have lost the plot."
Register for free to continue reading
Registration is a free and easy way to support our truly independent journalism
By registering, you will also enjoy limited access to Premium articles, exclusive newsletters, commenting, and virtual events with our leading journalists
Already have an account? sign in
Join our new commenting forum
Join thought-provoking conversations, follow other Independent readers and see their replies