Labour leadership: Contenders step up campaigns for the top job
Liz Kendall has argued the party cannot keep 'repeating remedies of the past'
Nigel Morris Comments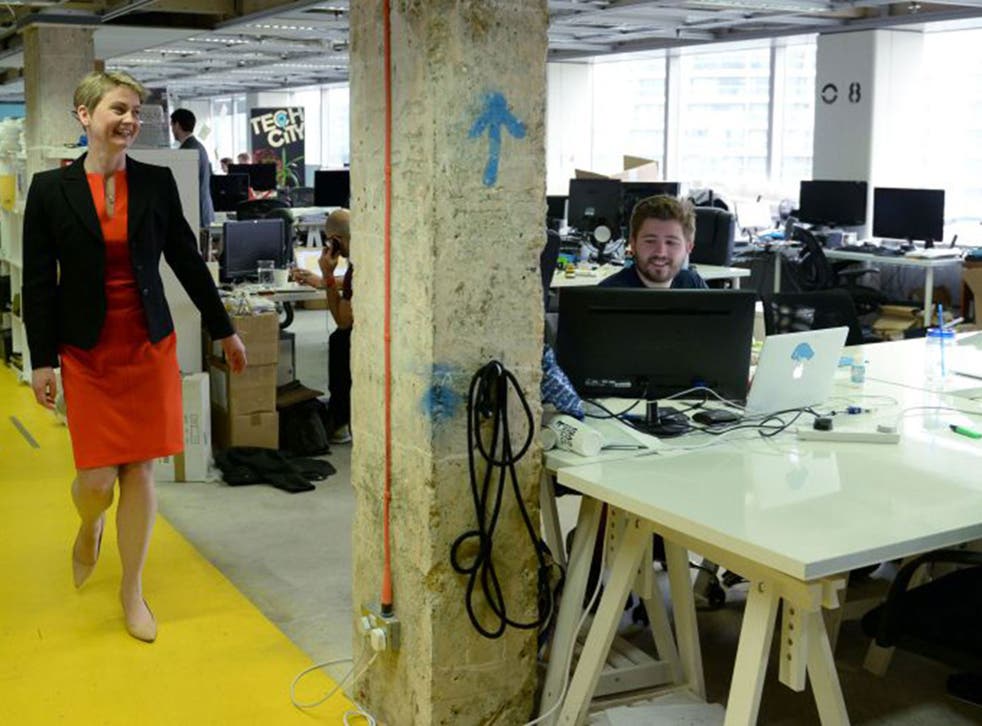 Liz Kendall called for a drive to raise the ambitions of white working-class children and warned that rapid social change had left some communities behind as the battle for the Labour leadership stepped up a gear.
The shadow care minister, who is pitching herself as the change candidate, argued that the party could not afford to keep "repeating the remedies of the past".
The three leading candidates to succeed Ed Miliband – Ms Kendall, Andy Burnham and Yvette Cooper – set out their competing policy visions yesterday as they attempted to invigorate their campaigns.
They sought to distance themselves from the Miliband era, arguing that the party had become seen as hostile to business and had failed to stay in tune with voters.
Ms Cooper projected herself as best placed to draw a line under Labour faction-fighting, while Mr Burnham sought to play down suggestions he was the Left's favoured candidate by praising entrepreneurialism and backing further cuts to welfare budgets.


Ms Kendall, who won a place at Cambridge University from a comprehensive school, singled out the need to "teach girls and boys – particularly from white working-class communities – about the chances in life they may not even know exist – like being an engineer, a chemist, and even leader of the Labour Party".
Her comments reflect worries within the party that its support is being eroded among its historic supporters because Labour was viewed as out of touch with them.
Ms Kendall has built early momentum following the endorsements of influential frontbenchers Chuka Umunna and Tristram Hunt. But Mr Burnham is still seen as the front-runner.


She took a swipe at her more experienced rivals, arguing: "The magnitude of the defeat our party has suffered, and the scale of the challenge we face, means taking the safe option and repeating the remedies of the past just won't cut it for our party or country any more."
Speaking in Leicester, she said Labour had failed to appreciate the impact of rapid economic changes on parts of Britain.
"In Government we were determined to seize the opportunities these changes bring and rightly so. But we failed to realise that the scale and pace of change was creating a profound sense of loss in some of our communities and leaving too many people behind. New Labour was too cavalier about the problems created by globalisation. I am not."
Launching a nationwide campaign tour, Ms Cooper said the leadership contest risked becoming "stuck in the rhetoric and the battles of our party's past when it should be talking about our country's future".
She said: "The answer for Labour now isn't going to be incremental change, just working harder, with a sticking plaster on tricky policies here or there."
Mr Burnham said he had never aligned himself with the party's factions and called for a halt to the "polarising debate" about left and right to allow Labour to renew its appeal.
He said there had been an "impression on the doorstep" during the election that Labour was "soft on people who want something for nothing".
"We've got to be honest about that. That is a feeling that's out there, that was still being replayed at this election," he said.
Mr Burnham signalled he believed there would be scope in the welfare budget for further cuts but was not drawn on the size of potential savings.
The Labour contenders
Andy Burnham
Politicians make a terrible mistake when they try to compartmentalise voters, speaking only to those in parts of the country or those who frequent certain shops. Aspiration is not reserved only for those who shop at John Lewis. It is universal, it is felt just as keenly by Asda and Aldi shoppers.
Verdict
He believes he has appeal across the party and a popular touch which can reach out to former Labour voters. The other camps are portraying him as in hock to the unions, and suggest the time has come for a female leader.
Who will be the next Labour leader?

Show all 7
Yvette Cooper
It would be the biggest mistake of all to seek comfort in past victories or defeats. We can't get sucked back into replaying Miliband vs Miliband, Blair vs Brown, or trying the old campaign playbooks from the 1990s or the Noughties. Britain has moved on. We need answers for tomorrow not yesterday.
Verdict
Her pitch is that she has the strength and experience to hold together the various strands of Labour thinking. Opponents claim her credibility is undermined by the part her husband, Ed Balls, played in Labour's internal battles.
Liz Kendall
∂ ∂I recognise some people might think it's audacious to suggest I might lead our party and ask the country to elect me as our Prime Minister. But the magnitude of the defeat our party has suffered, and the scale of the challenge we face, means taking the safe option and repeating the remedies of the past just won't cut it for our party or country any more.∑ ∑
Verdict
She argues her recent arrival at Westminster distances her from Labour's past and enables her to speak hard truths. Rivals say her "remedies" are unclear and could be captured by Blairites advocating policies out of keeping with Labour values.
Register for free to continue reading
Registration is a free and easy way to support our truly independent journalism
By registering, you will also enjoy limited access to Premium articles, exclusive newsletters, commenting, and virtual events with our leading journalists
Already have an account? sign in
Register for free to continue reading
Registration is a free and easy way to support our truly independent journalism
By registering, you will also enjoy limited access to Premium articles, exclusive newsletters, commenting, and virtual events with our leading journalists
Already have an account? sign in
Join our new commenting forum
Join thought-provoking conversations, follow other Independent readers and see their replies