Labour leadership contest: Andy Burnham urges voters to heed Tony Blair's warnings over Jeremy Corbyn
Two weeks ago Mr Burnham criticised former PM for making 'dire predictions'
Oliver Wright
Monday 31 August 2015 10:00 Comments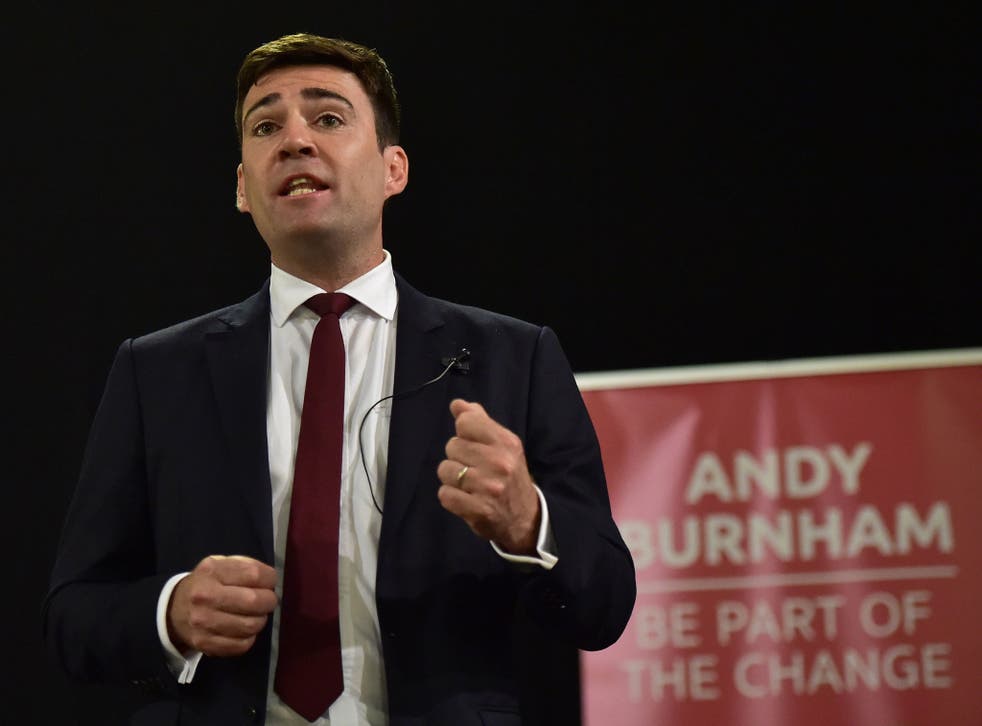 Labour will have "lost the plot" if it doesn't listen to Tony Blair and elects Jeremy Corbyn as the party's next leader, Andy Burnham has warned.
Two weeks ago Mr Burnham criticised the former Prime Minister for making "dire predictions" about what would happen to the party under a Corbyn leadership.
At the time he said Labour members were "well aware of the issues at stake" and that the time had come to "trust the members of the party and supporters to make the right decision about its future."
But in an about-turn less than two weeks before the result is due Mr Burnham has suggested that Mr Blair's repeated interventions should be heeded.
"Tony Blair won three general elections for Labour," he told Sky News. "If we have got to a point now where the Labour Party says it doesn't want to listen to him then I think we have lost the plot."
Mr Blair conceded that appeals from himself and other ex-leaders appeared only to have emboldened those who have propelled the veteran MP from rank outsider to frontrunner.
"In the Alice in Wonderland world this parallel reality has created, it is we who are backward looking for pointing out that the Corbyn programme is exactly what we fought and lost on 30 years ago," he said.
On Tuesday Mr Burnham is expected to say that he is the only candidate capable of stopping Mr Corbyn. He will say: "The Tory press are so desperate for Jeremy Corbyn to win that they're making up stories to give the impression that he already has."
Register for free to continue reading
Registration is a free and easy way to support our truly independent journalism
By registering, you will also enjoy limited access to Premium articles, exclusive newsletters, commenting, and virtual events with our leading journalists
Already have an account? sign in
Join our new commenting forum
Join thought-provoking conversations, follow other Independent readers and see their replies