Labour leadership contest: New party leader to be warned Ukip could prevent 2020 election win
Exclusive: Ukip 'poses significant threat' to Labour in the South of England
Andrew Grice
Tuesday 25 August 2015 00:39 Comments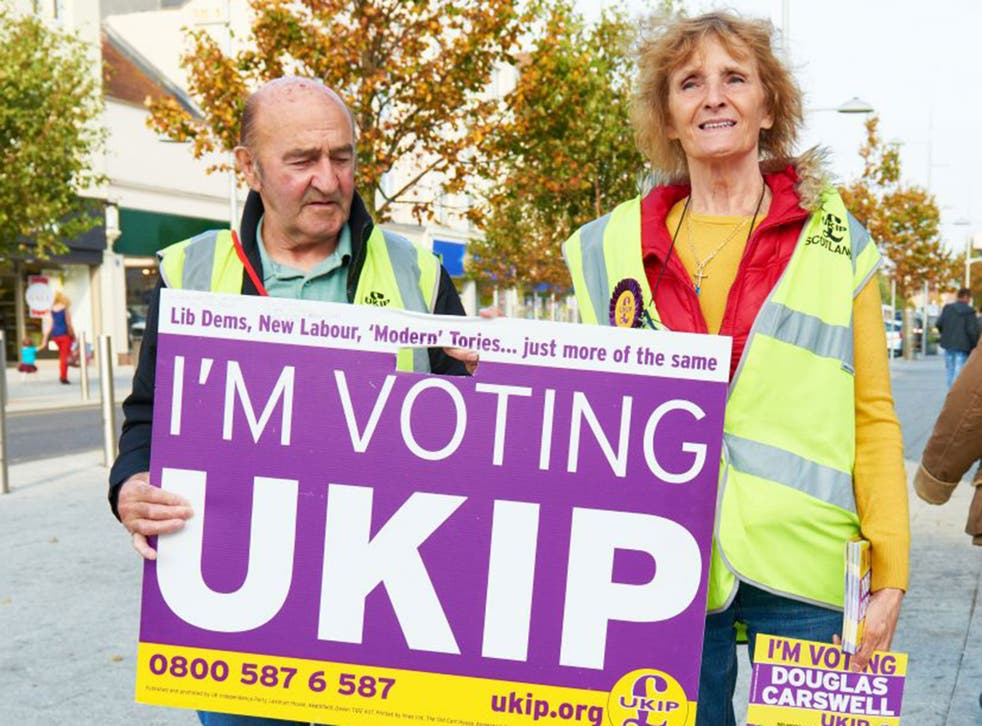 Ukip could deny Labour victory at the 2020 general election, the new leader of the party will be warned in a "lessons learned" review of the May general election.
John Healey, a Labour MP studying the impact of Ukip as part of the party's inquest into its election defeat, will tell the new leader that Nigel Farage's party poses a significant threat to Labour in the South of England as well as in its traditional northern heartlands. He will urge immediate action to prevent Ukip depriving Labour of its majority in the Welsh Assembly in next May's elections.
Mr Healey, a member of Labour's national executive committee (NEC), told The Independent: "We have to get to grips with Ukip. It is not just a northern heartlands problem. It is an essential element in putting us in a position where we can contest the Tory-held seats across swathes of southern and central England."
He added: "We have not got five years for this project. Ukip will challenge Labour hard in the Welsh Assembly elections and potentially remove our majority." These elections are fought under proportional representation, which helps smaller parties more than the first-past-the-post system used at general elections.
Mr Healey's findings will be presented to the new leader to be elected on 12 September and to the NEC. It will form part of a "Learning the Lessons from Defeat" taskforce chaired by Dame Margaret Beckett, the former Foreign Secretary.
He will recommend that Labour does not ape Ukip, saying that its appeal is a reaction to the insecurity caused by globalisation. He will call for Labour to adopt a stronger regional policy to revive "blue-collar" areas hit hard by economic change and an immigration policy that stops migrant workers being exploited. He will argue that Ukip's appeal to working class voters is also cultural, saying that means Labour's representatives must be "authentic voices" for the whole country.
Although the former Housing Minister insisted Labour's "main task" will be defeating the Conservatives, he said his party needs to see off the threat from Ukip in order to do so.
He warned that Labour must not repeat the "complacency" it showed in the last parliament by assuming that Ukip would harm the Tories much more than Labour. In May, Ukip's vote share was higher in Labour-held than Tory-held seats. In two-thirds of Labour's target constituencies the party failed to win, the Ukip vote was bigger than the Tory majority.
Mr Healey said Labour should not regard the anti-EU party as only a threat in the North, as many Labour MPs believe. In Labour's target seats in the South in 2020, Ukip won an average 14 per cent share of the vote at this year's general election as Labour gained only one of its 18 key seats– Hove.
Labour leadership: The Contenders

Show all 4
"The danger now is less complacency and more uncertainty about what to do to get to grips with Ukip," said Mr Healey. "The analysis shows that Ukip was a strong factor in us losing seats we expected to hold and falling further behind in seats we hoped to win. We have to make sure the same pattern and potential threat from Ukip is not there in 2020."
He added: "I want to make sure we do not lose sight of the challenge [from Ukip] we were late in meeting in the last parliament. I do not want us to suffer from the same lost time and lost ground in this parliament."
Register for free to continue reading
Registration is a free and easy way to support our truly independent journalism
By registering, you will also enjoy limited access to Premium articles, exclusive newsletters, commenting, and virtual events with our leading journalists
Already have an account? sign in
Join our new commenting forum
Join thought-provoking conversations, follow other Independent readers and see their replies