Labour leadership contest: Senior party figures forecast doom after Jeremy Corbyn surge
The veteran left-wing MP has drawn level with Andy Burnham in the race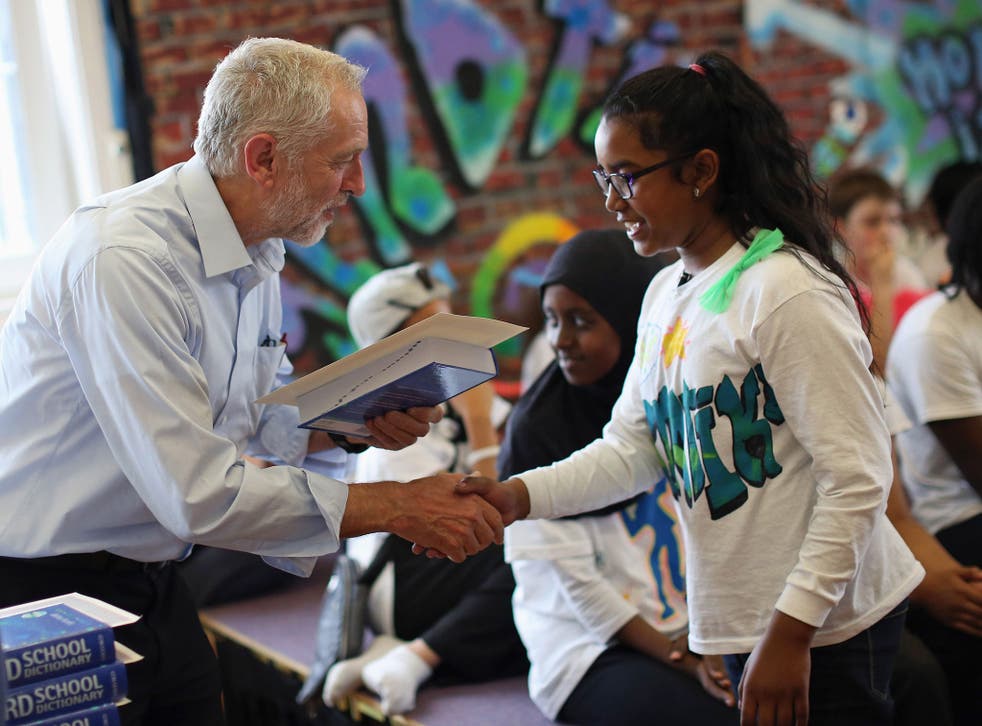 Labour is tearing itself apart with a fractious and divisive leadership campaign that risks consigning the party to electoral irrelevance for years to come, senior figures in the party have warned.
The veteran left-wing MP Jeremy Corbyn has drawn level with Andy Burnham in the race to win the most nominations from constituency parties ahead of the leadership vote in September.
He already has the backing of Unite, the largest Labour-supporting union, and is the favourite to win the backing of Unison and the GMB when they announce their endorsements in the next few weeks.
Some in the party now fear Mr Corbyn has a momentum that could give him an outside chance of winning the leadership, after two polls suggested he was ahead in first-place nominations.
Even if he fails to win, some Shadow Cabinet ministers are warning that his success has moved the party's centre of gravity decisively to the left and that will have damaging long-term consequences for Labour's electability.
One member of Mr Corbyn's campaign suggested that if he won he would "swiftly and brutally" isolate Blairites in the hope of forcing them out of the party.
"The Parliamentary Labour Party will have to be brought into line, some members of party staff will need to be pointed towards the exit, and the party structures would need to undergo a comprehensive review," said Max Shanly, who sits on the National Committee of Young Labour.
One Shadow Cabinet member told The Independent: "The message sent out by how well Jeremy seems to be doing is disastrous – full stop." They added: "This long campaign was a bad mistake."
Another senior figure said: "What a horrific week for the sensible people in the Labour Party." Chuka Umunna, the shadow Business Secretary, warned that even if Mr Corbyn came second it could still have negative consequences for the party.
"People have got to consider very carefully what message the result will send to the public," he said. "It's not just about who wins this contest; it is the shakedown of the results.
"We are not just selecting a Labour leader, we are selecting somebody who is a Labour prime minister. But we're also giving an indication to the people of Britain where we are centred, what we think, what we think the solutions will be."
Mr Umunna claimed he had "absolutely nothing against" Mr Corbyn but said he was "giving the impression that we are more concerned with those who won't work" and "want to beat up" employers. "I don't think is a particularly good look," he added.
Mr Corbyn's campaign is being masterminded by Simon Fletcher, who was behind Ken Livingstone's successful London mayoral campaign in 2000 after he was expelled from the Labour Party. Mr Fletcher most recently worked for Ed Miliband where he was in charge of union liaison and has strong links with the party's grassroots.
Mr Corbyn made a bold play for younger Labour activists on Thursday by promising to campaign on scrapping university tuition fees – something none of the other candidates have done.
He said he would pay for the £10bn reform by raising tax on company profits and national insurance payments for higher earners.
While Mr Corbyn's surge has panicked some Labour MPs, it has delighted the Conservatives. On Thursday it emerged that David Cameron had even jokingly given Mr Corbyn advice on how to win the leadership. The Prime Minister bumped into Mr Corbyn in the House of Commons ahead of a meeting with Conservative MPs late on Wednesday afternoon.
He said he told the Islington MP that he should model his campaign on his own successful bid to overturn David Davis's lead in the 2005 Conservative leadership battle. Speaking to a private meeting of the Conservative 1922 Committee, Mr Cameron said he told the Labour MP: "You have got to be the change candidate – I was the outsider."
Join our new commenting forum
Join thought-provoking conversations, follow other Independent readers and see their replies