Who are the Labour leadership contenders?
Labour leadership: The key policies of Keir Starmer, Rebecca Long-Bailey and Lisa Nandy
Candidates must convince members they can revive Labour's fortunes after its worst electoral defeat since 1935
The race to succeed Jeremy Corbyn has entered its final stage, as Labour members and supporters begin casting their ballots to elect a new leader.
The three leadership hopefuls - Sir Keir Starmer, Lisa Nandy and Rebecca Long-Bailey - are battling to win votes ahead of the 2 April deadline, with a new leader due to be unveiled at a special conference on 4 April.
The candidates must convince members they can revive Labour's fortunes after its worst electoral defeat since 1935 and how they will take on Boris Johnson in the 2024 general election.
But where do the would-be leaders stand on key issues?
Keir Starmer
The shadow Brexit secretary has shown support for much of Mr Corbyn's policy agenda, as he seeks to woo the left wing of the party.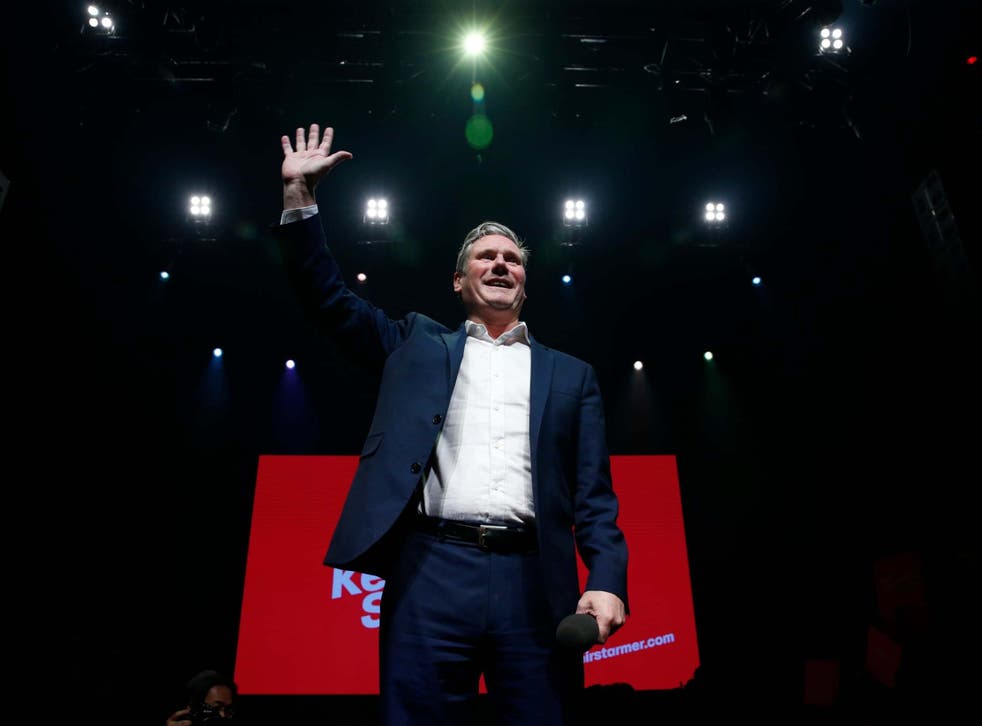 In a list of 10 pledges, he gave promises to increase taxes for the top 5 per cent of earners, reverse corporation tax cuts and abolish the controversial universal credit welfare reforms.
Sir Keir also committed to the party's Green Industrial Revolution, a policy which is popular with activists, and said he would scrap university tuition fees and renationalise key industries including rail, mail, water and energy.
The Holborn and St Pancras MP signed up to a list of pledges to combat antisemitism from the Board of Deputies and vowed to adopt the full International Holocaust Remembrace Alliance (IHRA) definition of antisemitism. He has said that anyone who supports those expelled for antisemitism will be kicked out themselves.
Sir Keir said he would push for better representiation of local councillors on Labour's ruling body and give trade unions a bigger role in deciding party policy.
He would retain freedom of movement for EU nationals, end indefinite detention and close holding centres such as Yarl's Wood.
Sir Keir also pledged to review all UK arms sales and introduce a Prevention of Military Intervention Act to prohibit illegal wars.
He would abolish the House of Lords and replace it with an elected chamber of representatives from regions and nations.
Rebecca Long-Bailey
Ms Long-Bailey, a close ally of the Labour leader, has stayed very close to Mr Corbyn's agenda with her pitch for "aspirational socialism".
She would keep pledges to bring key industries back into public ownership, to increase taxes on the top 5 per cent and to scrap universal credit.
The shadow business secretary also wants to introduce a legal right so workers do not have to answer their phones outside of the office.
As one of the authors of the party's Green Industrial Revolution, Ms Long-Bailey wants to enshrine the climate fight in all of Labour's actions and work towards net zero by 2030.
On education, she would scrap tuition fees, remove tax-free loopholes for private schools, restore the education maintenance allowance (EMA) and introduce free school meals for all primary school children.
She would replace the House of Lords with an elected senate outside of London and ban Labour from appointing any more peers. Ms Long-Bailey also said she would consult members over proportional representation.
The Salford and Eccles MP has signed the Board of Deputies pledges and also promised to adopt the IHRA definition of antisemitism. She said she would ask the the Jewish Labour Movement to lead on anti-racism traning.
Ms Long-Bailey would reform the Gender Recognition Act and has signed a divisive pledge card by the Labour Campaign for Trans Rights, which promises to expel transphobic members.
She also pledged to bring in open selections for MPs - a controversial move where sitting MPs must win the approval of their local parties to stand at every election.
Lisa Nandy
The Wigan MP has been more critical of Mr Corbyn's leadership than her shadow cabinet rivals - but she is still supportive of many of his ideas.
Her policy offer includes commitments to renationalise rail, water, energy and mail, increase capital gains and corporation tax, and bring in levies for polluters and unearned wealth.
She would scrap tuition fees, bring back EMA and abolish academies and free schools.
Ms Nandy would also push for a "green new deal", ensure buses emit zero emissions by 2025 and refuse to sign trade deals with countries that have not ratified the Paris climate agreement - which includes the United States.
She wants local councillors to have more say on Labour policy, inviting council leaders into the shadow cabinet and letting councillors nominate leadership candidates.
The leadership hopeful has also committed to reforming Gender Recognition Act and joined Ms Long-Bailey in signing the Labour Campaign for Trans Rights pledge card.
On antisemitism, she has signed up to the IHRA definition on anti-Jewish hate and the Board of Deputies' pledges.
Ms Nandy wants to explore "mutualisation" of the BBC to ensure greater accountablity - which would see the broadcaster move to a John Lewis-style model, where it is owned by those who pay for it.
She would renew Trident but also give a commitment to multilateral disarmament.
Join our new commenting forum
Join thought-provoking conversations, follow other Independent readers and see their replies