Gordon Brown endorses Yvette Cooper for Labour leader as Andy Burnham warns wrong choice could bring 'two decades of the Tories'
Former PM picked Burnham as his second choice and Liz Kendall as third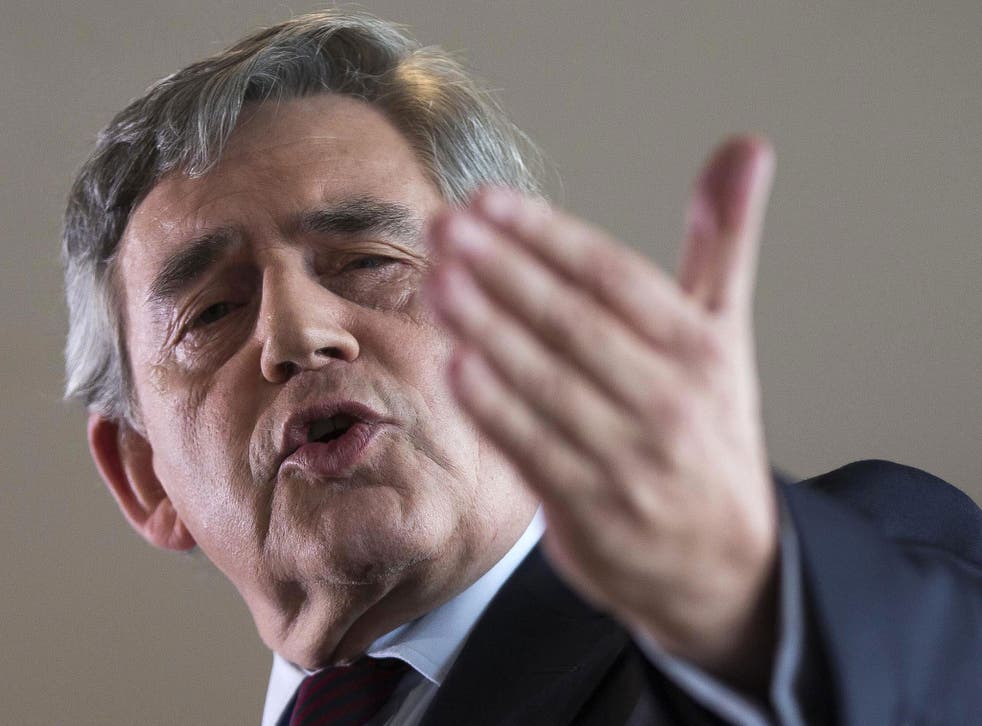 Gordon Brown has endorsed Yvette Cooper as Labour leader, eight days after issuing a veiled warning against the party opting for Jeremy Corbyn.
The former prime minister picked the Shadow Home Secretary as his first choice, Andy Burnham as his second and Liz Kendall as third. His choices were the same as his wife, Sarah.
Shortly after the announcement Charles Clarke revealed that he had voted for Ms Kendall as his first choice, Ms Cooper as his second and Mr Burnham as third.
In a more direct attack on Mr Corbyn's economic policies the former home secretary told Newsnight that Mr Corbyn's economic proposals would "weaken confidence in any British government and in so doing increase inflation, interest rates and reduce employment".
Mr Clarke told the programme he thought the Labour leadership process had been a "disaster". "I don't think Harriet Harman done it well. I think the changes Ed Miliband brought in had been a mistake."
Labour leadership: The Contenders

Show all 4
Meanwhile, Mr Burnham delivered one of his strongest warnings yet that Labour was facing the prospect of losing next two elections and remain out of power for even longer than the 18 years it endured under Margaret Thatcher and John Major. "If we take the wrong turn now, we risk subjecting people to two decades of the Tories. We let that happen once before and I will fight with everything I've got to stop it happening again."
"I will make two promises to you tonight. The Labour Party I lead will be the most hard-working opposition that anyone has ever seen, we will run the Government ragged every day. And we will be an opposition fighting not for its own causes, but one that is fighting to win power." Mr Burnham joked: "It's been a long leadership campaign ... It's been so long that I can just about remember being the frontrunner."
Mr Burnham has backing from party heavyweights including former deputy prime minister Lord Prescott, and former director of public prosecutions Sir Kier Starmer, both of who spoke in support of Mr Burnham on Monday night. But he has also come under criticism for not opposing the government's welfare bill outright last month.
Mr Corbyn's dramatic transformation from rank outsider to frontrunner and bookmaker's favourite in the Labour leadership has prompted fears it would force the party to split.
But Mr Corbyn told the Financial Times: "I don't think there is any appetite for people to walk away from (the party).
"The number of MPs making 'noises off' at the moment is actually quite small," he added. "A lot of MPs are looking to see what happens and what role they can fulfil."
Register for free to continue reading
Registration is a free and easy way to support our truly independent journalism
By registering, you will also enjoy limited access to Premium articles, exclusive newsletters, commenting, and virtual events with our leading journalists
Already have an account? sign in
Register for free to continue reading
Registration is a free and easy way to support our truly independent journalism
By registering, you will also enjoy limited access to Premium articles, exclusive newsletters, commenting, and virtual events with our leading journalists
Already have an account? sign in
Join our new commenting forum
Join thought-provoking conversations, follow other Independent readers and see their replies