Labour leadership: Jeremy Corbyn only listening to hard core allies - making his isolation in the party almost total
Tom Watson's attempts to discuss Mr Corbyn's vanishing support among Labour MPs rebuffed by the embattled party leader despite mass resignations
Andy McSmith
Wednesday 29 June 2016 19:19 Comments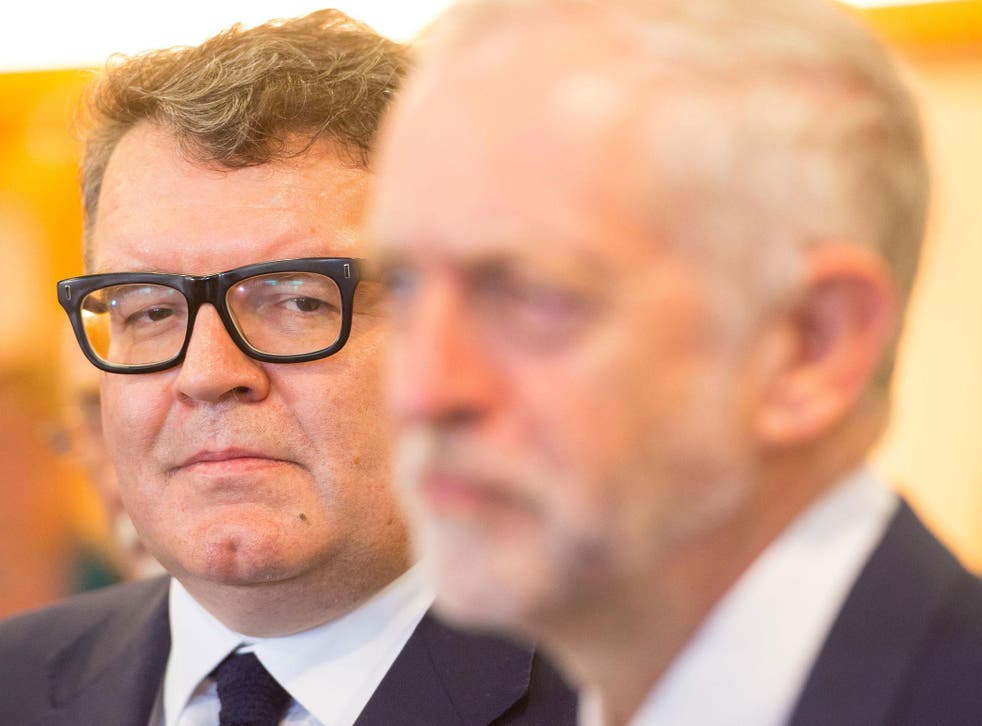 Jeremy Corbyn is refusing to listen to anyone except his hard core of allies - and the cheering supporters who gathered in their hundreds to hear him speak today.
Inside Parliament, the Labour leader's isolation is almost total. His deputy, Tom Watson – who, like Mr Corbyn, was elected by party members and signed up supporters – tried to persuade his leader to quit because he has lost the support of his MPs. But Mr Watson told the BBC: "I'm afraid Jeremy isn't willing to discuss that with me so I assume he remains in office."
The two leaders visited a Polish centre during the afternoon. Mr Watson tried to raise the subject Mr Corbyn's vanishing support among Labour MPs, but the embattled party leader refused to discuss it.
But later he spoke in front of a huge crowd of supporters from outside Parliament, who came together at short notice for a rally in support of him. The grass roots organisation, Momentum, had originally planned to hold the rally at TUC headquarters, but had to cancel when they realised that the hall was not going to be big enough to fit the huge numbers wanting to come. They reorganised at short notice after finding a bigger venue.
Mr Corbyn's refusal to stand down, after Labour MPs had voted by 172 to 40 that they had no confidence in his leadership, makes it almost inevitable that a rival will force another leadership election. Mr Watson, who had already said in private that he would not stand, publicly ruled himself out.
Angela Eagle, the former shadow Business Secretary – who is seen by many as Mr Corbyn's most likely successor – is expected to make an announcement on Thursday afternoon, which could be the start of one of the most divisve leadership contests in Labour's history.
It will then be for Labour's national executive to rule whether Mr Corbyn has an automatic right to be on the ballot paper, or whether – like any other candidate – he must find gather nominations from 50 Labour MPs or MEPs – a target he may not have enough support to achieve.
In another extraordinary day in Labour's seeming journey into self-destruction, four previous leader of the party, and David Cameron, appealed in vain to Mr Corbyn to resign. Westminster was thick with rumours that the embattled leader was on the point of quitting, but was being told the shadow Chancellor John McDonnell, and his Communications Director Seumas Milne that he must fight on. Mr Watson told the BBC: "He has obviously been told to stay by his close ally, John McDonnell."
The Commons has very often heard opposition leaders call upon prime ministers to resign, but the tables were turned at Prime Minister's Questions when Mr Cameron exclaimed: "It might be in my party's interest for him to sit there, it's not in the national interest and I would say, for heaven's sake man, go!"
Ed Miliband, whose politics were closer to Mr Corbyn's than any other recent party leader's, told the BBC: "I've supported Jeremy Corbyn all the way along from the moment he was elected… but I have reluctantly reached the conclusion that his position is untenable."
The former Prime Minister, Gordon Brown, said in a speech in Edinburgh that Labour had to choose between being electable or being a party of protest. He added: "I don't think Jeremy Corbyn is going to stay. I think he is going to go"
Harriet Harman, who was twice Labour's interim leader, issued a statement saying: "It is with great regret that I call on Jeremy Corbyn to stand down as leader of the Labour Party. Jeremy has many great qualities but he is not a leader."
Margaret Beckett, who led the party for three months in 1994, also called for Mr Corbyn to go. The 20 Labour members of the European Parliament issued a statement criticising the way Mr Corbyn's staff had reacted to last Thursday's Brexit voted, adding: "We find it hard to see how any Labour leader can continue in that role if they do not have the support of their MPs."
The leaders of Britain's four biggest unions met and put out a statement saying that they recognised the case for a leadership election, but continued their support for Mr Corbyn.
There were yet more resignations from Mr Corbyn's front bench team, including Pat Glass, whom he promoted to the shadow Cabinet only two days ago. According to one insider, at least three people who told Mr Corbyn to his face that he risked splitting the party unless he resigned were given the same answer - that he had a mandate from the party members and supporters who elected him last year. Mr Corbyn believes that he would be letting those supporters down if he gave in to parliamentary pressure to quit.

Register for free to continue reading
Registration is a free and easy way to support our truly independent journalism
By registering, you will also enjoy limited access to Premium articles, exclusive newsletters, commenting, and virtual events with our leading journalists
Already have an account? sign in
Join our new commenting forum
Join thought-provoking conversations, follow other Independent readers and see their replies