Jeremy Corbyn takes shock lead in Labour leadership race
Report says the veteran left winger is ahead in two private polls after building up a 'commanding position', leading Ladbrokes to slash its odds on his chance of victory
Nigel Morris
Thursday 16 July 2015 15:52 Comments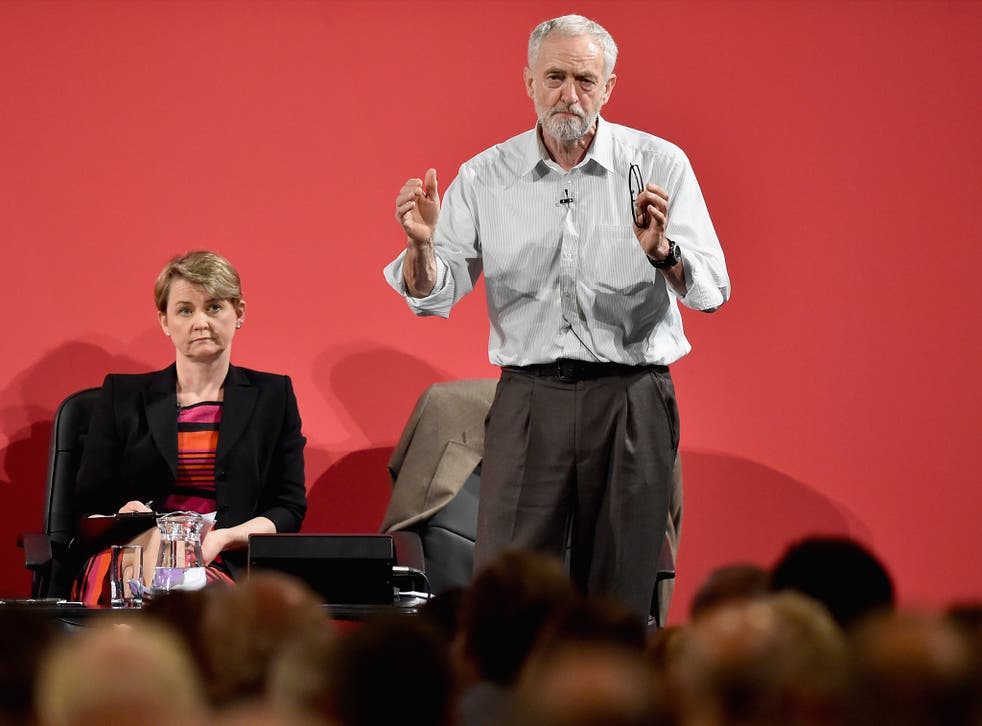 Polling has put Jeremy Corbyn in a shock lead in the battle for the Labour leadership, according to a report which fuelled fears among mainstream figures that the veteran left winger is winning over large numbers of activists.
Mr Corbyn had been expected to be a distant fourth in the contest to succeed Ed Miliband. He only scraped on to the ballot at the last minute after several MPs "lent" him their nominations.
But he has enjoyed a surge in support after performing strongly in leadership hustings and has been backed by Unite, Britain's biggest union, which is signing up affiliated members to take part in the election.
The New Statesman reported that two private polls carried out by his rivals suggest Mr Corbyn could top the ballot in the first round of voting. The magazine said one survey put him in a lead of more than 15 points, while another put him on course to win after building up a "commanding position".
It led the bookmaker Ladbrokes to cut its odds on his chance of victory to 5/1, having put him on 100/1 when he joined the race.
The report delivers a fresh blow to supporters of Andy Burnham, Yvette Cooper and Liz Kendall, who had originally viewed Mr Corbyn as a maverick candidate who would be roundly rejected.
The Islington North MP has been nominated by 40 constituency parties, just eight fewer than Mr Burnham, who is regarded as the frontrunner. Ms Cooper has been backed by 30 parties, while just five have opted for Ms Kendall.
The consensus among Labour MPs is that Mr Corbyn has pulled ahead of Ms Kendall and is in a strong third place behind Ms Cooper. But the balance of support is difficult to gauge because the election is being fought under Labour's new one-member-one-vote system.
Mr Corbyn's allies said he was drawing support from young members impressed by his strong anti-austerity stance. He will build on that by launching a campaign on Thursday against moves to replace student maintenance grants with loans.
The momentum behind him has alarmed senior party figures, who fear a strong showing for the left-winger would alienate millions of moderate voters who have deserted Labour. There are also bitter recriminations that several MPs helped to get him on the ballot paper while not supporting his politics.
One Shadow Cabinet member said: "The whole thing is appalling. People should have been wary over what they wished for."
An MP who supports Ms Kendall said: "It's a disaster. All this focus on Jeremy is just reminding people why they don't vote for us any more."
But a spokesperson for Mr Corbyn retorted: "Jeremy isn't taking wild positions on things. He will put out costings for his policies. He will show he wants to talk about an inclusive leadership – hopefully he will reach out to people who aren't automatic supporters of his policy positions."
The other leadership teams, who denied conducting the polls reported by The New Statesman, insisted Mr Corbyn was lagging behind.
The Burnham team said the shadow Health Secretary was set to win at all stages of voting, while Ms Cooper's backers said she was level-pegging with Mr Burnham, but well-placed to pick up second preference votes.
Toby Perkins, Ms Kendall's campaign manager, said: "Voters face a straight choice between changing to win with Liz Kendall or marching into a 1980s-style wilderness with Jeremy Corbyn."
The result is due to be announced in September.
Register for free to continue reading
Registration is a free and easy way to support our truly independent journalism
By registering, you will also enjoy limited access to Premium articles, exclusive newsletters, commenting, and virtual events with our leading journalists
Already have an account? sign in
Join our new commenting forum
Join thought-provoking conversations, follow other Independent readers and see their replies