Labour left and right at war: Mainstream group hits out at 'divisive' Jeremy Corbyn-backed Momentum campaign
Labour First sends email to members telling it to resist 'divisive' grassroots organisation announced by Jeremy Corbyn's leadership campaign, claiming it would try to purge mainstream MPs under the guise of boosting internal party democracy 
Matt Dathan
Online political reporter
Thursday 08 October 2015 18:50 Comments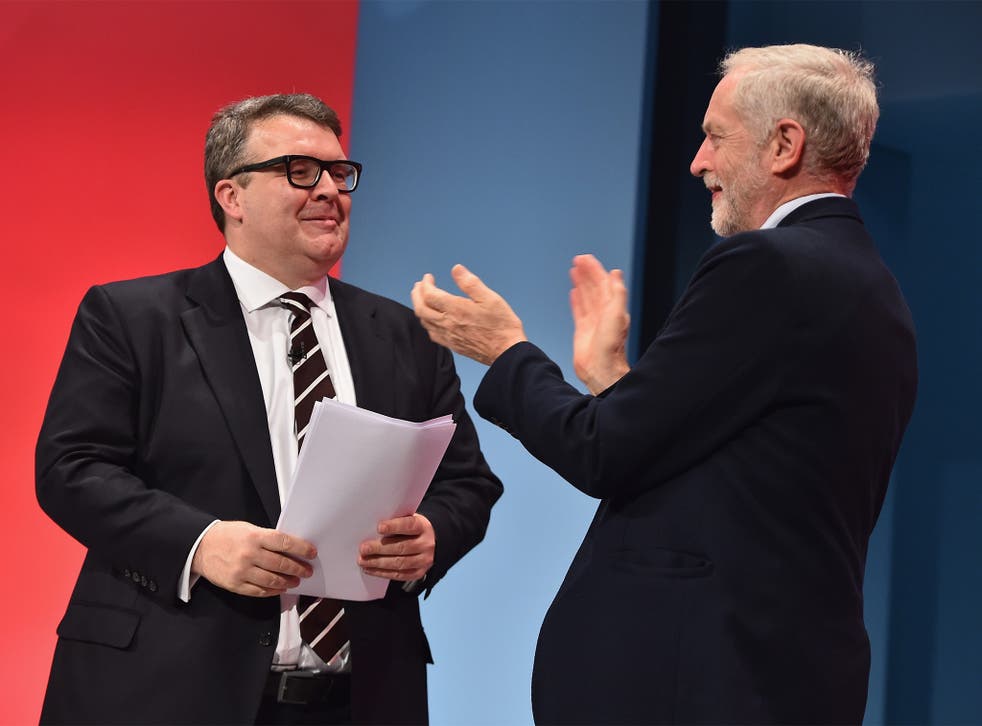 A mainstream internal Labour pressure group has hit out at Jeremy Corbyn supporters after backers of his leadership bid announced a new campaign group called Momentum to mobilise support for the party across the UK.
In a sign of increasing tension within the party, Labour First, a voice of the traditional Labour Right, has emailed its members telling them to "resist a Hard Left takeover" Corbyn backers.
Labour First says that the party must not indulge in its own civil war at a time when the Government is pushing through major changes to welfare and trade union laws and says it must focus on exploiting Tory divisions as it braces itself for its own civil war over Europe.
Momentum, a "grassroots network," plans to campaign on local issues and topics within the Labour party.
But Labour first said creating this organisation "looks divisive" and said it was concerned that its "warm words" on improving internal party democracy was a disguise to "mobilise factionally within Labour".
It claimed the "veteran Bennite organisers" of the campaign group would use it to deselect MPs and councillors who "are not judged 'politically correct'".
Luke Akehurst, the secretary of Labour First, wrote: "We find it rather strange that the winning candidate in a leadership election would sustain the life of their campaign after winning, rather than seeing their role now as having a responsibility to unite the whole party, including supporters of all four of this summer's candidates."
He added that Momentum, by saying it would organise in "every town, city and village to create a mass movement for real progressive change," was the role of the Labour party and "not a parallel structure".
The email ended with a plea to resist the Corbynite campaign group in order to protect a purge of moderates in the Labour party.
Mr Akehurst added: "Labour First is trying to build the broadest possible coalition of mainstream and moderate Labour activists to resist a Hard Left takeover of our party's internal democratic structures, and protect and support hardworking moderate councillors, MPs and CLP officers. We can't let "Momentum" have all the momentum."
Momentum's founders say it has been registered as a limited company on an interim basis and will have a devolved democratic structure when it develops.
The campaign will be run on a voluntary basis and there are no plans to charge a membership fee.
Its website pledges to: "Organise in every town, city and village to create a mass movement for real progressive change; make the Labour Party into a more democratic party with the policies and collective will to make that change in government; bring together individuals and groups in our communities and workplaces to campaign and organise on the issues that matter to us."
Momentum is a successor to Mr Corbyn's leadership campaign, though it says it is independent of the leadership.
The group says it can contact all those who signed up to support the leader's campaign; it also has a stylistically similar logo to Mr Corbyn's campaign.
The group's website says it will organise events, raillies, meet-ups and policy consultations "to encourage mass mobilisation for a more democratic, equal and decent society".
"Now more than ever we need to unite and continue to build our movement to change our politics and to win together in 2020," Mr Corbyn said, according to the LabourList website.
"We need us to put our values, the people's values, back into politics. To do this, we need to keep up the momentum we have built over the last four months."
Momentum in some respects resembles the Movement for Change, another grassroots network set up by David Miliband in 2011 to much fanfare.
Register for free to continue reading
Registration is a free and easy way to support our truly independent journalism
By registering, you will also enjoy limited access to Premium articles, exclusive newsletters, commenting, and virtual events with our leading journalists
Already have an account? sign in
Register for free to continue reading
Registration is a free and easy way to support our truly independent journalism
By registering, you will also enjoy limited access to Premium articles, exclusive newsletters, commenting, and virtual events with our leading journalists
Already have an account? sign in
Join our new commenting forum
Join thought-provoking conversations, follow other Independent readers and see their replies