Petition demanding Labour suspend MP for backing anti-LGBT+ protests gathers more than 1,600 signatures
'We hope Labour will take this opportunity to readdress Godsiff's comments and take a more committed, unwavering stance in support of LGBT+ people's rights'
Ashley Cowburn
Political Correspondent
Friday 14 June 2019 15:03 Comments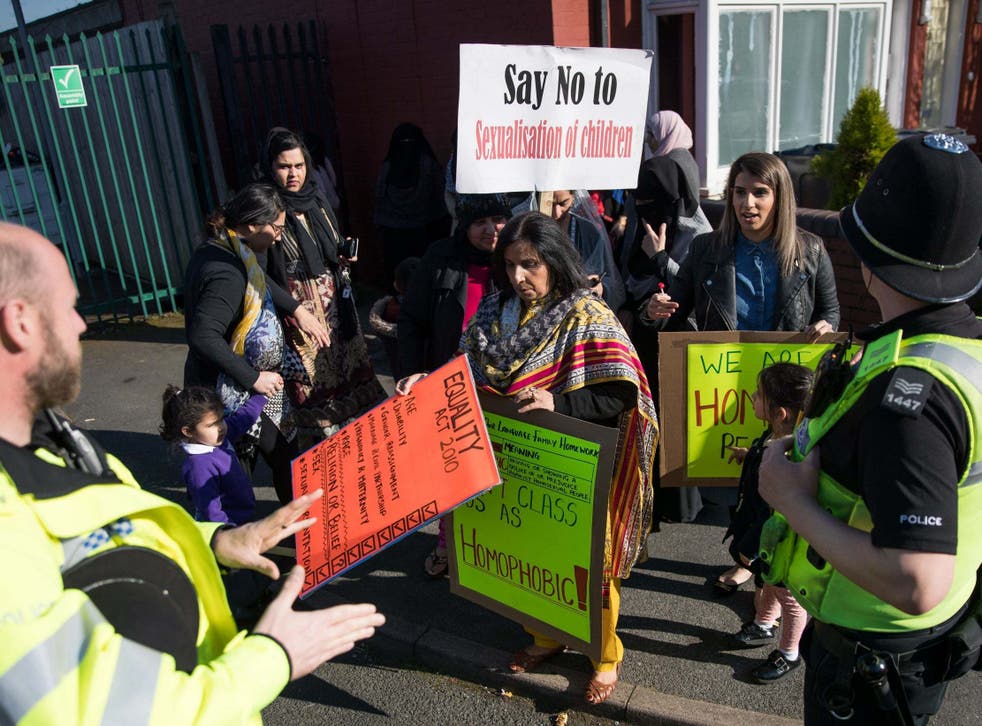 Labour is facing escalating pressure to suspend an MP who backed anti-LGBT+ lesson protestors, as a members' petition demanding action from the party attracted over 1,600 signatories.
Birmingham MP Roger Godsiff provoked outrage from colleagues and Labour supporters after telling demonstrators outside Anderton Park primary school last week they had a "just cause".
"I will continue to fight your corner because you're right," the Labour MP said, as he also criticised the headteacher in the row over teaching LGBT+ relationships.
After complaints made by members of the shadow cabinet, including shadow education secretary Angela Rayner, Labour has "reminded" the MP of his responsibilities.
But party members and supporters have criticised the action as "inadequate" and called for Mr Godsiff's immediate suspension in a petition circulating on social media.
UK news in pictures

Show all 51
The petition reads: "For a Labour MP to make discriminatory, highly offensive comments regarding LGBT+ people to agree with homophobic, transphobic protests against LGBT+ teaching stands at a direct contrast with Labour's own values and its own manifesto."
"Labour represents countless LGBT+ members and we urge the party to stay true to their own values by not just simply reminding an MP of responsibilities, and instead suspending Roger Godsiff and removing the party's whip," it adds.
"We hope Labour will take this opportunity to readdress Godsiff's comments and take a more committed, unwavering stance in support of LGBT+ people's rights and LGBT+ teaching in schools by ensuring its own MPs reflect these same values."
It comes the headteacher of the Anderton Park Primary School in Birmingham, Sarah Hewitt-Clarkson, also called for the whip to be removed from Mr Godsiff.
"Well, it has created a sense of incredulity amongst people who live in his constituency, and further - more far reaching than that," she said.
"How a Labour MP can say such things which appear to be the opposite of what we had do. We have to tackle prejudice, we have to seek to eliminate discrimination and actually his comments seem to have fuelled discrimination and fuelled prejudice.
The petition calling for his suspension from Labour includes signatories from Constituency Labour Parties (CLPs) across the country, including Labour's official LGBT+ body.
Left-wing journalist Owen Jones, and former spokesman to Jeremy Corbyn, Matt Zarb-Cousin, also appear among the list of those calling for disciplinary action against the MP.
Mr Jones, who has shared the petition, told The Independent it was "sickening" to see Mr Godsiff back the protestors outside the Birmingham primary school.
"There is a Labour Party rule that any member can be expelled for bringing the party into disrepute: given Labour's existential purpose is equality, Godsiff has clearly met the threshold," he added.
"Labour need to stop dragging their feet and act now - or risk damaging their relationship with LGBTQ people who need the party's support at a time when we are under attack."
In response, a Labour Party spokesperson said: "There is not only a moral imperative to teach LGBT+ inclusive education, there is also a legal requirement under the Equality Act, which all schools must comply with. There is no justifiable reason to stop the teaching of these issues.
"To teach children about relationships and omit the fact that LGBT+ couples exist is fundamentally discriminatory. At a time when levels of homophobic and transphobic hate crime are rising in our society, it is more important than ever that we educate young people.
"Roger Godsiff's comments do not reflect the Labour Party's position in any way and his behaviour falls below the standards expected of a Labour MP. He has been formally reprimanded by the chief whip and has been warned that he must not repeat such conduct in the future."
Mr Godsiff declined to comment on the petition when approached by The Independent.
Register for free to continue reading
Registration is a free and easy way to support our truly independent journalism
By registering, you will also enjoy limited access to Premium articles, exclusive newsletters, commenting, and virtual events with our leading journalists
Already have an account? sign in
Join our new commenting forum
Join thought-provoking conversations, follow other Independent readers and see their replies