Labour says plan for a £10 minimum wage would raise more than five million workers' incomes
Jeremy Corbyn has vowed to raise current threshold by £2.50 by 2020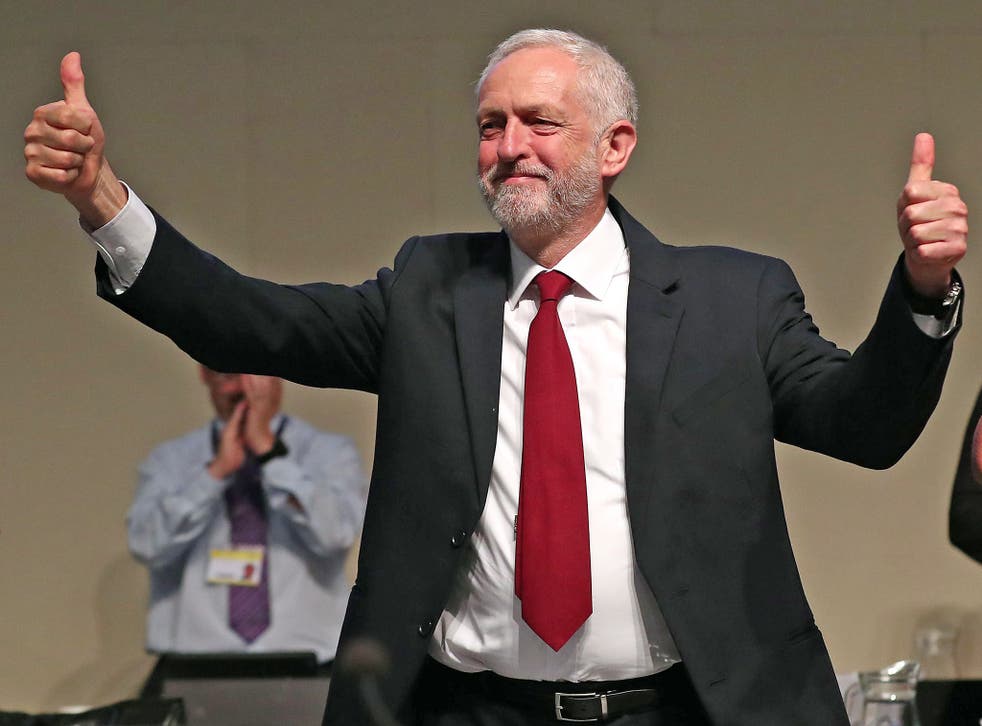 Labour's plan to introduce a "Real Living Wage" of £10 per hour would result in a pay rise for almost a quarter of Britain's workers, the party has said, suggesting more than five million people would benefit.
Jeremy Corbyn has promised to raise the statutory minimum wage to £10 per hour by 2020 - a significant increase on the current £7.50.
New analysis released by Labour and based on House of Commons Library figures shows that in some parts of the country more than 40 per cent of workers would see their wages rise.
The Office for Budget Responsibility (OBR) forecasts that the National Living Wage, which employers must legally pay to anyone over the age of 25, will rise from the current £7.50 per hour to £8.75 by 2020 – less than the £9 per hour promised by Government ministers and significantly less than Labour's proposal.
Meanwhile the National Minimum Wage, which applies to 18-24-year-olds, will have risen from the current £7.05 for 21-24-year-olds to £7.75 by 2020. The rate for 18-20-year-olds is much lower: currently £5.60.
Labour's policy would increase the legal minimum wage to £10 per hour for anyone over the age of 18 – thereby abolishing the different pay rates between people over and under the age of 25.
The change would also force employers to pay staff an actual "Living Wage", which is the amount it is calculated an average employee needs in order to maintain a certain quality of life.
The Living Wage, which employers are under no legal obligation to pay, is different to the Government's National Living Wage, which was introduced by then-Chancellor George Osborne in 2015. Critics say the latter is not high enough for many people to live off.
Labour says its policy would mean a pay rise for 23 per cent of workers. In areas such as West Somerset, and Weymouth and Portland in Dorset, more than 40 per cent of employees would see their wages increase. In contrast, in areas such as Oxford and South Cambridgeshire only 10 per cent would see a difference.
People aged under 25 currently earning the National Minimum Wage would be more than £2,500 better off under Labour's proposals, the party said.
Should I vote Labour? Corbyn's biggest policies explained

Show all 9
Rebecca Long-Bailey, the Shadow Secretary for Business, Energy and Industrial Strategy, said: "The stagnation of real wages currently being experienced is unprecedented since at least the Second World War. We must take bold and imaginative measures to tackle low pay. One crucial step in this direction is to raise the Minimum Wage to the level of the Living Wage, expected to be at least £10 per hour by 2020 – for all workers aged 18 or over.
"People should be rewarded for a full day's work and need the dignity that comes with decent wages. Britain needs a pay rise and only a Labour government can deliver one."
Critics have claimed Mr Corbyn's plan to lift wages would create problems for small businesses, many of which would see their wage bills soar.
"If a £10 minimum wage was to be introduced it would mean very difficult decisions for many small businesses - they would have to look at their business models," said Adam Marshall, Director General of the British Chambers of Commerce, when the plan was first announced last year.
Tory MP admits he doesn't know what the minimum wage is
Labour has also released analysis showing that household disposable incomes in the UK are rising more slowly in this decade than any since records began.
Incomes are not set to increase at all this year and forecasts for every year until 2021 have been cut.
It means that, between 2010 and 2010, there is set be just a 1 per cent rise in household disposable income – the lowest level of any decade since records began in 1949.
The second lowest growth rate in a decade was between 2000 and 2010, when household incomes rose by 2.3 per cent – more than double the forecast for the current decade.
Labour blamed the Conservatives' decision to raise VAT in 2010, despite having previously said they had "absolutely no plans" to do so. The average household is now paying almost £2,000 more in tax than it was in 2010, mostly as a result of the VAT rise.
According to the OBR, disposable household income growth for the year 2017 will be zero per cent – the ninth lowest rate of growth in any year since 1949.
A Treasury spokesperson said: "We appreciate some families are concerned about the cost of living which is why we are helping them keep more of what they earn.
"We are cutting income tax bills for 30 million people and increasing the National Living Wage which is worth an extra £1,400 every year."
Join our new commenting forum
Join thought-provoking conversations, follow other Independent readers and see their replies