Labour MP Helen Goodman slated for 'sexist' jibe at female Cabinet appointees
The MP for Bishop Auckland said the women 'have nothing interesting about them'
Natasha Culzac
Thursday 17 July 2014 15:16 Comments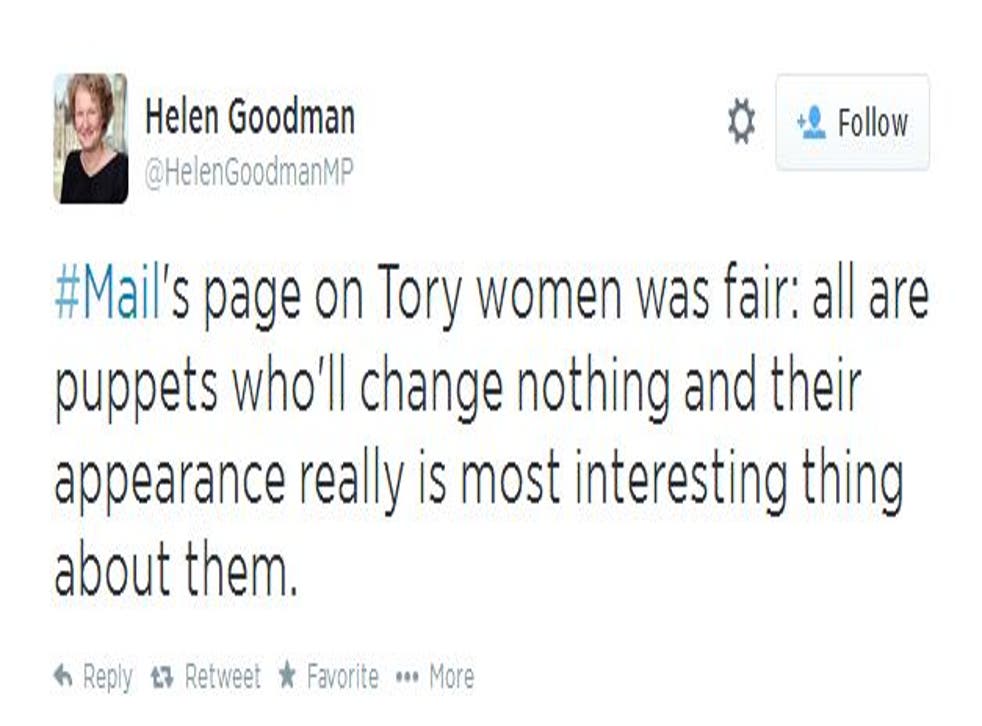 A Labour politician has provoked ire after attacking the new female Cabinet members as "puppets" who 'deserve' the unwarranted attention on their wardrobes.
Helen Goodman, the MP for Bishop Auckland in County Durham, told her 5,500 Twitter followers this afternoon: "#Mail's page on Tory women was fair: all are puppets who'll change nothing and their appearance really is most interesting thing about them."
The 56-year-old immediately came in for some scathing criticism, with replies ranging from "very sexist comment" to "what a smug, unpleasant person you are Ms Goodman."
She has since apologised and deleted the offending tweet.
At the time, however, people were not very amused:
The MP had been referring to the Daily Mail's double-page spread yesterday which had delightedly dissected the attire of the new female appointments in David Cameron's reshuffle.
Nicky Morgan, Priti Patel and Liz Truss were just a few of the women featured in the 'Downing Street Catwalk' piece.
Its publication even led to Nick Clegg lambasting the story as "so utterly out of date."
The Deputy Prime Minister told the BBC yesterday: "It's just silly, sexist and just completely out-of-step with modern Britain that when we have some talented women coming into government, into the cabinet, the only thing that the Daily Mail can say is what clothes they wear and whether they resemble an air hostess."
Employment Minister Esther McVey laughed it off and told Sky News she hopes "it inspires girls to go into politics."
Ms Goodman has previously stated, during a 2009 crackdown on MPs expenses, that being disallowed from claiming money for cleaners amounts to "sexism" because women usually do the chores.
She said the move would put off women standing for parliament and said she was "not convinced this is good for MPs with children and young families."
Ms Goodman has been contacted by The Independent for comment.
A Labour Party spokesperson said: "The Labour Party's view is that David Cameron's promises on increasing the representation of women are a sham.
"He said a third of all his ministers would be women. Fewer than one-in-four are. It is David Cameron who has failed."
In other news, yet so frightfully ironic, Tory politician Henry Smith tweeted earlier this morning quipping that he was struggling with the hot air in the Commons.
Begging to be allowed to wear shorts, the MP for Crawley said: "Can we please, even if just today, wear shorts instead of suits in the Commons? Struggling with the hot air, externally (and internally)!"
No, no the gases wedged within the crania of Westminster staples.
Register for free to continue reading
Registration is a free and easy way to support our truly independent journalism
By registering, you will also enjoy limited access to Premium articles, exclusive newsletters, commenting, and virtual events with our leading journalists
Already have an account? sign in
Join our new commenting forum
Join thought-provoking conversations, follow other Independent readers and see their replies