Labour MP undergoing chemotherapy among members wrongly shamed for 'abstaining' on Trade Union Bill
Thangam Debbonaire was recovering from her latest round of treatment, while other absent MPs named on Twitter were injured or pregnant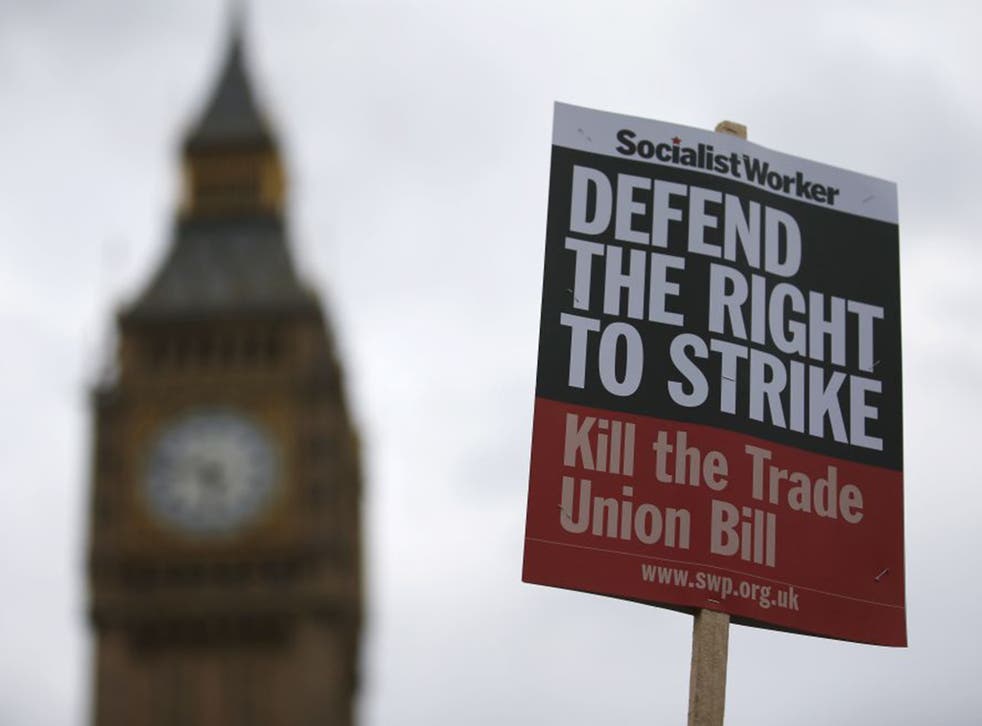 A Labour MP undergoing chemotherapy has been criticised for "abstaining" from voting on the Trade Union Bill.
The bill passed its second reading on Monday by a narrow margin of 317 to 284 votes, sparking calls for a national day of action against the Government's reforms, which have been dubbed a "declaration of war" on unions.
As anger mounted online, opponents of the bill called for Labour MPs who did not vote it down to be "named and shamed".
Thangam Debbonaire, MP for British West, was one of those incorrectly named on Twitter as having abstained.
"Which idiotic MPs abstained from voting on the #TUBill?!," one person wrote. "Thanks for basically abolishing all workers rights. A***holes."
Another said any Labour members who abstained or voted in favour should resign immediately, calling them "shameful".
"Right we need a shout- out to discover which Labour MPs abstained on this #TUBill," one tweet said. "No excuses this time."
But it quickly emerged that no Labour MPs abstained and that many of those absent had extremely valid reasons.
Staff in Ms Debbonaire's office said they had been working on Tuesday to inform critics that she was undergoing treatment for breast cancer.
An aide told The Independent: "We got in touch to tell them the facts, which is that she was absent because of chemotherapy that she had a few days ago.
"So she obviously wasn't well enough to attend the House."
Ms Debbonaire and other absent MPs were paired with Conservatives planning to support the bill who were also unable to attend, meaning their absence has a smaller effect on the outcome.
Another of the falsely named "abstaining" Labour representatives was Emma Lewell-Buck, the MP for South Shields, who broke her ankle during the Great North Run on Sunday.
She wrote on Twitter: "Thanks for the well wishes today, I fell and broke my ankle - sorry not to pass finish line in lovely Shields. Well done to all."
Labour Party activist Luke Akehurst said that two of the other MPs named were absent because of pregnancy, and three more were celebrating Rosh Hashanah, the Jewish New Year.
The controversy came after the BBC apologised for suggesting a partially deaf Conservative MP was "resting his eyes" during the debate on the Trade Union Bill.
Alec Shelbrooke, the MP for Elmet and Rothwell, pointed out he had in fact been leaning towards a speaker in order to hear better and that a screengrab tweeted by BBC Newsbeat was misrepresentative.
He told political blog Guido Fawkes: "I am genuinely slightly deaf and struggle to hear. I had taken part in the debate and was trying to hear the wind ups. Seems a shame I get trolled due to being slightly deaf."
The Trades Union Congress (TUC) is backing a campaign to fight the Trade Union Bill, which will include industrial, civil and legal action, involving workers, civil rights campaigners and other groups.
Register for free to continue reading
Registration is a free and easy way to support our truly independent journalism
By registering, you will also enjoy limited access to Premium articles, exclusive newsletters, commenting, and virtual events with our leading journalists
Already have an account? sign in
Register for free to continue reading
Registration is a free and easy way to support our truly independent journalism
By registering, you will also enjoy limited access to Premium articles, exclusive newsletters, commenting, and virtual events with our leading journalists
Already have an account? sign in
Join our new commenting forum
Join thought-provoking conversations, follow other Independent readers and see their replies