Emily Thornberry sparks Labour row after accusing Chuka Umunna and other Brexit rebels of 'dishonesty'
Streatham MP Mr Umunna hit back claiming that the shadow minister is 'insulting and patronising' Labour colleagues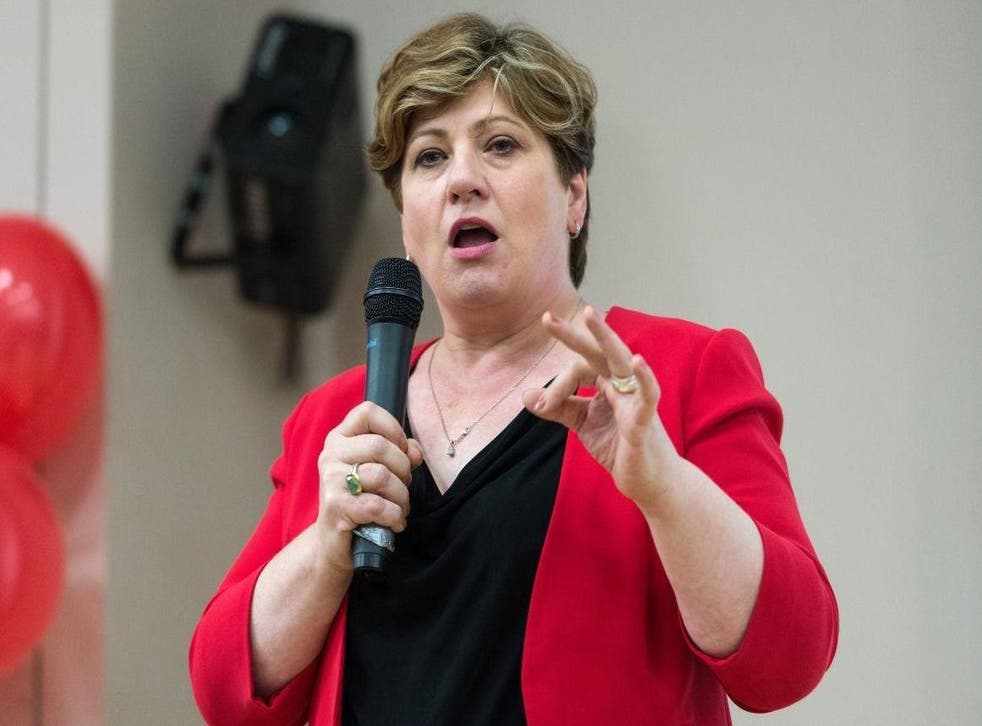 Shadow foreign secretary Emily Thornberry has sparked an internal party row after accusing Chuka Umunna and other Labour Brexit rebels of "dishonesty", claiming their real agenda is to overturn the result of the 2016 referendum.
She attacked the MPs after they tried to push Labour into backing a plan to keep Britain in the single market, defying Jeremy Corbyn's will and fomenting the biggest parliamentary rebellion of his leadership.
Speaking on Thursday, she said her party must respect the result of the 2016 vote and singled out Mr Umunna while talking about how politicians "ought to be keeping the promises" they make.
It provoked an angry response from the Streatham MP who told The Independent the frontbencher is "insulting and patronising" Labour colleagues and putting the hunt for "a good headline" ahead of party diplomacy.
Ms Thornberry's intervention follows the row over whether Labour should have backed staying in the single market, something Mr Corbyn has refused to do.
It ended with Mr Umunna – who recently denied claims he has talked of forming a new party called 'Back Together' – and 73 others, going against the leader's will to back the single market in a commons vote.
But speaking at a lunch for Westminster journalists, Ms Thornberry took aim at what she called the "normalisation of dishonesty", which she said had "crept into all sides of British politics".
Keir Starmer defends Labour's refusal to vote for single market, insisting battle could not be won
She went on: "I'm talking about our political culture as a whole. A culture where, for example, on one side of the house of commons we have the [Tory Brexit-backing] European Research Group, and on the other we have what we're being told is a 'Back Together' group.
"Both of them engaging in earnest debate in the house and in the media about how to deliver the best deal for Britain, but the truth is that neither group actually cares what kind of deal we get, and neither is genuinely interested in an honest debate about the merits of [customs arrangements] or the [single market]."
Ms Thornberry, often touted as a future leader, suggested that the Labour rebels' "real driving mission, is simply to reverse the democratic decision of the referendum."
Demanding that they "be honest and simply say so", she argued that it was wasting time to propose options "that you know, and we all know, are totally unsuitable for Britain."
Focussing specifically on the Streatham MP, she then said: "When I heard Chuka Umunna last year talk about the main lesson to take from the Blair government, is don't over-promise and under-deliver, I think Chuka had got it all wrong.
Theresa May: 'We're leaving the single market... in certain ways access will be different to what it is now'
"I think the lesson from the Blair government isn't to water down the promises you make…you ought to be keeping the promises you make, and stick to the standards that you set."
Mr Umunna hit back, telling The Independent that stories of him having any involvement in a new party are "a complete fabrication".
Responding directly to Ms Thornberry, he said: "I don't think accusing a whole bunch of your parliamentary colleagues of being dishonest, and insulting and patronising them for sticking up for what they believe is best for their communities, is very diplomatic behaviour for a possible future foreign secretary.
"It makes a good headline but is not a great look – if she has a problem with the 70 odd Labour MPs arguing for EEA membership, perhaps have a word with us first."
The shadow cabinet member did accept that most rank and file members of her party are likely against Brexit, but argued that Labour had no choice but to push it through because of the referendum result.
The biggest issues facing UK on leaving EU

Show all 8
She said: "The majority of our membership is likely to not want to leave the European Union, I don't want to leave the European Union.
"But I think the majority of the Labour party, as with me, know that we, more than anything else, have to be democrats. And as a public servant I have to do as I'm told.
"It's difficult for me because the majority of people in my constituency, 75 per cent of my constituents voted to remain in the European Union, but I'm in the national leadership team of national party, and actually the Labour Party does represent both people who want to leave and people who want to remain."
Join our new commenting forum
Join thought-provoking conversations, follow other Independent readers and see their replies