David Miliband: Labour is 'further from power than any time in the last 50 years'
Former foreign secretary signals a potential return to UK politics and advocates revival of centre-left politics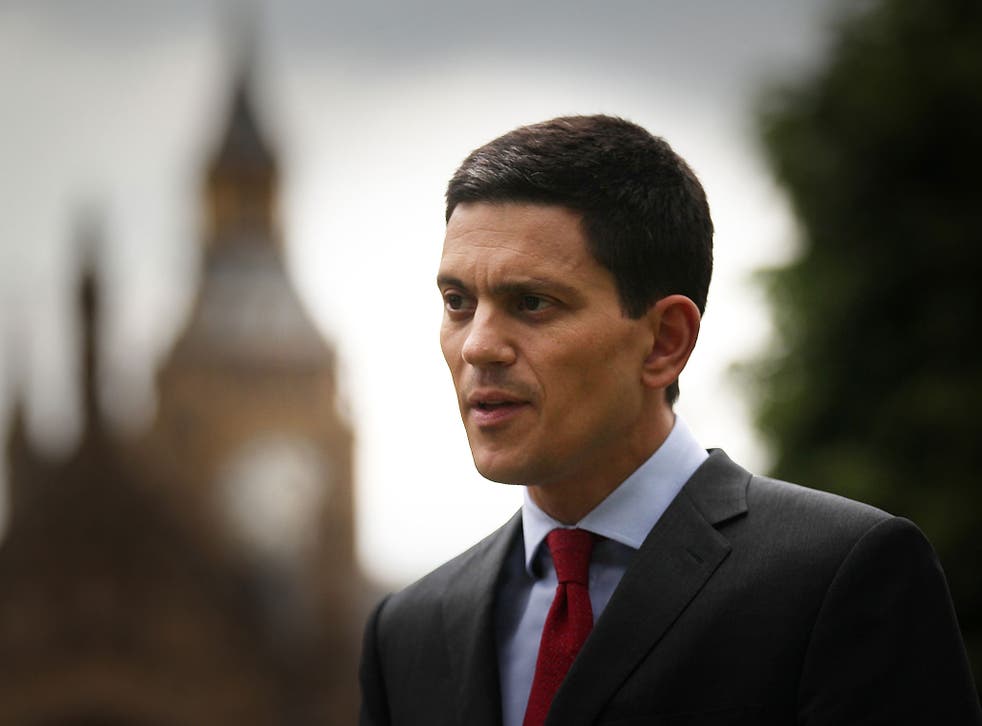 David Miliband has said Jeremy Corbyn's leadership has left his party further from power than at any time in the last 50 years, as he signalled a potential return to British politics.
The ex-foreign secretary warned that Labour now is in a weaker position to fight back than it was at its low point in the 1980s, as he urged the party to recognise the "historic" nature of the challenge it faces in the wake of its defeat in Copeland.
With huge questions now hanging over Mr Corbyn's capabilities, and the leader still refusing to stand down, Mr Miliband raised the prospect of a return to Westminster, saying: "What's the point of saying never?"
He also set out how centre-left politics could offer the solutions to the problems the country is facing, pointing to the rise of Emmanuel Macron in France as to how it could also be popular.
The interview comes after Labour suffered a shocking by-election loss to the Tories in Copeland, with a member of Mr Corbyn's own frontbench admitting the result would deliver Labour's worst general election result since the 1930s if replicated in 2020.
Mr Miliband told The Times he is "deeply concerned" over Labour's future. Asked whether he would consider a comeback, he added: "I honestly don't know what I'm going to do. It's hard to see, but what's the point of saying never?"
Jeremy Corbyn ducks resignation questions after byelection humiliation
With Mr Corbyn refusing to engage in a public conversation about what went wrong, the ex-MP then used his interview to set out the problems faced by the party he once aspired to lead.
"I don't think this is just a return of the 1980s. We have to really understand the historic nature of the challenge that we have to face. There are some obvious reasons, like the situation in Scotland and Labour's core – its base – was stronger in the 1980s," said the US-based chief of the International Rescue Committee, who narrowly missed out on the Labour leadership to his brother Ed in 2010.
"I always said to people play the ball and not the man, 'so what do I think of Jeremy Corbyn?' is not the question I ask myself. The question is what do I think of the strategy."
"The tempting thing to say is that it's a mistake because it won't get elected, but for people like me it's a mistake because it won't address the challenges of the country. This isn't just an electability question, it's a question of substance. I think one can achieve more radical and substantive change through a different set of positions."
John McDonnell shifts blame on to Tony Blair and Peter Mandelson after Labour Copeland by-election defeat
He pointed to the "phenomenon" of Mr Macron's rise to show that there is a "market" for a pro-European centrist approach, adding: "As long as there are people with the values who yearn for a different kind of society, then you're going to have a party that tries to put those values onto practice."
His intervention follows those from Tony Blair and Peter Mandelson over Brexit last week, which enraged elements of the hard-left and saw shadow chancellor John McDonnell accusing the former prime minister of helping to divide the party ahead of critical by-elections.
MPs have warned the party is on course for a "catastrophic" general election defeat after the Conservatives snatched the Cumbrian seat of Copeland which had been held by Labour since 1935.
Mr Corbyn said the result was "very disappointing" but made clear he would resist calls to resign.
"I was elected to lead this party. I am proud to lead this party," he said. "We will continue our campaigning work on the NHS, on social care, on housing."
One leading trade union figure warned Mr Corbyn he had to "turn things around" and show he could deliver a Labour government, while another said he needs to take responsibility for improving the party's fortunes "sooner rather than later".
A jubilant Theresa May travelled north to Copeland to hail an "astounding" victory for Tory candidate Trudy Harrison. Her triumph was the first gain for a governing party in a parliamentary by-election since 1982.
UK news in pictures

Show all 50
Later, Ms May told the Conservative Councillors' Association conference in Lincolnshire Labour's "devastating" defeat showed it is "out of touch with the concerns of ordinary working people" and that only the Tories "can truly call itself the party of working people".
Dave Prentis, general secretary of the Unison trade union, said while the blame for a "disastrous" defeat did not lie solely with Mr Corbyn, he had to take responsibility for what happened next.
"Nurses, teaching assistants, care workers and ordinary people everywhere need a Labour government. Jeremy has to show he understands how to turn things around and deliver just that," he said.
Conservatives take Copeland in humiliating blow to Labour
The leader of the shop-workers' trade union Usdaw, John Hannett, said the by-election results "raise questions about Labour's electability and the vision it offers to the people of this country".
Mr Hannett said: "The electorate clearly have doubts about Labour's message and direction of travel. All sections of the party, from the Leader to elected office holders and the members, need to listen to those doubts and learn from them.
"Labour needs a clear, credible message that people can believe in and Jeremy Corbyn needs to take responsibility for delivering that sooner rather than later."
Join our new commenting forum
Join thought-provoking conversations, follow other Independent readers and see their replies