Labour Party membership falling for first time since 2015 general election
Exclusive: Jeremy Corbyn's critics claim people who joined party during surge of support last year are drifting away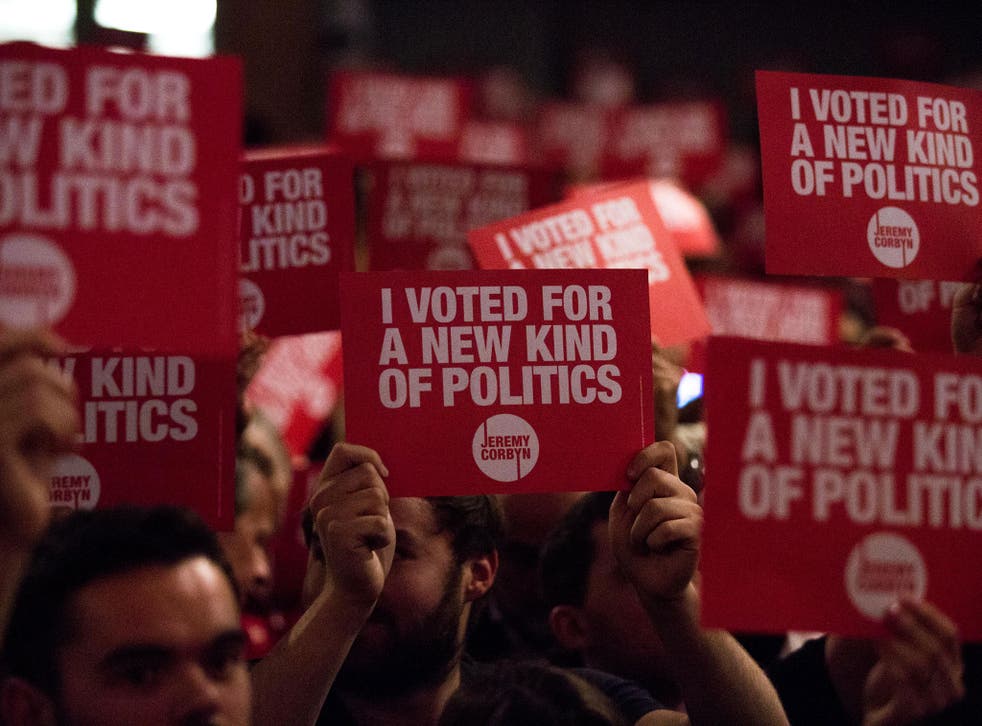 More people are leaving the Labour Party than joining it for the first time since last year's general election, according to Labour MPs.
Labour critics of Jeremy Corbyn claim that some people who joined the party during the remarkable surge of support for him during and after last year's Labour leadership contest are starting to drift away. "We seem to have reached a tipping point, with more people leaving than joining," said one senior Labour figure.
Labour Party HQ refused to comment, saying it did not give a "running commentary" on its membership figures. However, it is understood that the latest official figure is higher than the latest published one of 380,000.
Several Labour MPs told The Independent that their constituency parties had reported a net loss of members in recent weeks. The MPs are being urged to ask missing members to renew their subscription. "It's a significant straw in the wind," one MP said. Another added: "We knew some of them [last year's recruits] would lose interest at some point, but it is happening quicker than we thought."
Labour insiders believe the fall in membership seen in some areas will feed into the national figures as new members who paid a year's subscription last year drop out when they are due to renew it.
A decline in membership would call into question one of Mr Corbyn's biggest achievements. Membership has almost doubled since the general election.
If confirmed, some Labour MPs believe that such a drop could embolden his critics to mount a leadership challenge against him. "It would be more winnable," one said. A Shadow Cabinet member claimed: "Even some members who voted for Jeremy are now saying he lacks the competence to be leader. They are still left-wing, but they are wondering whether he is the right man to lead us into the next election."
Corbyn allies dismissed as "rubbish" the claims that his supporters were leaving the party or deserting him. They pointed to a recent YouGov survey showing that Mr Corbyn was even more popular than when he won 59 per cent of the vote in last year's leadership contest. They believed that recent opinion polls showing Labour neck and neck with the Conservatives would deter MPs from trying to oust the party leader.
If Corbyn supporters drift away from the party, it could make it harder for left-wingers to deselect centrist Labour MPs before the 2020 election. Although Mr Corbyn insists he will not seek to bring back mandatory reselection, boundary changes to cut the number of Commons seats from 650 to 600 could allow some left-wing activists to challenge senior figures including Hilary Benn, Tristram Hunt, Chris Leslie, Emma Reynolds and Stella Creasy.
UK news in pictures

Show all 50
Ms Creasy, who faces a left-wing challenge in her Walthamstow constituency party, accused Momentum, the grassroots group which supports Mr Corbyn, of "draining the energy" from the party and placing too much emphasis on "controlling the levers of power to select or deselect MPs and party officials".
Allies of Chuka Umunna, the former shadow Business Secretary, hit back after a Momentum activist in his Streatham constituency suggested he was not "politically black". Marlene Ellis said she was "tired of black MPs" and wanted "policy from a black perspective."
A senior Labour source attacked the "disgraceful" and "highly offensive" remarks, saying: "Poisonous, divisive behaviour like this has no place in Jeremy's so-called kinder, gentler politics but typifies what Momentum has become." Momentum said: "Marlene was not attacking anyone."
Join our new commenting forum
Join thought-provoking conversations, follow other Independent readers and see their replies