Labour pledges £58bn to compensate women hit by pension age rise
'We have a historical debt of honour to them,' says shadow chancellor John McDonnell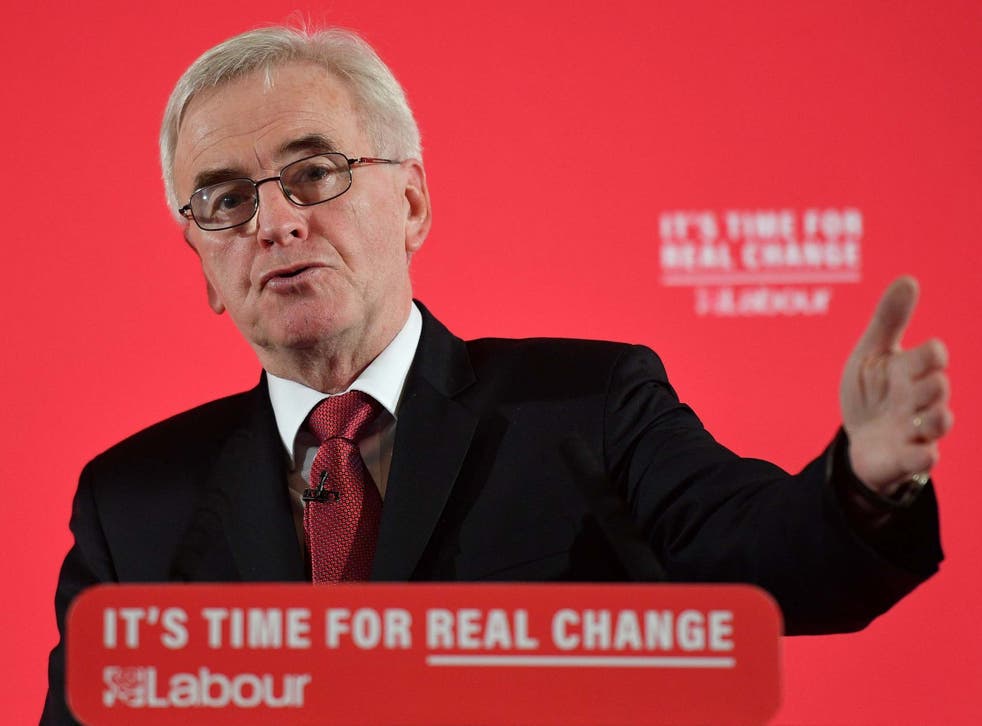 Labour has pledged to compensate nearly 4 million women who lost out on thousands of pounds when the state pension age was increased.
John McDonnell, the shadow chancellor, said the payments – estimated to total £58bn over five years – would settle a "historical debt of honour".
Individual payouts to women born in the Fifties could be as high as £31,300, with an average of £15,380.
It follows a lengthy campaign by the so-called "Waspi women" who said they were given insufficient time to prepare for the changes brought in by the former coalition government.
Campaigners and polling experts told The Independent that those bearing the brunt of the overhaul could have a substantial impact on the outcome of the 12 December election.
Forgotten Women: The ordinary lives of extraordinary people

Show all 13
Boris Johnson was challenged about the issue by a woman in the studio audience for Friday night's BBC Question Time election special, but said he could not promise to "magic up that money".
However, on Saturday night Mr McDonnell announced that Labour had "prepared a scheme to compensate these women for a historical wrong".
"It's one that they were not able to prepare for and for which they've had to suffer serious financial consequences for as a result," he said.
"Some of them have been hit by a combination of poverty and stress, having lost out on what they had contributed towards.
"These changes were imposed upon them by a Tory-led government. So we have a historical debt of honour to them and when we go into government we are going to fulfil that debt."
Last month the High Court ruled against women who argued that the rise in the pension age for women from 60 to 66 "unlawfully discriminated against them on the grounds of age, sex, and age and sex combined".
Conservative minister Michael Gove said Mr McDonnell's promise had "driven a coach and horses" through Labour's claims to have a fully costed programme for government.
Mr Gove told BBC1's Andrew Marr Show the Conservatives were "naturally sympathetic" to the position of the Waspi women.
"We provided additional funding in order to smooth the transition which previous governments have acknowledged needs to be made when we're equalising the pension age," he said.
"One of the problems of course with Labour's position is that they are spending money which they pledged not to spend. When they launched their manifesto earlier this week, they said that they would have certain rules about spending and they wouldn't borrow beyond a particular limit.
"They've now driven a coach and horses through those rules, and they are planning to borrow and planning to raise taxes in a way which will cause further damage to our economy."
The director of the economic thinktank the Institute for Fiscal Studies, Paul Johnson, said that the offer drove "a cart and horses" through Labour's promise not to borrow for day-to day spending and committed the party to £12 billion of additional borrowing for the next five years.
"It is a very large amount of money so there's a real issue about priorities here," Mr Johnson told Marr. "Labour are prioritising this group of women, some of whom feel very unfairly done by, but they're not, for example, prioritising working-age people who have seen their benefits cut over the last four years and have had no increase for inflation.
"That's several hundred pounds loss for some very poor people of working age with children who got no warning of that either. And while some of these women clearly have had a hard time, the majority are actually much better off than those working-age people who've lost out."
Liberal Democrat leader Jo Swinson said her party would wait for the conclusion of an ongoing investigation into the issue and "respect what the Ombudsman comes up with".
Responding to Mr McDonnell's offer, she said: "I don't think it's helpful to anybody to put forward uncosted pledges. Where's the money coming from? Anybody can write a wish list and say all of these wonderful things that people could have, but I think people generally know that you don't get something for nothing."
Additional reporting by Press Association
Join our new commenting forum
Join thought-provoking conversations, follow other Independent readers and see their replies