Labour pledges billions to build 200,000 new homes per year if it wins next election
The  programme would also provide a stimulus for the economy and create tens of thousands of jobs in the construction industry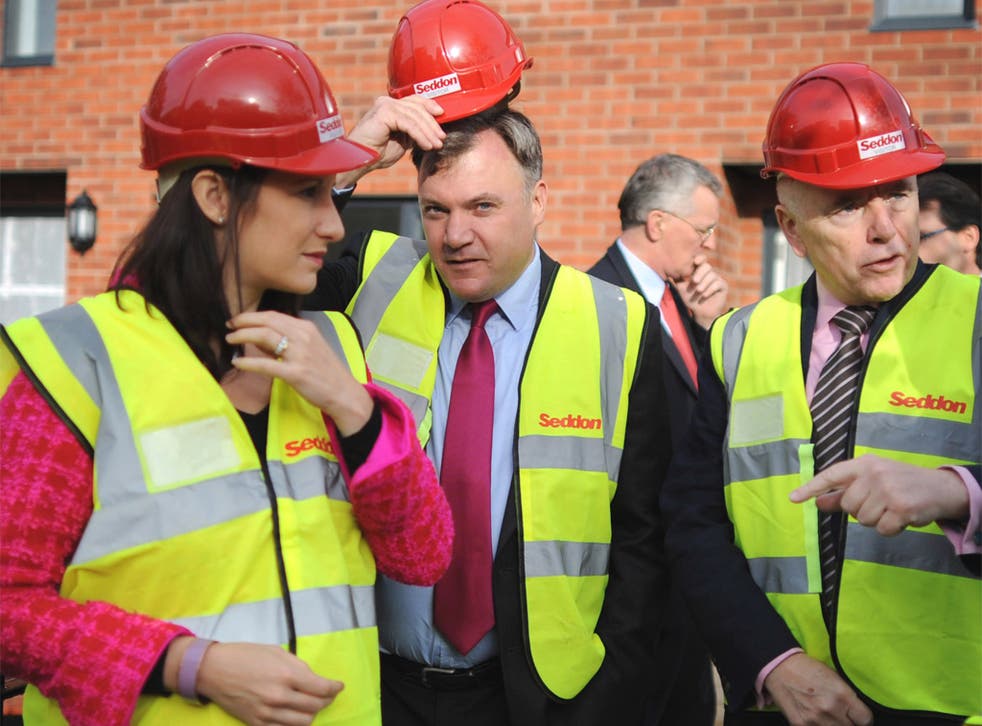 A Labour Government would plough billions of pounds into a huge housebuilding programme to tackle Britain's housing crisis, Ed Balls will pledge today.
The shadow Chancellor will announce plans for the Treasury to underwrite the cost of building several new towns to enable Labour to double the number of new homes being built each year to at least 200,000 by 2020.
Labour also plans to increase government borrowing to fund more building by councils and housing associations. Although a final decision will be taken closer to the 2015 election, it could channel an extra £10bn into such social housing. Labour has promised to stick within the Coalition's ceiling on day-to-day spending by government departments, which includes frontline services and wages, for the 2015-16 financial year but plans to outspend it on building projects. Its housebuilding programme would also provide a stimulus for the economy and create tens of thousands of jobs in the construction industry, Labour will argue as it makes housing a key dividing line at the election.
Mr Balls will tell the National Housebuilding Council (NHC) today: "Housing must be at the centre of Britain's economic policy. New homes are currently being built at less than half the level that our country needs and it is the youngest generation that is set to lose out. Under this Government, housebuilding is at its lowest peacetime level since the 1920s. And by 2020, we are on course to have a shortfall of over 2m homes."
The shadow Chancellor will say that Labour would need to find innovative ways to boost private sector housebuilding, including affordable homes for people on low incomes. Labour would give local authorities financial incentives to join forces to find sites for new towns. It claims the Coalition is "dithering" despite backing the idea.
Development corporations would be set up by Labour to oversee the building of several new towns, including some "garden cities." The Treasury would guarantee their funding so they could borrow more cheaply, and they would keep their revenues from business rates to fund investment.
Mr Balls will say: "If we are to meet that target of at least 200,000 new homes a year by the end of the next parliament, while protecting communities, preserving valuable green belt land, avoiding haphazard urban sprawl and encouraging quality housing in sustainable communities , then every community will need to play its part and plan for the next generation. But we are also clear that we cannot deliver this ambition unless we build new towns."
The shadow Chancellor will argue: "Britain simply won't be able to tackle the cost-of-living crisis that we currently face – or build the strong economy that we need to take us to a more prosperous future – unless we build more homes. Housing must be at the centre of Britain's economic policy."
Mr Balls will support the Government's Help to Buy scheme but will call for the Bank of England to review it now and every six months (instead of annually) to prevent another housing bubble. He will say that the £600,000 ceiling on the value of property being bought should be cut. He will warn: "If Help to Buy merely boosts demand for housing without being matched by action to increase supply, then house prices will rise and rise."
Mike Quinton, the NHBC's chief executive, said: "The policy to build 200,000 new homes a year is clearly a positive step in the right direction. However, many within the industry believe we will need to exceed this to meet the housing needs of the country."
Join our new commenting forum
Join thought-provoking conversations, follow other Independent readers and see their replies