Labour could be tearing ahead in polls if everyone sharing party's values were willing to vote for them, finds survey
Exclusive: Think tank says research shows potential support untapped by Labour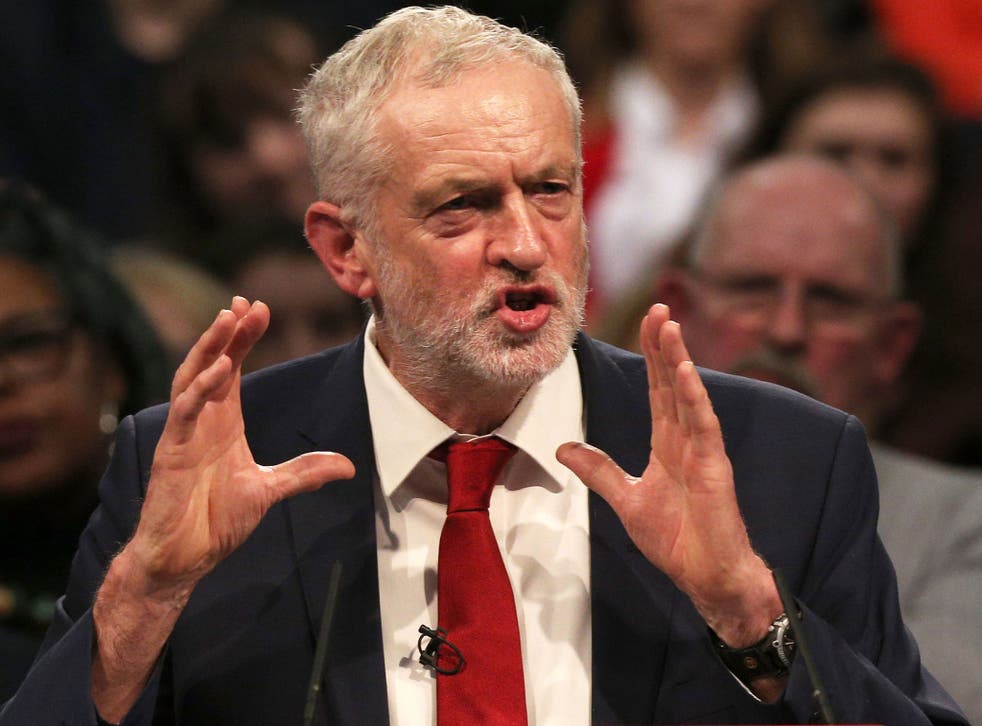 Labour would be much further ahead in the polls if Jeremy Corbyn could convince people who share his party's values to back it at the ballot box, a study has revealed.
YouGov research indicates that while more than 40 per cent of people feel Labour shares their values, far fewer are yet prepared to support the party with their vote.
The Fabian Society, which commissioned the study, said it points to an untapped pool of support ahead of crucial elections in May, but it also comes amid criticism from Labour insiders that Mr Corbyn should be further ahead following Theresa May's chaotic autumn.
Senior figures in the party also raised concerns with The Independent that the polling indicates Labour may suffer a "reckoning" if voters who want a more anti-Brexit stance become disillusioned.
The YouGov poll of more than 3,600 people showed 31 per cent of voters would back Labour in an election, but that 41 per cent of adults said the party shared its values.
Meanwhile, 29 per cent said they would vote Conservative in an election, compared with 33 per cent of adults who said the party shared many or all their values – leaving Labour with a larger pool of potential support.
General secretary of the Fabian Society Andrew Harrop said: "This is promising news for Labour as many more people say the party shares their values than voted for the party at the last election.
Brexit: the deciders

Show all 8
"There is therefore a significant pool of voters the party should be able to reach out to."
The pollsters also asked respondents how well the two main parties understand people who live in their area – 38 per cent said Labour understands people very well or fairly well, while 18 per cent said that the party did not.
For the Conservatives, 27 per cent of adults said the party understands people in their area very well or fairly well, with another 27 per cent saying it did not.
Mr Harrop went on: "Labour's task is clear. The party needs to reach out to people of every age and background who are not Labour voters now, but believe that the party shares their values and understands their community.
"If it can do that then Labour victories at local and national level will come."
Remain voters, women and the under-50s were particularly likely to feel that Labour was in touch locally, the poll conducted in November said.
But it also exposed potential problems for Mr Corbyn's party in the year ahead, with Labour far behind the Conservatives on values among two groups – the over-65s and those who voted Leave in the Referendum.
Only 25 per cent of over-65s said Labour shared their values, compared with 54 per cent who said the Conservatives did. Among Leave voters, the figures were 28 per cent and 48 per cent respectively.
Tory rebellion leads to defeat of Government over Brexit amendment
The most recent voting intention polling from YouGov has the two parties effectively tied around 40 per cent each.
But while Shadow Home Secretary Diane Abbott has said she expects her party to move ahead in the new year, Tony Blair has suggested the party should already be well ahead.
The ex-Labour Prime Minister said Ms May's administration was in "a greater degree of mess than any government I can remember", and his party should be 15 to 20 points ahead as a result.
Until now Labour has successfully manoeuvred the Brexit political minefield, largely managing to gloss over its own divisions whilst keeping the spotlight on Conservative splits.
Jeremy Corbyn receives standing ovation at Together Europe conference
But earlier in the year the British Election Study found Mr Corbyn had picked up extensive support from remain voters at the general election, another poll found rocketing support among students – but with many believing the party opposed Brexit – while a third survey found 66 per cent of people aged 18-24, a major support base for the party, want Brexit stopped.
One member of the Labour front bench told The Independent: "It's fine for now when we are able to say this is just about process.
"But there is going to be a reckoning at some point when the Tories are eating themselves and to capitalise on it electorally Labour has to get its act together and say clearly 'we are for X' or 'we are for Y'.
"To be honest, when it comes to that I'm not sure we can get our act together for the kind of unified position that is going to keep everyone happy, and at that point what happens to the voters that see us as the party of less Brexit?"
A further survey of undergraduates in December, conducted for the Higher Education Policy Institute, found that 55 per cent of them believed Labour's policy is to remain in the European Union, while a further 58 per cent of the students said they believed this to be Mr Corbyn's position.
Meanwhile, senior Labour figures have given mixed messages over the issue of whether they might support a second referendum on Britain's EU membership, with Deputy Leader Tom Watson having said it should not be ruled out, while others doggedly stick to the agreed line, that the party is not "advocating a second referendum."
Pressed in a recent interview with The Independent on whether Labour had softened its position on Brexit towards the end of 2017, Mr Corbyn said he would take the UK out of the EU.
He added: "What we've done is accept the result of the referendum which we obviously had to – and we do.
"The referendum took place, we wanted to remain and reform but Leave won."
Register for free to continue reading
Registration is a free and easy way to support our truly independent journalism
By registering, you will also enjoy limited access to Premium articles, exclusive newsletters, commenting, and virtual events with our leading journalists
Already have an account? sign in
Register for free to continue reading
Registration is a free and easy way to support our truly independent journalism
By registering, you will also enjoy limited access to Premium articles, exclusive newsletters, commenting, and virtual events with our leading journalists
Already have an account? sign in
Join our new commenting forum
Join thought-provoking conversations, follow other Independent readers and see their replies