Labour reshuffle: Jeremy Corbyn faces backlash led by Tom Watson following Michael Dugher sacking
The shadow Culture Secretary remains the only confirmed casualty after a day of confusion bordering on farce
Nigel Morris
Deputy Political Editor
Tuesday 05 January 2016 23:57 Comments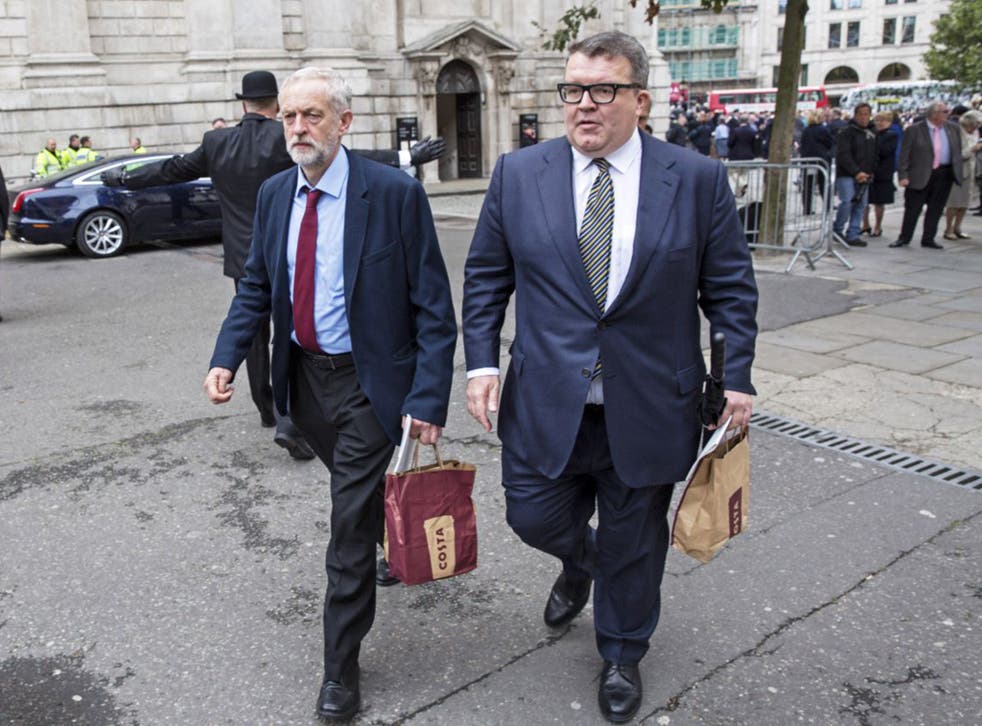 Labour's fragile unity is under intense strain as the party's deputy leader, Tom Watson, leads a backlash against the sacking of a prominent shadow minister by Jeremy Corbyn.
On a day of confusion, bordering on farce, as the Labour leader agonised over his promised reshuffle, the only confirmed casualty was Michael Dugher, who was sacked as shadow Culture Secretary.
Within minutes of announcing he had been fired, Mr Dugher received statements of support from Mr Watson, eight other members of the Shadow Cabinet and a succession of Labour backbenchers.
Mr Corbyn has been urged by senior advisers to get a firmer grip on his front bench following public splits over bombing Isis in Syria and renewing the Trident nuclear deterrent. He spent much of the day in meetings discussing the composition of his frontbench team.
But he appeared to be struggling to settle on a replacement for Maria Eagle, who is expected to be removed as shadow Defence Secretary, holding up the announcement of his new line-up. The delays also left a question-mark over Hilary Benn's survival as shadow Foreign Secretary although he was still widely expected to remain in the post. According to one report, Mr Corbyn was demanding that Mr Benn remain loyal in public and only air his reservations about policy in private.
To the frustration of many Labour MPs, just one firm decision had emerged more than 24 hours after he began discussing his reshuffle.
Mr Dugher announced his removal this morning, later updating his Twitter profile to mock his leader's promise to lead a new kind of politics. He wrote: "Sacked by Jeremy Corbyn for too much straight talking, honest politics." His dismissal prompted a wave of support from former shadow cabinet colleagues, including Mr Watson who said: "Michael Dugher is a rare politician – a talented working-class MP who hasn't lost his strong Yorkshire roots.
Jeremy Corbyn's relationship with right-wing media
"Politicians with his ability and commitment can make a difference in any role. Labour's loss in the Shadow Cabinet will be compensated by Michael's free thought on the back benches."
Other senior figures who bemoaned his departure included Andy Burnham, the shadow Home Secretary, Lucy Powell, the shadow Education Secretary, and Vernon Coaker, the shadow Northern Ireland Secretary.
Mr Burnham, whose leadership campaign was run by Mr Dugher, said: "Michael is Labour to the core and I have no doubt he will continue to serve the best interests of our party in whatever way he can.
"We face a big challenge in winning back the trust of our traditional supporters in the North and Midlands, and Michael is one of the authentic voices who can do that."
One shadow cabinet source said their response was "genuine and spontaneous", but denied there was "some sort of organised coup".
A Corbyn loyalist Cat Smith, shadow minister for women and equalities, said it was right for the leader to appoint people he trusted to senior posts. "If he doesn't want people in his Shadow Cabinet who spend more time attacking the Labour Party leadership than the Tory benches opposite us, then he is perfectly within his rights to do that," she said.
Mr Corbyn began the reshuffle meetings on Monday afternoon and had been expected to finalise his appointments by Tuesday lunchtime when the Shadow Cabinet was due to hold its weekly meeting. But that session was cancelled with little sign of progress and the Labour leader broke off to respond to a Commons statement by David Cameron on the European Union.
He then paused his deliberations to return to the House to listen to a statement on the New Year flooding and attend a protest meeting over the Government's housing plans.
Mr Benn sat alongside him for the EU statement – suggesting he was not about to lose his job – and spoke from the front bench in a later statement on Saudi Arabia. However, it is still to be confirmed that Mr Benn has retained the post.
Ms Eagle met the Labour leader on Monday night, refusing to comment after the encounter, amid suggestions that Mr Corbyn wanted to replace her with an opponent of Trident. It was claimed that Lisa Nandy, the shadow Energy Secretary, had been sounded out for the role. But Ms Nandy later said she had not been offered the job.
In the Commons, Mr Cameron ridiculed the Labour leader for conducting "the longest reshuffle in history".
Referring to Maria Eagle and her twin sister, Angela, the shadow Business Secretary, he said: "Never mind how many Eagles we end up with, I think you have all worked out you've got an albatross at the head of your party."
Mr Dugher told Sky News: "Good, hard-working, decent, loyal members of the Shadow Cabinet have had their reputations trashed in the newspapers because people in the employment of Jeremy have been giving those stories to the newspapers that all these people were going to be fired in some kind of revenge reshuffle.
"Hopefully, touch wood, before we get to day three of what will be the longest reshuffle in history, we haven't had those mass sackings. I hope he can keep the party together and united and we can get on with our day job, which is getting rid of these Tories. People like Hilary and Maria are held in huge respect, not just in the Shadow Cabinet and the Parliamentary Labour Party but in the country as well."
Register for free to continue reading
Registration is a free and easy way to support our truly independent journalism
By registering, you will also enjoy limited access to Premium articles, exclusive newsletters, commenting, and virtual events with our leading journalists
Already have an account? sign in
Join our new commenting forum
Join thought-provoking conversations, follow other Independent readers and see their replies