Labour seen as 'indistinguishable from the Tories' to Scottish voters, leaked internal report warns
The one distinguishing feature is that the party is seen as more incompetent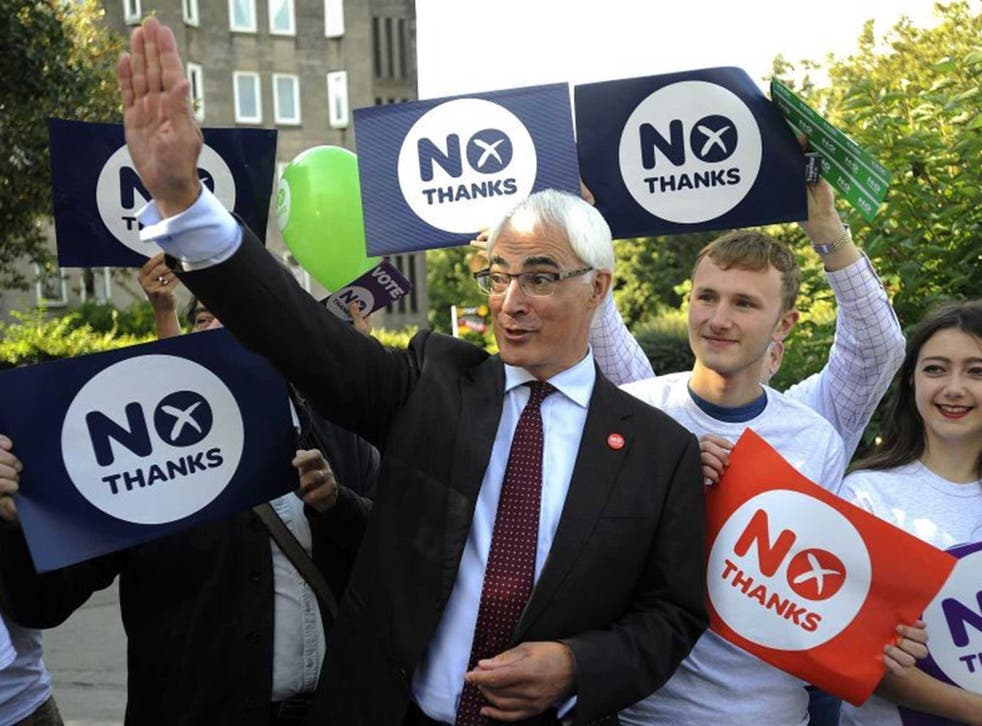 The Scottish Labour party is seen as "indistinguishable from the Conservatives" to voters north of the border, a leaked report commissioned by the party has found.
The previously unreleased Mattinson Report, commissioned by Labour and leaked to ITV News, says voters in England do not know what the party stands for.
In Scotland, however, the party is said to face different problems, some of which appear to stem from the decision to campaign shoulder-to-shoulder with the Tories during the 2014 independence referendum.
There, the party is seen as "an incompetent version of the Tories" by voters, who have switched from once-dominant Labour to the SNP en masse.
Under former leader Jim Murphy Scottish Labour lost all but one of its Westminster seats to the Scottish National Party.
The party is expected to do just as badly at the 2016 Scottish Parliament elections in May.
Labour's former interim leader Harriet Harman commissioned the new report into why Labour lost, titled "Emerging from the Darkness", but it has yet to be officially released.
It was produced by Deborah Mattinson of the consultancy BritainThinks and based on a series of focus group interviews. It was produced entirely before Jeremy Corbyn was elected leader.
The 10 focus groups focused around Watford, Croydon, Nuneaton, Edinburgh and Glasgow – major marginal areas Labour failed to win either from the Conservatives or SNP.
Those included in the focus groups were Tory or SNP voters in 2015 but had backed Labour in 2005 and 2010.
The party was said by the switchers to be seen as in denial about the last Labour government's "appalling" track record on the economy.
Scotland goes to the polls

Show all 20
Furthermore, voters are said to see Labour as "nice" but "in thrall to the undeserving" – an idea related to tabloid stories about so-called "benefit scroungers".
"Voters from England and Scotland alike decry Labour's 'dismal' track record on the economy," the report reads. "It's become an incontrovertible truth: wasting money and spending money on the wrong things, money focused on people on benefits rather than hard-working families, bailing out bank with taxpayers' hard-earned money.
"It's important to understand that the banking crisis is conflated with overspending. Voters describe the banking crisis as a 'curtain pulled back to reveal terrible truth.'"
Another report into Labour's defeat by Dame Margaret Beckett was described by Ms Mattinson as a "whitewash" in an interview with the BBC at the weekend.
That report said Labour lost because of the perceived weakness of Ed Miliband, fear of a pact with the SNP among English voters, and an association with causing the economic crash.
The party was also said to have failed to win over voters concerned about immigration and welfare issues.
The Beckett Report, released last week, said that perceptions of Labour were wrong and needed to be changed.
The Mattinson report however take a stronger line, recommending that the party "atone for its past".
Register for free to continue reading
Registration is a free and easy way to support our truly independent journalism
By registering, you will also enjoy limited access to Premium articles, exclusive newsletters, commenting, and virtual events with our leading journalists
Already have an account? sign in
Register for free to continue reading
Registration is a free and easy way to support our truly independent journalism
By registering, you will also enjoy limited access to Premium articles, exclusive newsletters, commenting, and virtual events with our leading journalists
Already have an account? sign in
Join our new commenting forum
Join thought-provoking conversations, follow other Independent readers and see their replies