Labour to limit unpaid internships to a month to stop best jobs going to the richest
Party says current system 'locks up' the best jobs for those with richest parents
Andrew Grice
Monday 15 December 2014 01:00 Comments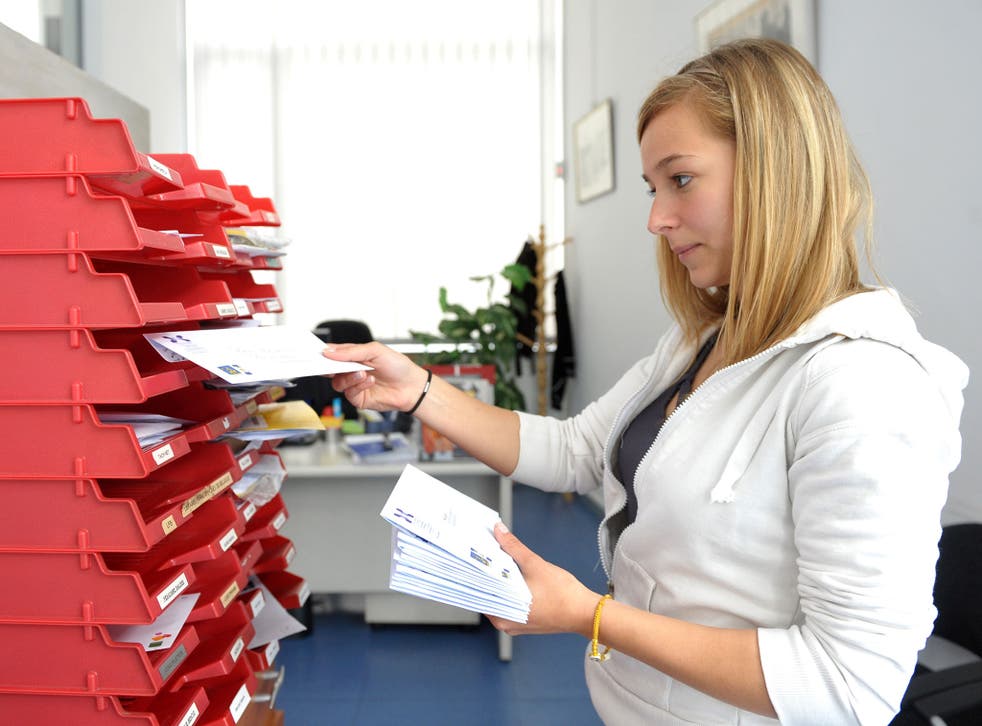 Unpaid internships lasting longer than four weeks will be banned if Labour wins power in the May general election.
The Independent has learnt that the party will announce tomorrow that interns working full-time would be paid at least the national minimum wage after four weeks.
Labour believes thousands of highly able young people are "locked out" of many professions because they cannot afford to work for nothing –and that firms do not always recruit the best people as a result.
Liam Byrne, the shadow minister for Universities, Science and Skills, will say tomorrow: "The biggest change in the professional jobs market has been the boom in unpaid internships.
"There are now around 100,000 internship opportunities a year, most in London and many unpaid."
He will cite research showing that a third of graduates employed by companies have worked for the firm previously – often as an intern. The average unpaid internship lasts for three months and can cost the intern more than £930 a month in living expenses.
"If you're from a low-income background you just can't afford to do that," Mr Byrne will say. "The result is that the best jobs are getting locked up by those with the richest parents. That isn't right. It isn't fair. And it needs to change."
He will be speaking at his old school – Burnt Mill, in Harlow, Essex. He progressed to Manchester University, Harvard Business School and was a management consultant before becoming an MP and cabinet minister in the previous Labour government.
Mr Byrne will announce: "Labour thinks the law should change so interns get paid the minimum wage once they've been on the job for a month." He will launch a consultation exercise among young people to ensure Labour's proposals would "carefully protect work experience and volunteering". The Social Mobility and Child Poverty Commission, chaired by the Labour former cabinet minister Alan Milburn, has called for unpaid internships to be made illegal by 2020. It sees them as a major barrier to social mobility.
Mr Byrne will say that the country cannot wait that long. This week Labour will table amendments to the Small Business, Enterprise and Employment Bill now going through Parliament to challenge the Conservatives to support a four-week limit to unpaid internships.
Opinion in business is moving in favour of reform. The right-wing Institute of Directors is surveying its members about a four-week limit. Christian May, its head of communications, said: "It's hard to justify having someone work for more than four weeks without paying them for their efforts. We would certainly encourage employers to offer at least expenses and assistance for short-term work experience and internships, and to offer at least the minimum wage for longer-term engagements."
Architects, the music and public relations industries oppose long unpaid internships. KPMG, the professional-services giant, pays its 60 interns the living wage, which is higher than the minimum wage. Mike Kelly, head of living wage at KPMG, said: "Unpaid internships are increasingly an important gateway to landing a first job, but the reality is that a vast majority of individuals cannot afford not to be paid. Paid internships allow everyone to compete on a level playing field for valuable experience. It is best for the individual and best for the employer."
Labour's move follows a successful lobbying campaign by Intern Aware, set up by four years ago by a group of students when their friends could not afford internships.
Ben Lyons, the campaign's co-director, who was studying history at Oxford University at the time, said: "We have seen a really big shift in business and public attitudes towards unpaid internships. People who are bright and hard-working but don't have thousands of pounds should not have to work for months with no wages."
He said a four-week limit would provide welcome clarity about the law but would have to be properly enforced.
Case study: Unpaid for five months
Jasmine Johnson, 20, is from London. She studies sociology at the University of Warwick, and her unpaid internship at a fashion magazine even included a promotion
When I was on my gap year, I saw an internship advertised on Twitter. It was for a two-week placement at a fashion magazine but at my interview they said it could be a two-week trial period and then I could stay as long as I wanted.
From the get-go, it was made explicitly clear that during my time with the publication I wouldn't be provided with any reimbursements for lunch or travel expenses.
At the time I was completely fine with this; I had been working full-time in a retail position since the beginning of summer and already lived in London so, economically, this wasn't a big imposition.
I worked 40 hours a week at the magazine and another 12 hours a week in the shop.
As the fashion intern, I was assisting the fashion director and editor. I had been there for about three months when the fashion assistant left. I was promoted but still wasn't being paid. I stayed for another two months. It was my first fashion internship so I just thought it was what you had to do. I was exhausted but didn't know any different.
I don't think unpaid internships should be banned but I think after four weeks it's a good idea to pay interns and they should offer you a job if there is one.
I'm currently doing a short-term work placement at the moment at a magazine that pays expenses which is good and I really like it there.
Register for free to continue reading
Registration is a free and easy way to support our truly independent journalism
By registering, you will also enjoy limited access to Premium articles, exclusive newsletters, commenting, and virtual events with our leading journalists
Already have an account? sign in
Join our new commenting forum
Join thought-provoking conversations, follow other Independent readers and see their replies