Labour deletes Passover tweet after mistakenly including loaf of bread image
Storm of criticism of Labour's 'astonishing (but sadly unsurprising) basic religious illiteracy'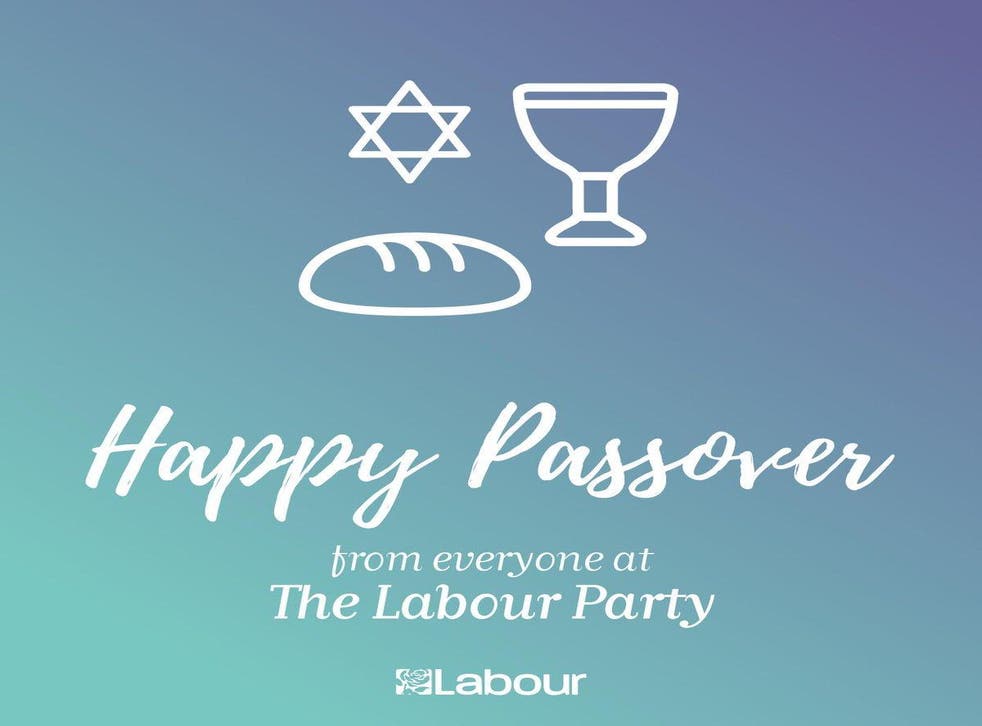 Labour has deleted a tweet wishing Jewish people a happy Passover after mistakenly including an image of a loaf of bread.
Leavened bread is not eaten during the Jewish holiday, with the post prompting a barrage of criticism on social media.
One Twitter user responded: "Astonishing (but sadly unsurprising) basic religious illiteracy from @UKLabour."
Another wrote: "Got to laugh. @ukLabour trying to [be] inclusive to Jews celebrating Passover. The one thing observant Jews specifically avoid at Passover is bread."
And Hugo Rifkind, the newspaper columnist, replied simply: "It's...it's...it's...a loaf of bread."
Protests against Labour antisemitism

Show all 14
The message, also featuring a Star of David and a goblet, read: "As Jewish people prepare for Passover, we're wishing everyone in the Jewish community chag sameach [happy holiday]."
The mistake comes amid continuing tensions between Labour and Jewish groups, because of the antisemitism scandal that gripped the party.
In recent weeks, Labour is believed to have suspended four council candidates because of their behaviour, including one who posted Rothschild and Israel conspiracy theories online.
Jeremy Corbyn has rejected calls to sack Richard Burgon, his shadow justice secretary, after footage emerged of him claiming "Zionism is the enemy of peace" – a comment he had denied making.
Labour later reposted the message without the images of the bread or goblet.
Theresa May also tweeted a Passover message in which she wished Jewish families "gathering around the seder table this evening a very happy and peaceful Pesach".
"Today is a chance to celebrate the enormous and lasting contribution made by the Jewish community in the UK, in every walk of life," she said.
Join our new commenting forum
Join thought-provoking conversations, follow other Independent readers and see their replies