Labour 'will use mansion tax in London to fund 1,000 Scottish nurses'
Jim Murphy says 'a small number (of properties) are in Scotland but the vast majority are in London and the South East'
Mark McLaughlin
Tuesday 06 January 2015 12:43 Comments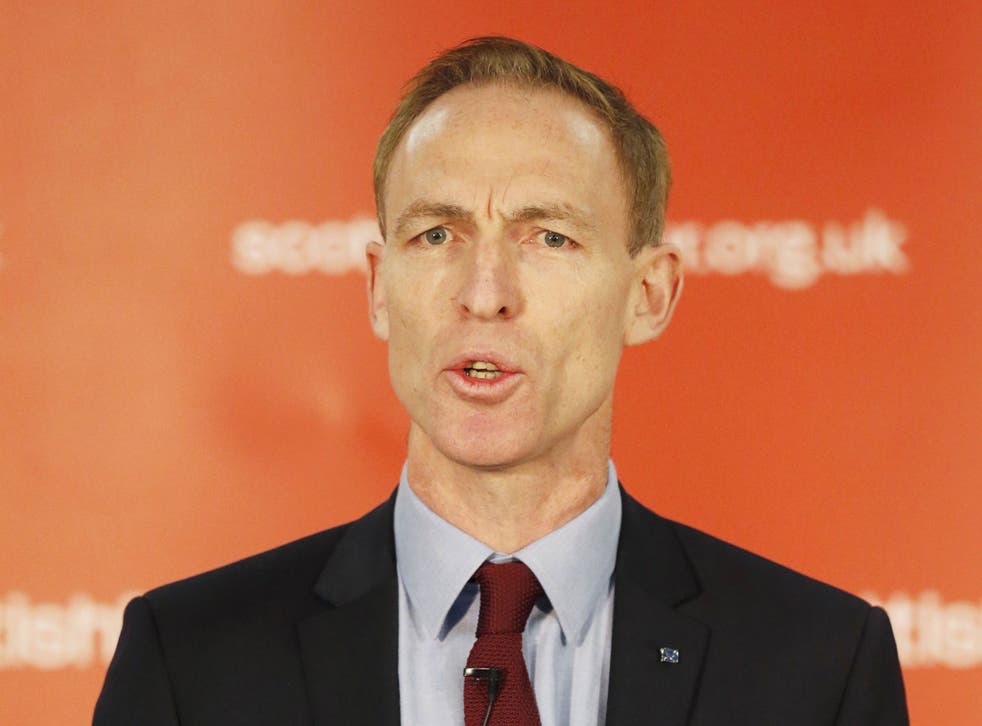 Labour would use money generated by taxing millionaires in London to pay for 1,000 extra nurses in Scotland, the party's new Scottish leader has pledged.
In one of his first major policy announcements since becoming leader, Jim Murphy urged activists to stop berating the SNP for losing the referendum or misjudging the fall in oil prices and start promoting the policies Labour would implement to improve the country.
The former UK cabinet minister - whose predecessor at Holyrood complained that UK Labour "dinosaurs" treated Scotland like a branch office - chose Edinburgh fossil exhibition Dynamic Earth to carve out his own identity and insist he will put Scotland first.
UK Labour leader Ed Miliband has not been consulted on the policy, but Mr Murphy said he is sure it will meet with his approval and be welcomed by the vast majority of people in England where much of the tax burden will fall.
"I'm the Scottish Labour Party leader - I'm just doing what I think is best for Scotland," he told the Press Association.
"I think it is right and fair that we tax properties worth over £2 million across the UK - a small number are in Scotland but the vast majority are in London and the South East.
"It is then fair that you share that tax across the country, and it just so happens that Scotland would get an enormous boost from that.
"I think it's popular in Scotland and I think it will also be popular in the vast areas all across the UK.
"I accept people who live in houses worth over £2 million - not all of them will be convinced, but I think most people will be."
The nurses would be funded using Scotland's share of the mansion tax - calculated under the Barnett formula - demonstrating the benefits of maintaining a UK-wide tax base, according to Mr Murphy.
"There's less than 1,000 properties worth more £2 million across the whole of Scotland which will generate around £15 million, so you couldn't afford 1,000 new nurses if it were just a mansion tax in Scotland by Scotland," he said.
"It's a uniquely Scottish Labour pledge because we will introduce the tax as a matter of choice, but because of their constitutional conviction it's not a tax the SNP could levy."
He added: "I think in the South East the vast majority of people, and I don't want to speak for them, understand that when times are tough, rather than increase the taxes on the middle classes this is a fairer way of doing it and in Scotland you get the double advantage.
"I've no interest in hiking up the council tax or taxes on the middle classes.
"We will get the money for 1,000 extra nurses not by increasing taxes and the pressure on the working class, but by introducing a new tax - a mansion tax on houses worth over £2 million most of which is in London and the South East.
"So we will tax houses in London and the South East to pay for 1,000 new nurses in the Scottish NHS. It's a real win-win for Scotland.
"If Labour wins the election this May and win again in 2016 we will start recruiting those nurses on day one."
When asked if Mr Miliband had approved the policy, Mr Murphy said: "I didn't ask him, I have no idea. I am sure he probably will."
Labour hopes to raise £2.5 billion a year on top of the Tory spending plans it would inherit for an NHS Time to Care Fund, with the mansion tax expected to contribute £1.2 billion towards this.
Scotland would receive an additional £250 million in consequentials, according to Scottish Labour.
But the SNP says Labour's sums do not add up and insists it has already delivered 1,700 extra whole time equivalent nurses and midwives since it replaced Labour at Holyrood in 2007.
SNP Westminster leader Angus Robertson said: "Labour may have a new leader in Scotland, but it seems that their policies remain as nonsensical as ever.
"While Labour's desire to follow the SNP's lead in recruiting more nurses is welcome, their sums simply don't make sense.
"Even if every penny of the money Labour expects a mansion tax to generate was eligible for Barnett consequentials, it would see Scotland gain far less than what Jim Murphy is claiming.
"All Jim Murphy is showing with these ridiculous figures is that he cannot be trusted with Scotland's finances or Scotland's NHS.
"Since the SNP took office, the number of qualified nurses and midwives in Scotland's NHS has increased by around 1,700 and the SNP is already committed to passing on Barnett consequentials from health spending to Scotland's NHS, so this announcement does not promise any new money whatsoever.
"While Labour tries to pull the wool over people's eyes by claiming it will spend the same money over and over again, we have delivered real progress for Scotland."
PA
Register for free to continue reading
Registration is a free and easy way to support our truly independent journalism
By registering, you will also enjoy limited access to Premium articles, exclusive newsletters, commenting, and virtual events with our leading journalists
Already have an account? sign in
Join our new commenting forum
Join thought-provoking conversations, follow other Independent readers and see their replies