Labour would 'pour the disinfectant of sunlight' on large firms by forcing them to publish tax returns
The move would 'helping close down the loopholes and the scams that the tax dodgers rely on', says shadow Chancellor John McDonnell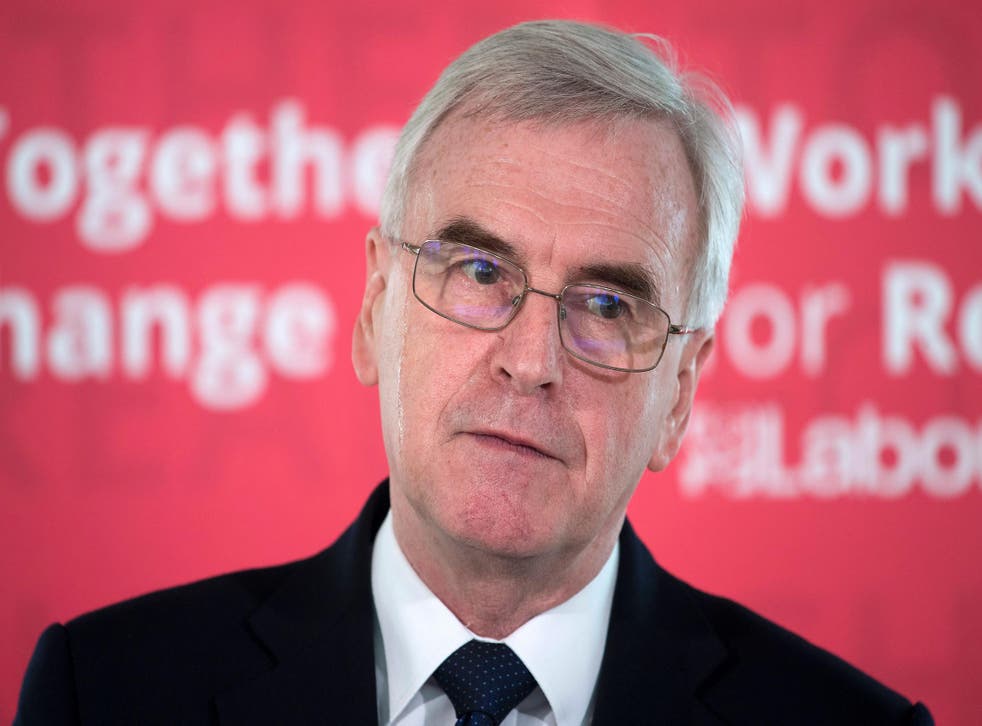 A Labour government would force large corporations to publish full tax returns under plans to expose "sweetheart deals" and tackle avoidance, shadow Chancellor John McDonnell has announced.
Continuing the party's policy blitz in recent weeks, Mr McDonnell, said the policy would "pour the disinfectant of sunlight" on firms with more than 250 employees in an effort to "close down loopholes and the scams that the tax dodgers rely on".
HM Revenue & Customs estimates the "tax gap" – the shortfall between tax collected and what might be expected – at £36bn, with £9.5bn attributed to large companies.
Labour also highlighted the estimated £13 trillion worldwide hidden in tax havens and claimed that if the Exchequer could receive a fraction of this amount it would end austerity.
"Even a fraction of this amount paid as the fair taxes that are due would end austerity," party sources added.
"Tax avoidance is a scourge on society that company secrecy laws help facilitate, and the Tories have done nothing to tackle," Mr McDonnell said. "Labour will pour the disinfectant of sunlight on large company accounts, helping close down the loopholes and the scams that the tax dodgers rely on.
"The Tories are running a rigged economy for the super-rich and giant corporate tax dodgers. Only Labour will stand up for workers and small businesses to make our tax system fair and our public services like education and the NHS are protected."
When Parliament returns after the Easter recess on Tuesday, Labour will also push to strengthen measures to tackle tax avoidance in the Finance Bill.
Labour backs Tory income tax cut for top 15 per cent of earners
Shadow Chief Secretary Peter Dowd said: "The measures in the Finance Bill claiming to close tax loopholes do not go far enough and have gaping omissions, another Tory conjuring trick to hide their inaction in making sure that everyone, including the rich, pays their fair share of society's upkeep.
"There is nothing in the Government's proposals to address the chronic lack of enforcement in the context of the wider regulatory problems. As usual, the Tories are playing rhetorically to the gallery."
It comes after the shadow Chancellor announced on Friday the party would also overhaul banking laws to prevent banks closing high street banks.
The Government introduced its own "Access to Banking Protocol" to prevent closures, but figures form the Consumers Association suggest 1,046 local bank branches closed in the UK between December 2015 and January 2017, with another 486 already scheduled for closure this year.
The Tories claimed to have "led the way" on tackling tax evasion and avoidance.
Responding to Labour's announcement, Conservative Party Vice-Chairman Stuart Andrew MP, said: "This Government has a simple message for those who avoid tax: you must pay what you owe and we will make sure you do."
Register for free to continue reading
Registration is a free and easy way to support our truly independent journalism
By registering, you will also enjoy limited access to Premium articles, exclusive newsletters, commenting, and virtual events with our leading journalists
Already have an account? sign in
Register for free to continue reading
Registration is a free and easy way to support our truly independent journalism
By registering, you will also enjoy limited access to Premium articles, exclusive newsletters, commenting, and virtual events with our leading journalists
Already have an account? sign in
Join our new commenting forum
Join thought-provoking conversations, follow other Independent readers and see their replies