Lancashire councillors' decision to reject fracking 'a serious setback for shale gas in UK'
The decision by local councillors to reject the plans defies clear advice from their legal and planning advisors to wave them through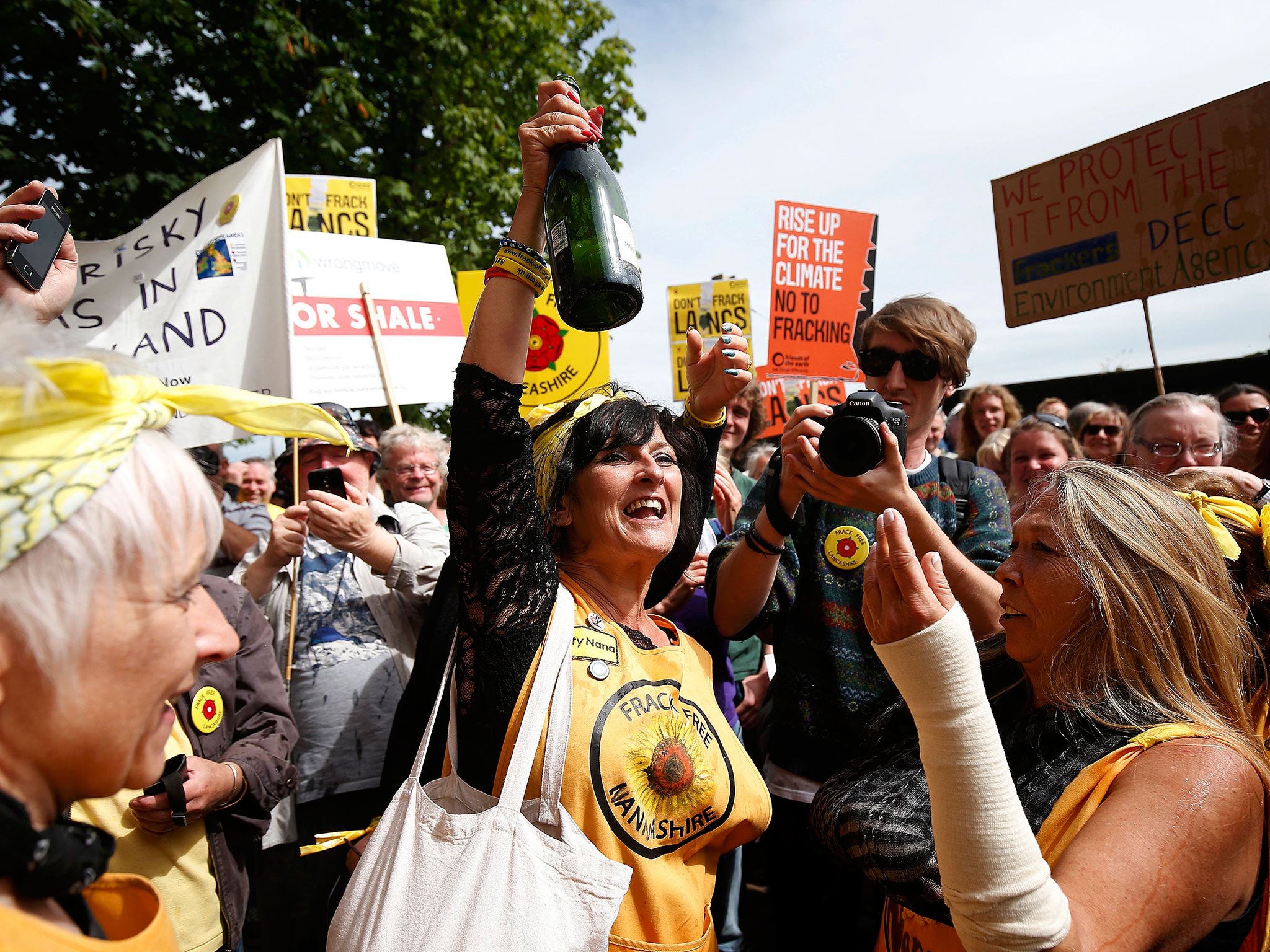 Government hopes for a shale-gas revolution have suffered a serious setback after Lancashire councillors unexpectedly rejected plans for the UK's first fracking site – defying clear advice from their legal and planning advisors to wave them through.
The proposed project in Little Plumpton, near Preston, was turned down due to concerns over an "unacceptable noise impact" and the "adverse urbanising effect on the landscape", Lancashire County Council said.
Cuadrilla, the company behind the unsuccessful application, said it would probably appeal the shock decision in what was widely seen as a "test case" for how willing local councillors would be to turn down fracking proposals.
The councillors' own planning committee, whose recommendations they would typically be expected to follow, advised them to pass the application. Their legal advisors had also warned that there were insufficient grounds for rejection – which they said could open them up to a costly legal appeal.
Yet despite this, the motion to reject the application was carried by nine votes to three, with two abstentions.
"The decision to reject the planning decision has come as a big surprise today," said John Williams, of the Poyry Management engineering consultant.
"This decision is a serious setback for shale gas in the UK and many must be wondering if it can ever reach production phase."
Jim Watson, professor of energy policy at the University of Sussex, said: "This decision will make developers wary because the second rejection was made against the advice of officers – and despite a lack of objections from regulators such as the Environment Agency."
And Daisy Sands, a campaigner with Greenpeace UK, said: "This decision is a Waterloo for the fracking industry and a triumph for local democracy… It sends a powerful signal to other councils that the fracking juggernaut can indeed be stopped."
The decision follows chaotic scenes at Preston County Hall last week when a motion to block the proposal was defeated, following legal warnings that there were no grounds to prevent the project going ahead.
But after seeking additional legal advice over the weekend, the councillors decided that they did have grounds for dismissing the application and were able to defeat the proposal during the morning of 29 June.
A spokesman for Cuadrilla, which is part-owned by British-Gas owner Centrica, said it was "surprised and disappointed by the decision".
The company is expected to appeal the vote – in a case that could potentially be decided on by Communities and Local Government Secretary Greg Clark, who has the power to "call in" the appeal if he deems it to be of national significance.
Cuadrilla is also expected to appeal last week's decision to oppose a separate fracking application in the same area.
Although the rejection has dealt the industry a serious blow, campaigners and advocates agree that it is by no means fatal.
The Government is due to hand out dozens of shale gas licences later this year, which is likely to result in numerous planning applications.
"This is just one adverse planning decision… Other exploration companies have already stated they will be putting in their own applications very shortly," said Ken Cronin, of the UKOOG fracking industry body.
Dr Adam Marshall, of the British Chambers of Commerce, added: "This decision is perverse, short-sighted and timid. Fracking must be part of the solution to the UK's energy crunch and could also provide a real fillip to our economy."
Join our commenting forum
Join thought-provoking conversations, follow other Independent readers and see their replies