Laurence Fox launches London mayoral election campaign bid
Laurence Fox launches London mayoral campaign with anti-lockdown, vaccine-sceptic platform
'It's not going to do me any harm [not having it], is it?' says former actor on vaccine
Laurence Fox has launched his campaign to become mayor of London with a promise to "unlock" the capital from all Covid rules and erect hundreds of new military statues and plaques.
The anti-woke activist and more than a dozen of his Reclaim Party supporters appeared at a launch event without wearing masks – as the former supporting actor from Lewis ranted against restrictions aimed at protecting public health.
Mr Fox told Londoners he wanted to "reclaim" their freedom for them. "We are here to reclaim your freedom and we need to unlock London now," he said.
Describing himself as someone who "used" to be actor, the culture warrior accused current Labour mayor Sadiq Khan of being "ashamed to be British".
Mr Fox told his supporters: "Someone needs to unlock London now, and I can tell you one thing: Sadiq Khant. And Sadiq Won't. Sadiq Khan is ashamed to be British."
Read more:
A confirmed vaccine sceptic, Mr Fox also said on Tuesday that he would refuse to get the Covid jab until after 2023 – when he claims all the tests needed to convince him of its safety would be completed.
While Pfizer has given an estimated date of 2023 for the routine monitoring analysis of its vaccine, the Pfizer vaccine and several other jabs have already passed through clinical trials – and been approved by regulators in the UK and many other countries.
"It's not going to do me any harm [not having it], is it?" Mr Fox told the Guido Fawkes blog. "I think people should do what they want with their own bodies in terms of vaccinations. It should be private, like voting."
He also promised to erect hundreds of new tributes to military figures across London. "'If elected, every winner of the Victoria Cross or George Cross will be honoured by having a plaque placed on the street that they were born," he pledged.
Statues have become a divisive issue over the past year, after anti-racism protesters pulled down a monument of slave trader Thomas Colston in Bristol. Mr Khan has launched a formal review of statues and street names in the capital to make sure landmarks "suitably reflect" London's diversity.
Mr Fox, who attended a recent anti-lockdown protest in central London, has said he is seeking legal advice after Metropolitan Police officers turned up at his home to ask him to be mindful of current lockdown laws.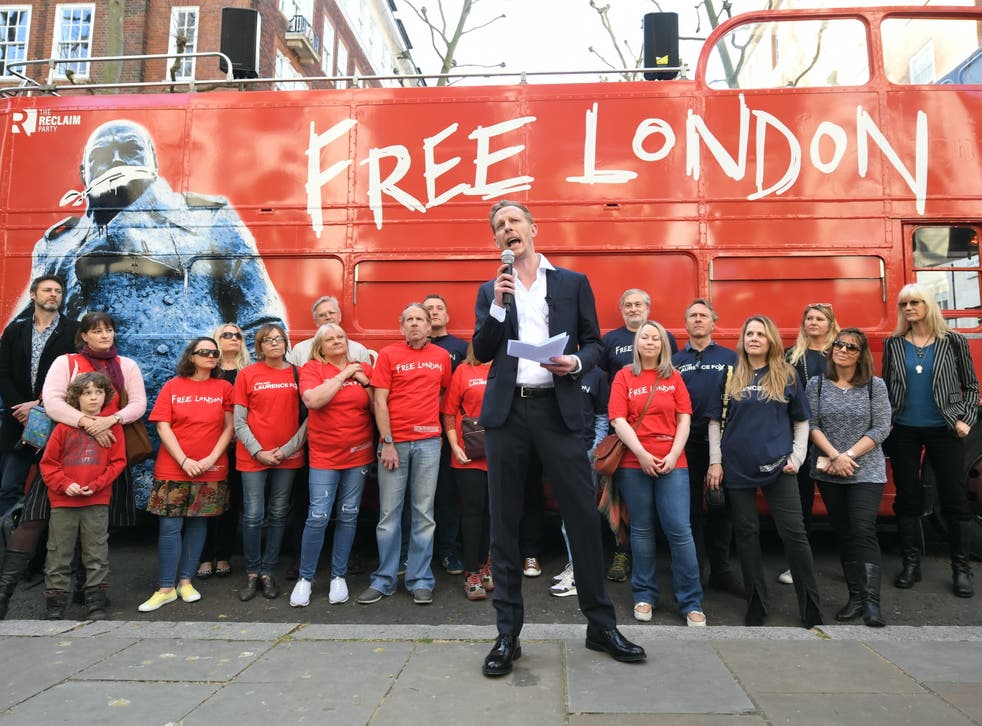 Government rules on campaigning for the local elections on 6 May make clear that party activists should not gather in groups and should canvas alone on the doorstep.
Political campaigners should at all times maintain a two-metre distance from any other campaigners or other members of the public.
The Metropolitan Police have been approached for comment on whether Tuesday's gathering was being investigated for a potential breach of Covid regulations.
Scotland's deputy first minister John Swinney has apologised after posting a picture of himself on the campaign trail alongside four other SNP activists in an apparent breach of his own government's Covid curbs.
Mr Swinney deleted the image from his Twitter account a few hours later. It comes after fellow SNP candidate Graeme Dey also offered his own "unreserved apologies" for breaking the rules on the first day of campaigning.
Join our new commenting forum
Join thought-provoking conversations, follow other Independent readers and see their replies