Leaked documents show Ukip leaders approve NHS privatisation once it becomes more 'acceptable to the electorate'
David Cameron says in PMQs that it is 'Ukip policy to privatise the NHS'
Adam Withnall
Wednesday 21 January 2015 16:47 Comments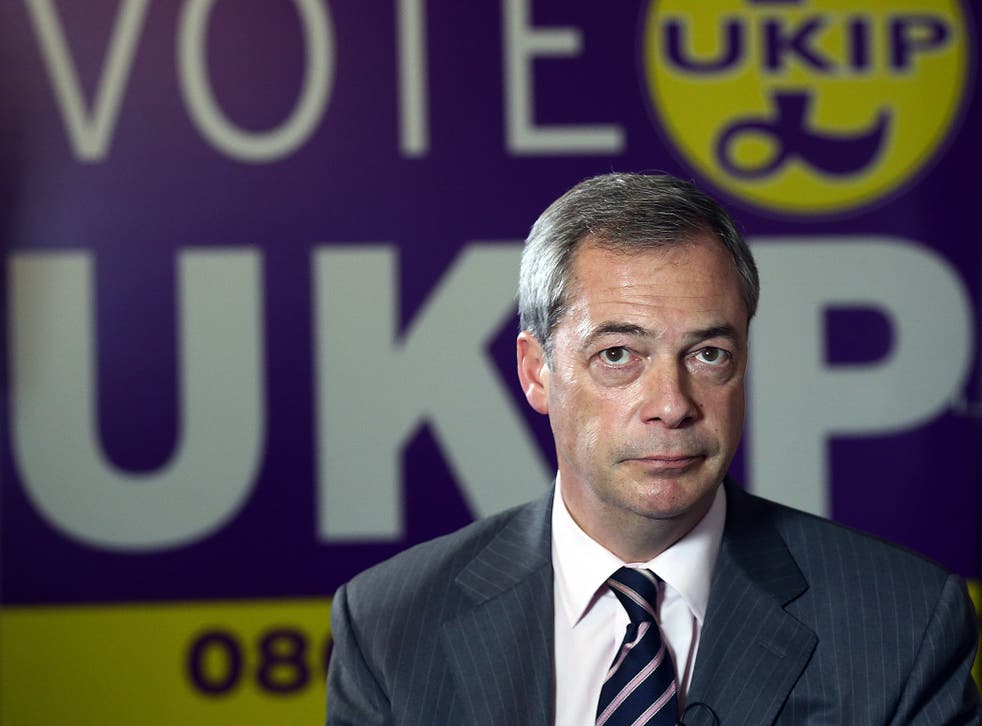 Secret documents leaked from a Ukip executive meeting appear to suggest that a government under Nigel Farage would consider plans to privatise the NHS and use current policies as a stepping stone to more "radical" change.
Mr Farage has repeatedly denied that Ukip would seek to privatise Britain's health service if the party got into power, refusing to go further than telling the BBC's Nick Robinson that "we are going to have to find ways" to deal with caring for a growing, aging population.
But videos have emerged showing the Ukip leader advocating an insurance-based system in the past, and according to Political Scrapbook newly-leaked documents show the party's ruling committee unanimously approving a pro-privatisation policy at a meeting in October 2012.
The minutes from that meeting reportedly show executive members complaining that "the NHS is highly valued by the British people, despite its problems and limitations", while another said that "we cannot change it wholesale because the public love it".
Agreeing that a Ukip government would commission a cost-effectiveness study into privatisation while more minor policies were pursued, another said: "We can focus on stopping health tourism; we do not have to commit ourselves much further.
"In the longer term we want a radical approach but we cannot do that in this time frame."
Ukip's policy on the NHS was again the subject of discussion at Prime Minister's Questions today after one of the party's two MPs, Mark Reckless, asked why David Cameron was refusing to debate Mr Farage ahead of the general election in May.
Ukip's confusing policies

Show all 7
The Prime Minister replied: "The honourable gentleman comes to this House week after week to talk about the NHS in Kent, well Mr Farage said this [in 2012]: "We're going to have to move to an insurance based system of health care.
"That is the Ukip policy, to privatise the NHS. I say never."
Andy Burnham, Labour's shadow Health Secretary, claimed earlier this week that Mr Farage's appearance on the BBC documentary "Can Democracy Work" showed that "a vote for Ukip is a vote for the privatisation of the NHS and for a full American healthcare system".
"Farage admits he says one thing in public about the NHS but another behind closed doors. He has shown Ukip's statements on protecting the NHS to be hollow."
Mr Farage has since responded to Mr Cameron's comments on PMQs by saying that "the Prime Minister just openly lied". He said "the truth" was that Ukip was committed to a free public NHS, that they would not charge for GP visits and that they "want to redirect more cash to frontline services".
A Ukip spokesperson told the Huffington Post that the leaked documents showed the party wanted "policy solutions that are costed, achievable and credible".
Minutes from 2012, show the party had indeed looked at the option of a private insurance model in the past, but that the executive "decided the costs outweighed the benefits".
Register for free to continue reading
Registration is a free and easy way to support our truly independent journalism
By registering, you will also enjoy limited access to Premium articles, exclusive newsletters, commenting, and virtual events with our leading journalists
Already have an account? sign in
Join our new commenting forum
Join thought-provoking conversations, follow other Independent readers and see their replies