Jeremy Corbyn may step down if Labour Party's poll ratings are 'still awful', says Len McCluskey
Key union ally admits the Labour leader is struggling in the polls – and says he is 'not desperate to cling on to power for power's sake'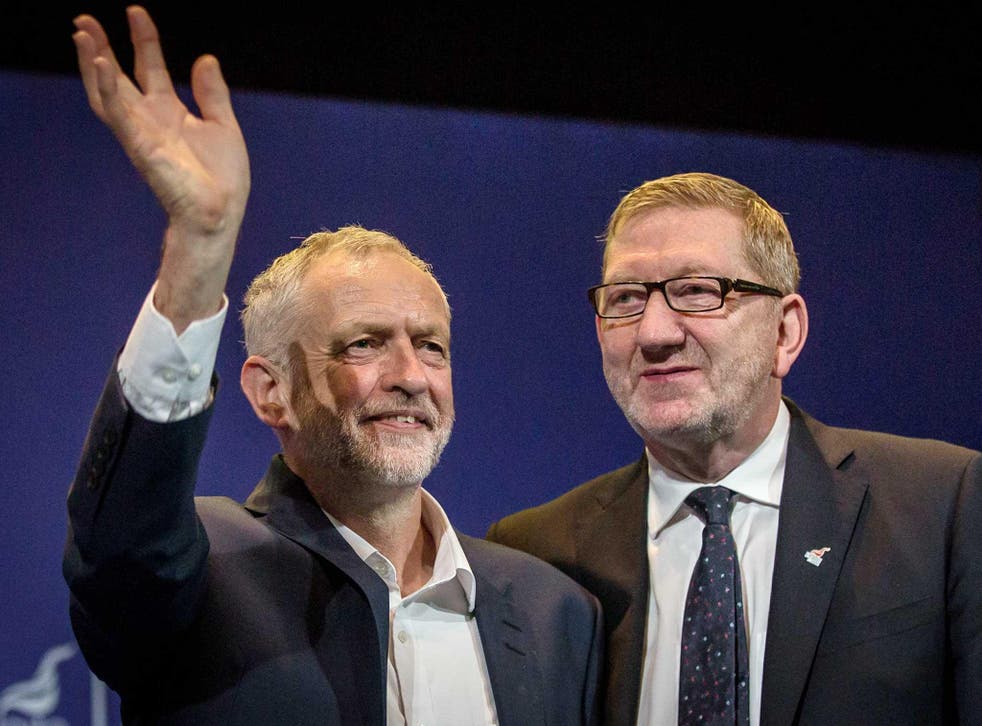 Jeremy Corbyn will step down before the 2020 general election if Labour's prospects are "still awful", Unite boss Len McCluskey has suggested.
The head of Britain's biggest trade union – and a crucial ally of the Labour leader – used a New Year interview to raise the prospect of Mr Corbyn throwing in the towel.
Mr McCluskey said: "Let's suppose we are not having a snap election. It buys into this question of what happens if we get to 2019 and opinion polls are still awful.
"The truth is everybody would examine that situation, including Jeremy Corbyn and John McDonnell."
Jeremy Corbyn confronts Theresa May on how much social care budget has been cut
Mr McCluskey added, of the party leader and his Shadow Chancellor: "These two are not egomaniacs, they are not desperate to cling on to power for power's sake."
Unite, which gives millions of pounds a year to Labour, was one of Mr Corbyn's strongest supporters in last summer's leadership contest, when the GMB union refused to back him.
But, speaking with the Daily Mirror, Mr McCluskey said: "It's always based on critical support. It's my job to promote Unite's policies, not Labour's."
On the threat of Ukip to Labour, he said: "We need to expose what Ukip stand for; not just anti-foreign but anti-workers' rights, their hidden agenda on the NHS and welfare state.
"But it will only work if ordinary people believe Labour is listening to their concerns and has solutions."
Later, on Twitter, Mr McCluskey said Mr Corbyn "continues to have my full support", describing him as a "genuine, decent man fighting for a fairer Britain". "Media headlines distort facts", he added.
His original comments came amid renewed speculation that the Labour leadership will attempt to force through changes to ease the path for a left-wing successor.
Currently, candidates need the support of 15 per cent of Labour MPs for their name to be added to the ballot, but this year's conference is expected to vote on lowering the threshold to just five per cent.
Richard Angell, of the moderate Progress group, vowed to fight the amendment, saying: "Our system requires the candidate to be prime minister to command overwhelming support on the treasury benches.
"The hard left's amendment acknowledges that their candidate for leader will never command that kind of support."
UK news in pictures

Show all 50
Mr Angell suggested Mr McDonnell wanted to lower the threshold for nomination in order to succeed Mr Corbyn himself – although the Shadow Chancellor has said he will never stand for the leadership.
In his interview, Mr McCluskey turned on his rival for the Unite leadership, branding Gerard Coyne a stooge for Labour right-wingers.
Mr Coyne has criticised the general secretary's "obsession" with Mr Corbyn and "London politics", promising to focus instead on workers' pay and protection and gender equality.
In a speech today, he will demand that "control of our borders" be a red line in the Brexit negotiations, by ending free movement of EU citizens.
Mr McCluskey said: "I am disappointed. It would appear as though Gerard is being used by the right wing of Labour to try to have a proxy war about Corbyn."
Defending his record in taking on "bullying bosses", he pointed to Unite victories over Sports Direct and British Airways, adding: "We are fearless in defending ordinary working people."
Join our new commenting forum
Join thought-provoking conversations, follow other Independent readers and see their replies