Lewisham East byelection: Janet Daby wins Labour candidacy after pledging to fight for single market membership
Daby, Lewisham's deputy mayor, beat her rivals in the contest, including the Momentum-backed candidate Sakina Sheikh and the Unite's endorsed Claudia Webbe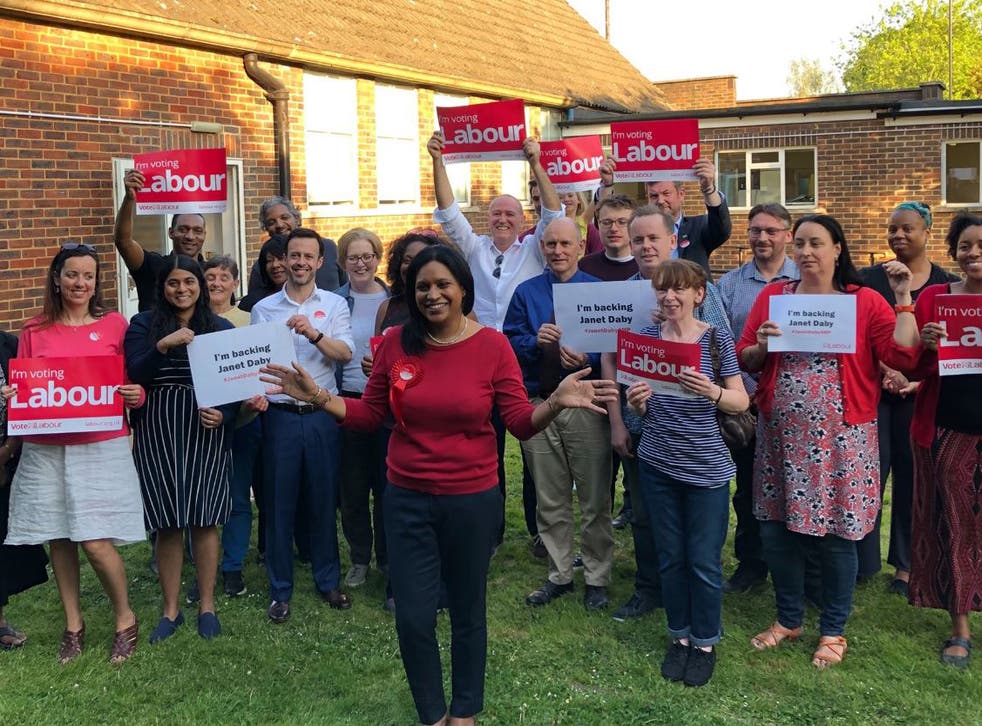 Janet Daby has been selected as Labour's parliamentary candidate to fight the Lewisham East byelection next month after standing on a ticket to fight for the UK to remain in the single market after Brexit.
Ms Daby, Lewisham's deputy mayor, beat her rivals in the contest, including the Momentum-backed candidate Sakina Sheikh and Claudia Webbe, a member of Labour's governing body, who had the support of Unite union.
Ms Daby, who described herself as the "unity candidate" in the contest, won 288 votes – with 60 per cent of first preference votes – compared with 135 for Ms Sheikh and 35 for Ms Webbe.
Congratulating Ms Daby on her victory, Jeremy Corbyn said: "She has done an excellent job as deputy mayor and I know she will be a strong voice for the people of Lewisham East in parliament. I look forward to campaigning with her in the byelection."
Last week the party decided to impose its first all-women, BAME shortlist, with Ms Daby, Brenda Dacres, Ms Sheikh and Ms Webbe on the ballot paper. The race was narrowed to three candidates on Friday after Ms Dacres removed herself from the contest, citing ill health.
The contest came after Heidi Alexander resigned as Lewisham East's MP after eight years to work alongside Sadiq Kahn, the London mayor, as his deputy for transport. Ms Alexander was a co-founder of Labour's Westminster campaign for the single market and had been critical of the leadership's position on Brexit.
Ms Daby will now defend the party's healthy 21,000 majority at the byelection in four weeks' time – scheduled for 14 June.
She told The Independent on Friday if elected to Parliament she would fight a hard Brexit and claimed leaving the EU's single market would have a "disastrous" effect on the economy.
She added: "I have lived in Lewisham East for 22 years. I have friends and family that live in my constituency and I've been clear about my position on Brexit from the outset of the campaign. I would not put myself in a situation in which I have to make the short journey back from Westminster knowing that I have just voted to make the residents of my community poorer."
Her victory was announced after dramatic scenes in Lewisham East following reports that 28-year-old Ms Sheikh had been withdrawn from the contest at the 11th hour only to be reinstated minutes later. Party bosses were understood to be consulting on her previous support for the radical organisation Take Back the City.
UK news in pictures

Show all 50
Ms Daby said: "It is such an honour to be selected to stand as Labour's candidate for Lewisham East. This is my home and I know the issues that matter to people because they are the same issues that matter to me.
"We want a good hospital, we want decent affordable housing, we want a good education and fair opportunities for all our kids, we want a transport system that is fit for purpose, and we want to live in a safe welcoming borough where everyone can feel at home.
"The Lib Dems/Tory coalition tried to close our hospital. I am proud to have been part of the campaign which stopped that, and I'm proud to have campaigned against the punitive Tory cuts that have put all our services under intolerable pressure."
Register for free to continue reading
Registration is a free and easy way to support our truly independent journalism
By registering, you will also enjoy limited access to Premium articles, exclusive newsletters, commenting, and virtual events with our leading journalists
Already have an account? sign in
Register for free to continue reading
Registration is a free and easy way to support our truly independent journalism
By registering, you will also enjoy limited access to Premium articles, exclusive newsletters, commenting, and virtual events with our leading journalists
Already have an account? sign in
Join our new commenting forum
Join thought-provoking conversations, follow other Independent readers and see their replies